Today, some thread talk!
You might remember that a while back, I reviewed this dragon embroidery kit from Roseworks Embroidery Designs in South Africa.
Used throughout the design (and in many other Roseworks kits) are threads from House of Embroidery, a dye house also located in South Africa.
The review prompted a slew of inquiries about finding House of Embroidery threads in the US.
So I put on my Needle 'n Thread Hat, did some research, made some connections, tested some threads (gosh, it's a tough job!), took lots of photos, begged for some favors, arranged a terrific thread deal for you (update 2017: the deal has expired – sorry!) – and today's article is the result of all that "hard work."
Oh, the things I do for you! Like I said, it's a tough job…chortle chortle.
Before launching into the nitty-gritty, some big Thanks all around! First, to those of you who forced me to hit the pavement and track down the threads. Without your prompting, I probably wouldn't have, and then where would we be?
Thanks to the folks at House of Embroidery for putting me in touch with Richard at Global Artisans (formerly Akonye Kena), the US distributor of House of Embroidery threads. (They've extended a discount to Needle 'n Thread readers for thread purchases – more information on that below!)
Thanks to Richard for sending along some gorgeous thread collections, so that I could play with the threads and stitch up a sample or two (or three…), and for working out a really good deal for Needle 'n Thread readers who want to try the threads, too. (More on that, below.)
And thanks to Margaret Cobleigh, who has graciously allowed me to use some photos of her recent work with House of Embroidery threads. We've been chatting about the threads back and forth for a while. She recently delved into explorations in needlepainting with them, and I couldn't resist begging her to let me publish the photos for you to see, too – for obvious reasons! She has magic in her needle.
House of Embroidery Threads
When it comes to choosing colors for embroidery projects that I design myself, I have a hard time narrowing down color choices. Lately, I've been working with designs that I want to work in color "themes" – that is, in colors that suggest something particular.
You might remember that I showed you this collection of thread colors a while back, and asked you what comes to mind when you see them. I was hoping that you would say "sunset" – and many of you did say that.
It took me hours to put together those colors.
What first piqued my interest, then, when researching House of Embroidery threads was the fact that they offer their lines of embroidery threads in different ways…
…and one of those ways is in themed color collections. I love this idea!
The six-stranded floss collection above, with five meters of floss wound on 16 card bobbins, is called "Seven Seas."
Here's the "Sahara" collection…
…and here you have the fiery and brilliant sunset collection!
There are collections for the seasons (spring, summer, autumn, and winter), and other themed collections like Sahara, Seven Seas, Vintage, Primitive, and Sunset.
The name of each collection evokes certain color associations, and there, within the collection, you have a wonderful array of colors that reflect the collection's name.
The threads are available outside of specific color collections, too.
They're sold in larger collections – floss boxes and the complete range – and they're also available in looped put-ups, like those in the photo above, with two (or more, depending on the type of thread) associated colors per card.
Additionally, for those doing a lot of embroidery, the threads can be special ordered in large hanks.
House of Embroidery Cottons
Besides 6-stranded cotton floss, the House of Embroidery cotton threads also include a line-up of matching perle cottons in sizes 5, 8, and 12.
This is great news for folks who like to combine different textured threads in their embroidery! The various perle cottons are available in the same color collections and colorways.
Other House of Embroidery Threads and Ribbons
Besides cotton, House of Embroidery also dyes silks, silk ribbon, and viscose threads.
The colors of the threads and ribbons all coordinate across the various types of threads. Above, you can see their "Vintage Collection" of silk ribbon, which comes in 2mm, 4mm, and 7mm wide.
I haven't tried House of Embroidery silks yet, or their viscose threads. Their silk floss is not stocked normally in the US at Akonye Kena, because, up until now, their focus market was quilting, where perle cottons are often star of the show.
Stitching with House of Embroidery Threads
The threads I really like so far for hand embroidery are the stranded cotton and the #12 perle cotton. The colors are fantastic, and the threads work well together.
I've dabbled a bit with the #8 perle as well, which is a terrific thread for adding a heavier texture to your embroidery.
In the project above, I mixed together just four colors out of the Autumn Collection: the brilliant red-oranges and one of the yellow-golds, as well as the deep brown and one of the green-browns. I used three strands of floss for the stitching (stem stitch and fishbone stitch), and I mixed the strands to provide a little more depth of shading in the color changes.
I really like the way the colors worked together to produce exactly what I had in mind for this leafy autumn piece!
Margaret Cobleigh has taken the House of Embroidery stranded cotton in a different direction with her embroidery, pictured above and below.
She used the House of Embroidery threads for needlepainting, and the effect is really stunning!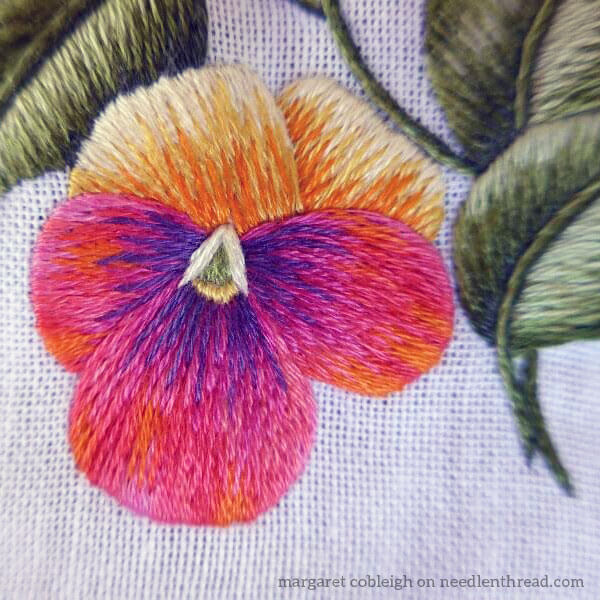 Close-up, you can see how the colors blend beautifully together.
Above, the threads are used the smaller leaves in the photo.
Another stitched example using House of Embroidery threads is this "Herbier" design from Canevas Folies, which is available through French Needle here in the US.
French Needle supplies the House of Embroidery threads with the Canevas Folies kits available on their site, so that all you have to supply are the regular DMC threads that are used in the design. The Canevas Folies kits are a great way to try out HoE threads, too!
Here's another close-up on some of the elements from the "Herbier" design, which Margaret re-worked a bit with her own color placement and choices.
And my favorite! I love the color combinations in these flowers! They're Summer, through and through!
Try 'Em!
If you try House of Embroidery threads, I think you're going to love them! The colors are fantastic, and they are pretty much consistent across dye lots. That's an amazing thing, when talking about variegated, over-dyed, and blended thread colors.
The only thing I find different about the threads – as far as the stranded cotton is concerned – is that they feel slightly "dryer" than DMC. But this isn't necessarily a bad thing. I've discovered over the years that the dyeing process changes the feel of thread, and not all thread feels the same. It still stitches up beautifully!
Needle 'n Thread Discount
Global Artisans has extended the following discounts for Needle 'n Thread readers:
A 10% discount on their whole order, using this coupon code at checkout: MARY2018
And, if you live in the US, you can enjoy free shipping on your order, too, with the coupon code SHIPPING applied at checkout.
You can find all the collections of House of Embroidery threads through Global Artisans in the US here.