Lately, I've felt a deep, urgent need to talk to you about silk embroidery thread!
One reason for this is because I'm working on a couple projects that involve silk, so silk is on my mind.
And the other reason is because I've received some questions lately about silk embroidery thread, particularly from beginners who want to try it but are afraid of it.
I'm here to tell you, to assure you, to promise you – there's nothing to be afraid of! The key is knowing what you're working with and how to work with it.
So today, we'll start simple, with an introduction to silk hand embroidery threads, focusing on the easiest silk thread to use, to transition into this luxurious fiber that outshines all other fibers!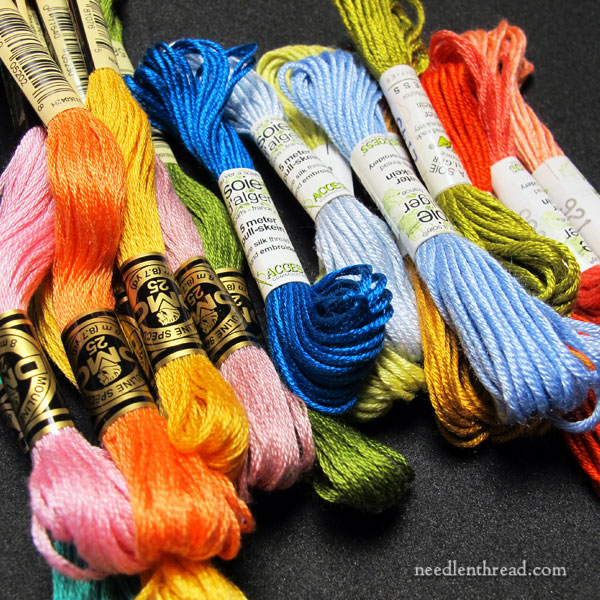 In the photo above, on the left, you'll see some DMC cotton skeins. On the right, you'll see a pleasant heap of Soie d'Alger, which is Au Ver a Sole's extensive line of spun silk.
I'll use Au Ver a Sole's silk in my photos throughout this series of articles about silk threads (though other brands will be listed).
Why Au Ver a Soie? Quite simply because they're the Gold Star Standard when it comes to silk for handwork. This isn't just my opinion – Au Ver a Soie silks are widely used in the couture industry, they are highly favored for their consistency and superior quality, and they have an extensive range of silks available in various types, weights, and twists, across consistent color families.
That being said, there are many types, sizes, weights, and qualities of silk hand embroidery thread on the market todays. We live in an age where we definitely enjoy a certain "embarrassment of riches" when it comes to hand embroidery supplies – and the thread market is no exception! There are lots of choices, and sometimes, it's hard to navigate those choices.
First Time Silk User?
If you're a stitcher who wants to venture into silk for the first time, I recommend starting with what's called spun silk, like Soie d'Alger.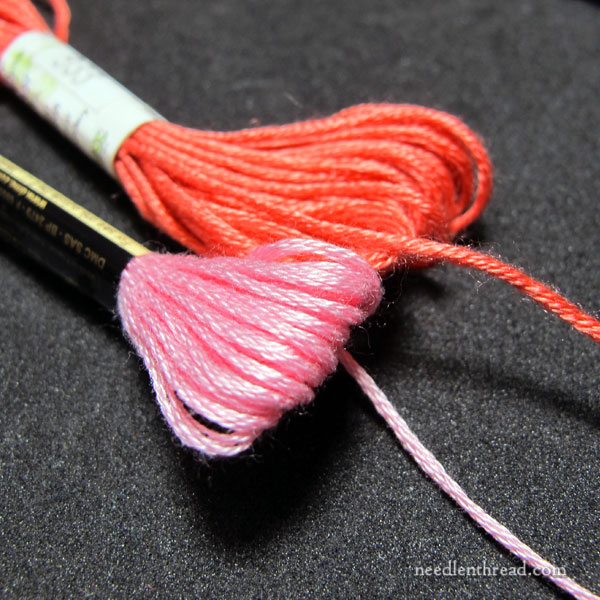 Why spun silk? Because, when it comes to user experience, spun silk will handle and feel the most familiar to you, if you've been working with cotton thread.
This isn't to say that spun silk is the same as cotton thread. It isn't! But there are some similarities that will make the transition from cotton to silk smooth, fearless, and quite pleasurable!
What is Spun Silk?
There are two types of silk threads – spun silk and filament silk. We'll discuss filament silk down the road a bit, but for now, this is what you need to know about spun silk:
1. It's not reeled in long strands straight off the silk cocoon. Instead, it's made from broken cocoons and leftovers, and spun into a thread, similar to the way that cotton or wool are spun.
2. Because it is spun and not reeled off the cocoon in one long filament, it's not as strong as filament silk, and, since it tends to be slightly softer than cotton, it works best in shorter lengths than you might be used to working with cotton floss.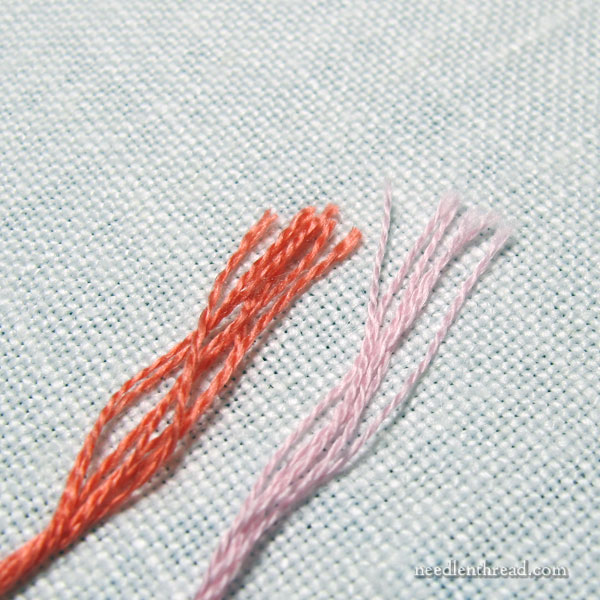 3. Like cotton, it is normally put up in a skein or sometimes a twisted hank or cut, looped threads, depending on the brand.
4. Like cotton, a skein of spun silk consists of a thicker thread that can be broken down into separate strands. That is, it's stranded, and to work with it, you have to strip the floss just like you do with cotton. Stripping is separating the individual strands and then putting them back together to work with, in the number you want to work with. This article on how to separate embroidery floss will show you how to do this.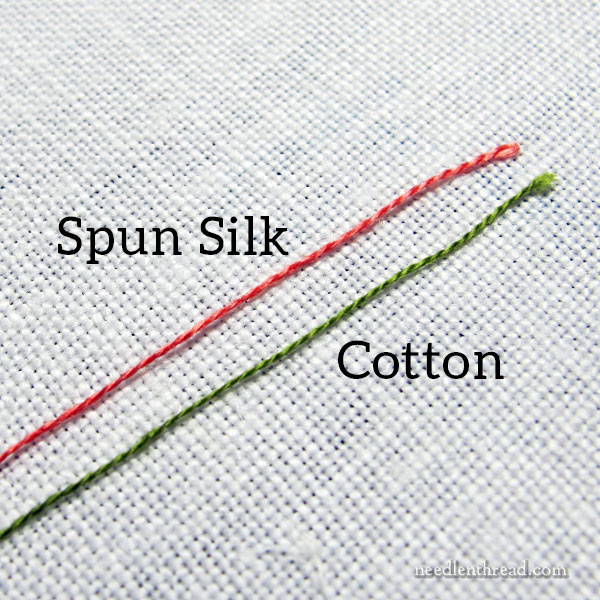 5. Most of the more common brands of stranded, spun silk have more strands per "thread bunch" than cotton. Cotton typically has 6 strands. Soie d'Alger has 7 strands per thread, while some brands have up to 12 strands per thread.
6. One strand of spun silk does not necessarily correspond in weight (or size or coverage) to one strand of cotton. For example, although the strand of Soie d'Alger in the photo above (in coral) looks similar in size to the strand of DMC cotton (in green), because the spun silk is slightly softer, you get a little more loft, spread, and coverage with it, compared to the cotton. With Soie d'Alger, some stitchers estimate that one strand is equal in coverage to about 1.5 strands of cotton. Other brands of spun silk may produce strands that are finer than one strand of cotton. So you might have to experiment a bit to get used to the difference in thread weight.
7. Silk – even spun silk – has a natural sheen to it, unlike cotton thread, which has a chemically-induced sheen to it (through a process called mercerization). Because of its sheen, silk reflects light differently, so it definitely has a different look when compared to cotton. Spun silk does not have as high a glossy sheen as filament silk, but it still has a higher sheen than most cotton. Spun silk has a very soft, pleasant sheen that isn't glaring or "shiny" as much as it is "glowy."
8. You can stitch with spun silk in the same way that you stitch with cotton floss. It handles similarly, and any stitches you can work with stranded cotton floss, you can work with stranded spun silk. Though, again, spun silk is a little softer. Use shorter lengths (around 16″) and the thread should hold up fine in most stitching situations. There's something very magical about the way stitches blend with spun silk, compared to cotton. Long and short stitch worked with spun silk, for example, melds together in such a beautiful, buttery way!
Looking for Spun Silk – Brands and Such
With all the hand-dyers on the market today, it would be impossible to list every single company that produces spun silk for hand embroidery.
That said, here are some of the brands I'm aware of, all of which I've tried. This will give you an idea of what to look for when you're thread shopping.
Soie d'Alger by Au Ver a Soie – It comes in some 600+ colors, I believe. Here in the States, it's commonly found in a 5-meter pull skein, and there are 7 strands per thread. There are other threads out there that are Soie d'Alger, too, though you might not know it. Many hand dyers use Soie d'Alger as their "blank" and go from there.
Caron Waterlilies – this is a 12 ply spun silk that comes in 6-yard skeins. It's a variegated silk, and comes in a fairly extensive line of interesting color combinations.
Belle Soie from Classic Colorworks (Crescent Colours) is a 12-strand silk floss, hand-dyed, so there are variations in the colors (over-dyed as opposed to variegated).
Rainbow Gallery – Splendor – 12 ply spun silk, fairly widely available in the US (many local needlework shops for cross stitch and needlepoint carry Rainbow Gallery). The colors in their lines often match across different fiber types, from silk ribbon to many of their synthetic specialty threads.
Kreinik – Silk Mori – 6-ply spun silk, in 2.5 and 5 meter skeins, available in a somewhat limited range of colors. Because of its muted color tendencies, some stitchers favor the line for antique looking samplers.
Madeira – silk floss – This is a 4-strand spun silk. It comes in 108 colors, 5 meters per "tangle free" package.
Gloriana Threads – Florimell – this is Soie d'Alger, hand-dyed. They also produce Tudor silk, which is a very fine 12-strand spun silk. Florimell would be relatively easy to use, as it's just Soie d'Alger. The Tudor silk, since it's so fine and so loosely twisted, would probably not be a good silk thread for beginners to start with!
Dinky Dyes – this thread-dying company in Australia produces a 6-ply over-dyed silk, 8 meters per twist.
Gumnut Yarns – Stars – this Australian thread-dying company offers a 6-ply silk in 8 meter skeins, with 39 color families, 5 shades in each color.
Questions, Suggestions, or Recommendations?
If you're a silk lover and have any particular thread recommendations, feel free to mention them below. If you have any tips for beginners on working with silk thread, or if you're a beginner who has any questions, feel free to join in the conversation below!
Further Reading
The next article in this series is on Twisted Filament Silk.
The final article in this series is on Flat Filament Silk.