A quick note before today's article: Tomorrow, Tuesday, March 28, Needle 'n Thread will be undergoing some scheduled server maintenance. For about an hour in the afternoon (central time), the site will be offline. So if you visit and I'm not here, never fear – I'll be back!
My friends, my friends. By now, many of you have probably heard that Hedgehog Handworks is going out of business.
While I'm selfishly sad for myself, I'm very happy for Joady, the owner of "The 'Hog," who has, for decades, supplied us with fine hand embroidery goods, from fabric, to thread, to books, to tools… oh my. She is retiring to enjoy life a bit, after years of dedication to the embroidery industry. And I think that's wonderful news for her!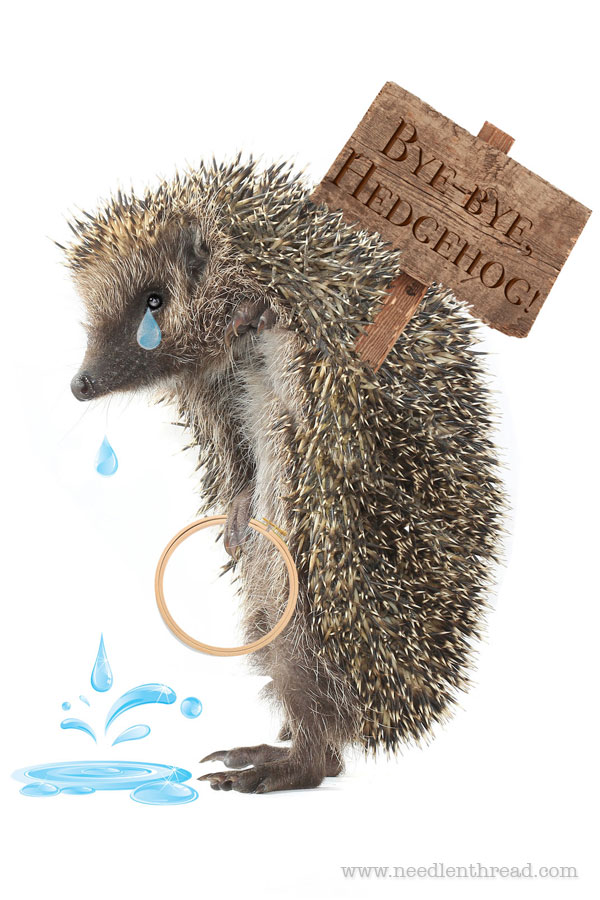 The more I think about it, though, the more my silly heart is heavy at the loss of The 'Hog.
Now, mind you, I call Hedgehog "the 'hog" with abundant affection. When I first discovered the shop, it admittedly hogged up every penny of my embroidery budget for years running!
It was through Hedgehog that I finally found a steady supplier of beautiful embroidery linen, a wide range of goldwork threads in the US, a wonderful collection of floche in small put-ups that were affordable, nice hoops and slate frames, specialty tools, silk threads… you know, the dream shop.
Practically everything I wanted that had to do with embroidery, I could find in that one place, through Joady. And she was always as nice as can be – super accommodating, great service, and she went the extra mile (or ten) to find and stock good stuff. I think she deserves a good rest and a happy retirement, knowing that she brought beauty and joy and lots of embroidery goodies to the world at large. She valiantly did her bit to keep the art of embroidery alive!
Thank you, Joady! May you have many happy days of peaceful stitching ahead!
Clearance Sale
Right now, everything at Hedgehog Handworks is on clearance for 20% off or more. There's still quite a bit of stock.
If you're looking for goldwork threads, there are plenty. She's also got a good selection of Au Ver a Soie silks available. She's got some linen left, and lots of tools (scissors, anyone?), whitework threads, floche (in the large skeins), and other delectables. Why not stop in and see what's available and whether or not you can fill out some of your stash at a good discount?
Other Sources!
While the loss of the 'Hog presents a bit of a hole in the US embroidery shopping market for particular goods in one spot, embroidery supplies are still out there! The same ones might not be all in one place, but they're certainly available.
Please note: I'm not familiar with every needlework shop in the world, and I don't know what every needlework shop stocks. I'm mentioning shops here that I've done business with, that I've received good service from, and that have websites that clearly list their stock and are easy to shop from.
So here's my rundown on where you can find the embroidery supplies that I've relied on Hedgehog for over the years, for all of you who have grown to love the same supplies that I love.
Here we go!
Linen for Hand Embroidery
The first stop in our journey will focus on fabric.
My go-to ground fabric is linen, for much of the embroidery that I do. And when I look for linen, I look for linen that is beautifully woven, has a good hand (surface feel), will support the type of stitching I have in mind, and that will withstands the rigors of time (and of unstitching!).
My first choice in embroidery linens is always Legacy Linens from Access Commodities. They have an unbelievable range of gorgeous linens that are made for embroidery. These aren't linens that were made for upholstery or clothing and then repacked. They are linens made, from the ground up, for needlework.
If you have fallen in love with different Legacy Linens, like Alba Maxima (which is my favorite all-around linen for embroidery) or their ecclesiastical linen, or their shadow work linen or linen cambric – then you can still find them through any needlework shop that carries goods from Access Commodities.
For those of us who don't have the convenience of a local shop and have to shop online, Needle in a Haystack in Alameda, California, carries the range of Access Commodities linens, and they can special order anything you need that they might not have in stock. They sell in cuts and in yardage.
Goldwork Threads
Well, the US market is at a loss, when it comes to a one-stop supplier of an extensive range of goldwork threads. To my knowledge, there's no shop in the US that supplies a wide variety of real metal threads – at least, not the extent that Hedgehog supplied them.
Thank goodness for Tanja Berlin up in Canada! She carries the best range of goldwork threads in the North Americas, to my knowledge. So while we won't necessarily have US shipping, we do still have Tanja. Yay!
Silk Threads
Hedgehog carried the whole line of Au Ver a Soie silk threads at a good price, including the ones that are a little more "specialty" oriented. But never fear, they are available in other places, too!
If you have a local shop that carries a wide range of threads, check to see if they carry Au Ver a Soie silks. If they don't carry every type of AVS silk, they can most likely special order for you.
Online, Needle in a Haystack carries most Au Ver a Soie threads, and they have them listed (with images) in a convenient shopping cart set-up. I'm sure there are other shops that carry the threads, too, but I like to centralize as much of my online shopping as possible. I've also ordered from Haystack for years, and the service is always good, prompt, and friendly.
Hoops & Slate Frames
More and more hoops and frames are coming onto the market these days that are actually pretty good! If you do small projects (say, 3″ or smaller), Edmunds makes a very good wooden 4″ hoop that's available at local craft shops. I've seen them at Michael's, Hobby Lobby, and JoAnn's.
I particularly like Evertite stretcher bars (which Hedgehog didn't carry) and Hardwicke Manor hoops. I also like a good slate frame. So, some hoop and frame places that you can count on:
Needle in a Haystack carries the line of Evertites. They also carry Hardwicke Manor hoops. And they carry slate frames, by special order.
Mark Harris up in Canada makes beautiful slate frames, which I reviewed here.
Stitcher's Paradise in Florida carries Evertite frames at a good price.
In the UK, The Crewel Work Company carries good hoops and sit-on hoop stands.
In Australia, Australian Needle Arts and Vetty Creations both carry good hoops and sit-on frames.
Cotton Floche, Coton a Broder, & Whitework Threads
I really relied on Hedgehog for the smaller put-ups of floche, which is one of my favorite cotton embroidery threads. It's great for all kinds of embroidery, and I use it pretty extensively. It's such a pretty thread!
Floche comes in Very Large skeins, otherwise, and the cost reflects the quantity. On the bright side, you can pretty much guarantee you'll not run out of a color any time soon if you invest in the larger skeins!
Coton a Broder #25 in the full color range is also another favorite cotton thread. And of course, the various sizes of coton a broder in white for whitework is another favorite.
Chances are, you won't find floche or coton a broder through your local needlework shop. But you can find both online through Lacis (in California) and through Vaune.com, who also sells complete thread packs for my e-book, Stitch Sampler Alphabet (which is on sale this week, incidentally!).
Tools & Specialty Supplies
Other specialty supplies that I recommended over the years from Hedgehog include scissors and tambour needle sets.
I'm a big fan of good embroidery scissors, and Hedgehog carried a nice range at reasonable prices. You can find nice embroidery scissors, though, through all kinds of needlework shops. If you have a local shop, chances are, they carry good scissors. Stitchers, after all, just can't resist scissors!
If you don't have a local shop and you want to purchase scissors online, Anita's Little Stitches has a vast array of excellent scissors, including these Premax scissors that I love, as well as a wonderful and tempting variety of Dovo scissors, which I adore.
You can also find good scissors online through Nordic Needle and through Needle in a Haystack.
Tambour needle sets can be found online through Lacis in California.
Never Fear!
Never fear, then – the supplies you love are still available. It just might take a little searching to find them.
I've heard little rumbling rumors that there are entrepreneurs out there, too, who are contemplating filling the Hedgehog Hole. We shall see!
While it's true that the needlework market is sometimes a rather tenuous one (it's small business in an age of Big Business concerns and expenses), we do enjoy an "embarrassment of riches" when it comes to supplies today.
The best way to ensure the sustainability of the supplies that you love is to shop through locally owned needlework shops (if you're fortunate enough to have one!) or through needlework businesses online – especially those that care about their customers and that go the extra mile to provide them with good service.