Today, I was going to talk to you about linen. Heaps of linen! But I'll have to put that off until later this week. I have a funny story to tell you about my recent experiences with linen – and a very good lesson to learn – so we'll be discussing that in depth shortly.
(That is, if the muses of all things electronic cooperate with me!)
But since those particular muses are being downright belligerent at the moment, this morning, I'll share with you the pattern for my most recent stitching adventure, which has only just begun.
For those of you who've been hanging out here a while with me, it won't surprise you that I'm doing one of those last-minute, I've-procrastinated-too-long, what!-it's-next-week?!? embroidery projects.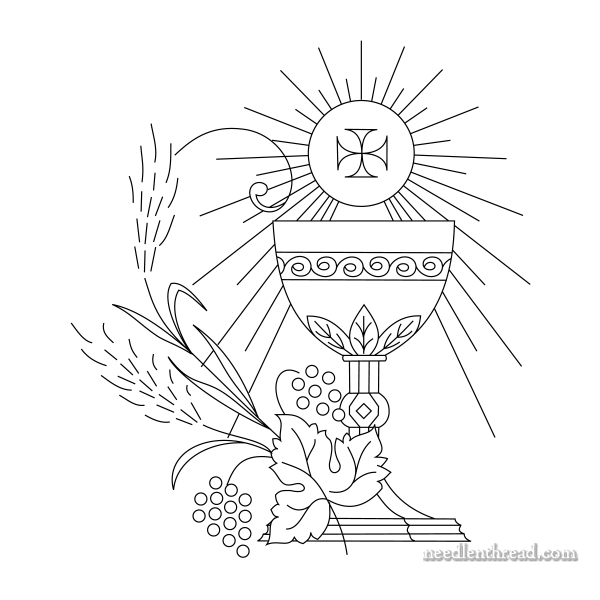 This is the time of year when First Communions come up. Normally, I embroider a prayer book cover for my nieces or nephews when they receive their First Communion. You can see previous examples here and here.
A week from Sunday, it's another niece. I'm not sure how time flies like that, but…here we are, doing a rush job. Thankfully, I've had some experience with the book cover and with rush jobs!
So that's the embroidery design above, which I drummed up using part of this cross, grapes & wheat design, and added the chalice, host, and rays.
Preparation Tips
Previous book covers for children have taught me some good lessons. For one thing, even though white is the "color" of the day, it's not the best choice for a children's prayer book cover. Still, I'll stick with tradition on that one! The white linen cover always looks fresh and beautiful – at least on the first day of use!
But the cover needs to be washable, so two points to consider:
1. the linen should be pre-washed to the point that there's no shrinkage left. A long time ago, I wrote this article on linen for surface embroidery with tips on preparing it, if you're interested. I discuss how I pre-shrink my linen in there. It always works!
2. The threads have to be washable and colorfast. No overdyed threads, metal threads, or anything that wouldn't enjoy a good laundering. DMC cotton floss it is, then!
I'll show you progress on this project, share tips with you, explore assembling the book cover (I'm going to try a different approach this time), and we'll see if I get it done by the deadline, which is May 7th, a week from Sunday. Think of it as The Amazing Race, only not really that amazing. And not really that adventurous. But a race, nonetheless!
Free Pattern
For those who'd like to stitch the design as well, here's a handy dandy PDF printable of the embroidery pattern:
First Communion Embroidery Design (PDF)
I hope you enjoy it!