Once upon a time, long, long ago in a land called Kansas (in fact, last year), a young girl (or old lady – or at least middle aged…ok, 40's…) who writes an embroidery blog began the epic journey of sharing with her friends some monogram designs from a particular alphabet.
And then she somehow forgot to finish the alphabet.
And apparently, no one could live happily ever after, because none of the loose ends in the fairy tale were tied up.
When I mentioned on Monday that I had a free pattern to share with you this week, I got a couple emails kindly reminding me of the unfinished alphabet.
It's always nice to end a story neatly, so today, I'm sharing with you the letters U through Z of the Floral Script Alphabet. You can see the style of the alphabet in the photo of the E below.
You'll find the rest of this monogram alphabet (along with several others) available on my Monogram Patterns index, here.
You can also find the entire alphabet, collected in one spot, along with 15 other complete monogram alphabets, available here in my pattern e-book, Favorite Monograms, which I'm discounting through this weekend to celebrate the end of this particular story!
The Floral Script Alphabet is a pretty alphabet, somewhat formal in design, but it really depends on how you stitch it. You can dress it up or dress it down, depending on your approach.
I have two articles here on Needle 'n Thread that illustrate how I embroidered the E above:
Beginning the Monogram – Threads, Stitches, Techniques
The Finished Monogram – detailed photos of the embroidered monogram
In fact, you can find a whole index of articles with ideas on how to embroider monograms here. You can apply the techniques to practically any monogram design, from fun to formal. So there's lots of stitching scope there, for anyone who's interested in embroidering letters.
Easiest Way to Transfer Monograms to Fabric
If you're looking for an easy way to transfer these types of designs to fabric, I highly recommend Sublime Stitching's fine-tipped iron-on transfer pen, which I've reviewed here. It works well! I like the blue one best.
Just remember, if you use the iron-on pen, you need to print the design and flip it over and trace the letter from the back of the printed paper. You have to trace a flipped image of letters; otherwise, your letter will end up backwards on your fabric.
Floral Script Monograms U-Z – Free Patterns
I've divided letters U-Z into two PDFs that you can save to your computer and print. The letters print at 2.5″ high.
Here are the PDFs for the final letters in the alphabet:
Floral Script Alphabet U-X
Floral Script Alphabet Y-Z
Favorite Monograms – On Sale Just for You!
The whole Floral Script Alphabet – plus many more monogram styles – is available gathered in one easy-to-download PDF in Favorite Monograms, a collection of 16 monogram alphabets perfect for hand embroidery and other crafts.
To celebrate finishing the alphabet at long last, the e-book is 15% off now through May 28.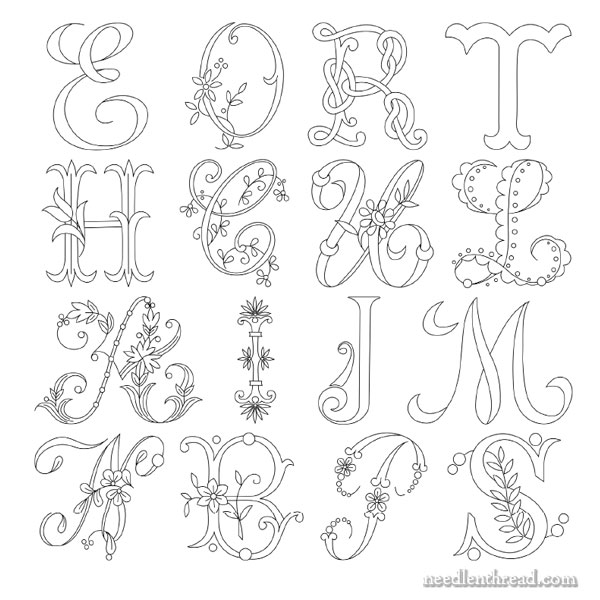 In the photo above, you can see samples of each alphabet available in Favorite Monograms.
Each letter in each alphabet in Favorite Monograms has been carefully traced into a clean line drawing that can be easily enlarged or reduced on a home printer or a photocopier. If printed straight from the PDF, the letters print at 2.5″ high, when choosing "no scaling" or "100%" in your printer settings.
The 16-alphabet collection is delivered via a download link to your inbox shortly after purchase, so that you can begin creating right away! Priced on sale at less than $0.80 per complete alphabet, monogram lovers can't go wrong with this collection!
Favorite Monograms is available in my shop, here.