While I'm not an expert (by a long shot) in bead embroidery, it's something that I enjoy exploring. I love to dabble with beads and add them to my stitching when they make sense.
"Beads for the sake of beads" doesn't always do it for me – they really have to fit in with the project I'm working on. So I don't add them to everything I stitch, and in fact, I stitch without beads more often than I do with them.
But on certain types of projects (Party in Provence, for example), beads make perfect sense. They're fun, they sparkle, and they work with the design.
If you're interested in adding beads to your own needlework projects, you might find these bead conversion charts that I've come across online helpful. You'll find conversions for beads to beads (one brand of bead to another) and conversions for floss to beads (choosing beads to match embroidery floss colors).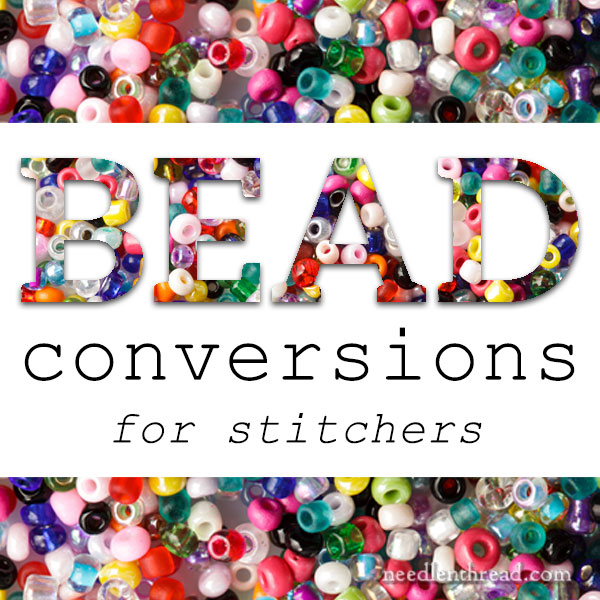 While this is not an exhaustive list of bead conversion charts online, these are the charts that I make use of most frequently when I'm stitching with beads:
If you have any favorite online sources for bead conversion charts, feel free to mention them in the comments below and I'll add them to the list!
What's Up at Needle 'n Thread?
Well, I ventured forth for the eclipse, as I mentioned on Monday. Between the cloudy skies and bouts of rain, amazingly, we did get about a five second break in the clouds during totality, so that was neat!
Was it worth the ungodly early hour, the drive, the traffic, the rain, and standing in line to use a… a…. Porta Potty!? Well, I had a good time with my family and there was that 5 second glimpse of something I may never see again … but if I knew the circumstances ahead of time, I probably would've skipped it! As luck would have it, I've been sick ever since I got home Monday night. When I feel better, my outlook on the whole excursion might improve!
In the meantime, I'm still picking threads on this project, and, if all goes well today, I'll be setting up a new project that I'll show to you soon. I'm also working on something for those who've been asking for Party in Provence.
Coming up, we'll chat about a new lot of threads, I will finally get to the point on my workroom organization and the things I find essential in the space (which is still not straight!), I've got a little stack of books I've been working through to review so I'll be filtering those out to you, and lots of other little bits that are slowly coming together!
Hope your week is going just swell! Mine is definitely improving as of this morning! Sunny skies ahead!