I love it when a plan comes together!
I wasn't quite sure I'd finish the embroidery on Party in Provence this weekend, but due to the happy circumstances of rainy weather and not a whole lot going on, I put the last bead on at 6:59 yesterday evening! I was pretty pleased.
The only drawback of an evening finish is getting the light right for photos. For some reason, daytime photos work better for me. So instead of setting up my amateur version of a photo shoot, I made do with my phone and my stitching light. I'll take "real" photos later, after damp stretching and blocking the piece.
If you're just joining in here on Needle 'n Thread, Party in Provence is an embroidered kaleidoscope design in a series I've been playing with for the past 10 months or so. I've finished three of them so far – this one, which I'm calling Tulip Festival (a shout out to ours here in Kansas) and this one, that I'm calling Octoberfest, even though I stitched it in November.
So, about the name. Well, the design was partially inspired by fabrics from Provence that incorporate different elements. In those fabrics, you'll often see stylized floral elements. Many of those floral elements will sport a hint of a "Jacobean" flair, which I didn't really incorporate as part of the design structure as much as in the interpretation of the fillings. For the design structure, I stuck with simple stylized flowers, with a bit of a fleur-de-lis touch, too.
You'll also see a hint of the Indian design elements which influenced the fabrics and textiles in Europe when the whole cotton fabric industry was really getting underway.
And of course, sunshine plays a huge role in Provence, resulting in an exuberance of growing things. The blues, the reds, the yellows and greens call to mind the rich color schemes that are often seen in fabrics from the region.
So those were my thoughts while developing this particular design and interpretation.
The "party" part? Well, with this series of kaleidoscope designs I've been dabbling with, I've tried to tie their names and their interpretations together under a main theme – in this case, celebrations. I've got a few other celebrations in the works, too!
The whole design is about 7.5″ in diameter.
I'm working on a partial interpretation of this design, too, to use as an embroidered pocket on the outside of a tote bag. I've written about that here. I plan to finish that (at least the embroidery part!) by tomorrow night. Hopefully, sewing the tote (not my forte!) will happen shortly thereafter.
Besides the innumerable ways that you can interpret designs like this in stitches, another fun aspect of them is that you can break them down into sections. You don't have to stitch The Whole Thing.
The designs break up easily, especially if the design is an even number of sections – but even if it isn't! I could see narrow slices of these designs worked, for example, down the front of a tie or a scarf.
Ah, well…ideas, ideas! I'm still working on growing my octopus arms.
Question?
I've had a lot of requests for the design for Party in Provence and the other kaleidoscopes I've shown you off and on. Which would you prefer: designs that you can interpret yourself, or designs and stitch guides based on my interpretation? Or the option for both?
I'm always open to feedback! Feel free to chime in below!
Favorite Kaleidoscopes Pattern Collection
If you'd like to stitch up your own version of Party in Provence, you'll find the pattern available in my Favorite Kaleidoscopes collection – over 30 kaleidoscope designs for hand embroidery and other crafts.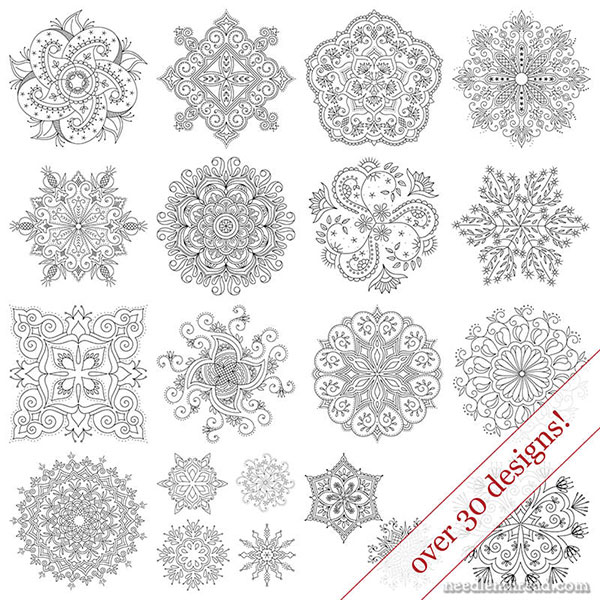 You'll also find the pattern for Birthday Bash and Tulip Festival in the same collection!
The kaleidoscope designs range from small 4″ designs to large 8″ designs, from simple to complex. You can read about the collection in detail here, or jump straight over to my shop to grab your own copy!