I've been doing a bit of autumn-esque stitching this weekend!
This is one of Those Projects I've had drawn up for a while, but I've just gotten around to the embroidery.
Perfect timing, though – it's still very much autumn here in Kansas. We've had gorgeous sunny days, perfect for sitting on the porch in bright sunlight, which is my favorite type of lighting for embroidery!
I have a couple little surprises in store for this piece.
For example, I'm going to bling it up a bit! I'm playing with the notion of adding a few beads here and there, for a bit of sparkle and color.
I'm never opposed to a little sparkle and color. I think I'm part crow!
The stitches on this piece are relatively simple, but it's the color combinations that take a little time and concentration.
Over on my Facebook page, Sheila asked how I skip from leaf to leaf on this – whether or not I end off each leaf or carry the thread over on the back.
Traveling the Thread from Leaf to Leaf
I tend not to carry threads across open spaces on the back of work. Instead, one a piece like this, I use the previously stitched tendrils as "thread anchors," using them to "travel" my thread to my next leaf.
I work the leaves in specific areas, according to color. To travel from leaf to leaf, I turn my work over and whip the threads around the back of the tendril stitches, until I arrive at the next leaf in a particular cluster.
If there's not a leaf of the same color scheme close by and attached by a tendril, I end the thread and start anew on the next leaf. This keeps the back relatively tidy.
The leaves are quite tiny, no more than about 1/4″ in length, and the color changes are fairly frequent, to keep the gradual change in shades. So I can't always travel my thread on the back. But trust me, when the opportunity is there, I take it!
Conserving Thread
If you're keen to conserve thread, gauging how much thread you'll use if you "travel" under other stitches on the back of the work is a good idea. If it matters to you, take some time to consider whether or not you'll use more thread traveling under the stitches on the back, or stopping and starting a new thread.
This is definitely something that's individual to the stitcher, though. Some embroiderers absolutely hate stopping a thread and starting a new one, and will do whatever it takes to avoid that, even if it means using significantly more thread!
But others don't mind multiple stops and starts at all. I fall into this latter camp. If I see that it's going to cost me significantly more thread to travel from one leaf to the next on the back of the work, I'll end my thread and start again on the distant leaf.
If you want to read more about traveling threads from one area to another, especially to keep the back tidy and to save time, and see the whole process worked out in photos, Lesson 2 of my series on Hand Embroidered Lettering and Text covers the topic. You can apply the concept to any kind of embroidery, really.
The threads on this project are relatively new-to-me. I'm loving them! I've used them once or twice before, but now I'm exploring them in-depth. We'll be chatting about them a little later, so if you're a Thread Junkie and you want to hear more about them, keep an eye out!
Deep down, in the secret recesses of my heart, I was planning to avoid Real Life today and finish this piece while basking once more in the brilliant autumn sunshine on my front porch.
Of course it's raining!
Have a jolly Monday!
Octoberfest! Pattern & Stitch Guide
Would you like to stitch up your own leafy kaleidoscope?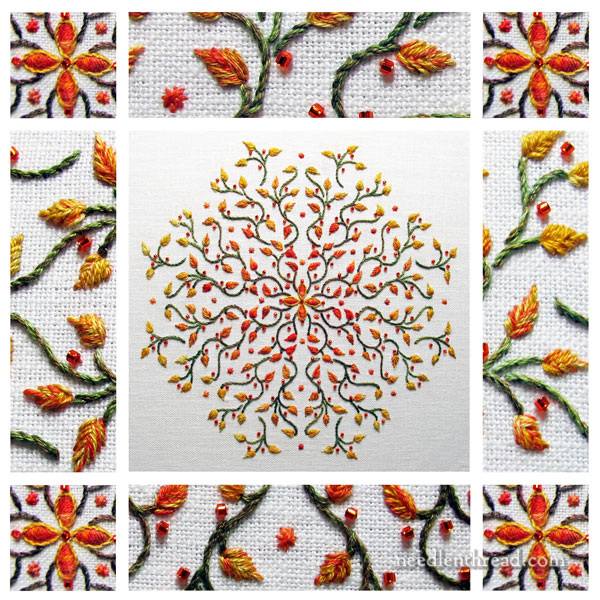 You can find the pattern and stitch guide for Octoberfest available here! In the stitch guide, you'll learn how to combine threads and work with overdyed threads to achieve gradual color changes.
The design is suitable for beginners and beyond! So jump on over, order yours, and start stitching it today!
Looking for More Kaleidoscope Embroidery Designs?
Favorite Kaleidoscopes is a collection of over 30 kaleidoscope patterns for embroidery and other crafts.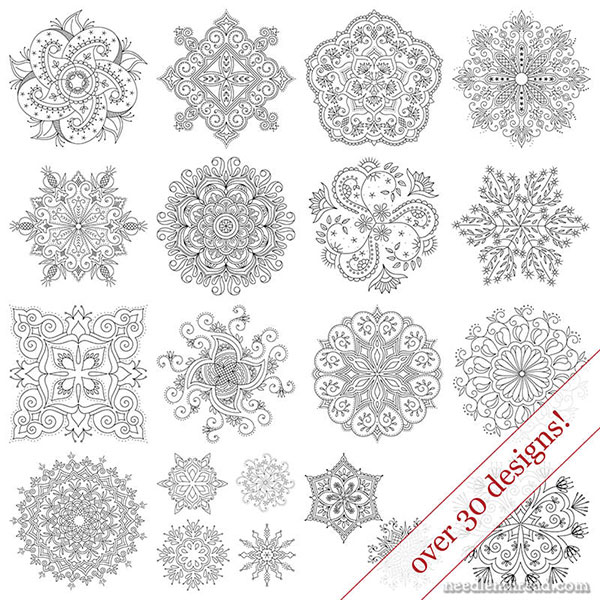 In it, you'll find the patterns for several other kaleidoscopes I've covered here on Needle 'n Thread, including Birthday Bash, Tulip Festival and Party in Provence.
The kaleidoscope designs range from small 4″ designs to large 8″ designs, from simple to complex. You can read about the collection in detail here, or jump straight over to my shop to grab your own copy!