I finally finished Birthday Bash, my embroidered kaleidoscope in a repeat paisley design.
Actually, I finished it twice.
Last week, I finished it the first time – or so I thought. I took photos and cleaned up my stitching mess. All the leftover threads were tidied and tucked away; the piece (thankfully still on the frame) was covered and set aside, and the whole thing was, in my mind, complete. All I had left to do was edit some photos so that I could share the finish with you.
And then I started editing the photos. It's amazing what you'll catch in photos, that you don't catch in real life!
Somehow, I had forgotten all the French knots.
So this week, I finished it again.
Today, I'll share the finish with you and a quick run-down on how I interpreted the design, with the why's and wherefore's of what I was trying to produce. And then next week, the pattern will be available for those who want to stitch your own interpretation or dabble with the same approach I took.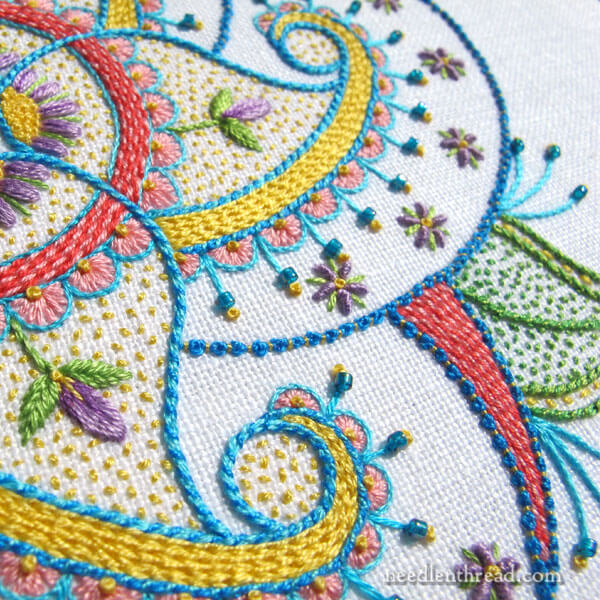 With these types of designs – as with any design you're working that starts with just an embroidery pattern – ultimately, the interpretation is always up to the stitcher. While you might not feel perfectly confident in making your own color, thread, and stitch choices at first, the more you venture into making your own stitching decisions, the more you'll be able to fine-tune your own embroidery style, unique to you.
If you're not quite there yet when it comes to decisions on interpretation, that's ok! Working through someone else's suggestions works great, too! And it helps build the confidence you need to venture forth with your own ideas.
A Sampler of Sorts
I wanted to do two things with this pattern:
I wanted to get across the idea of a birthday celebration, with colors that come to mind when I think "Birthday Party." Think: sprinkles on cupcakes and brightly colored birthday candles.
And I wanted to use a variety of stitches to keep the piece fun to work. In that regard, it turns out to be a sampler of sorts.
Stitches Used
My interpretation of Birthday Bash finished with a total of 15 stitches and stitching techniques incorporated into the finished design.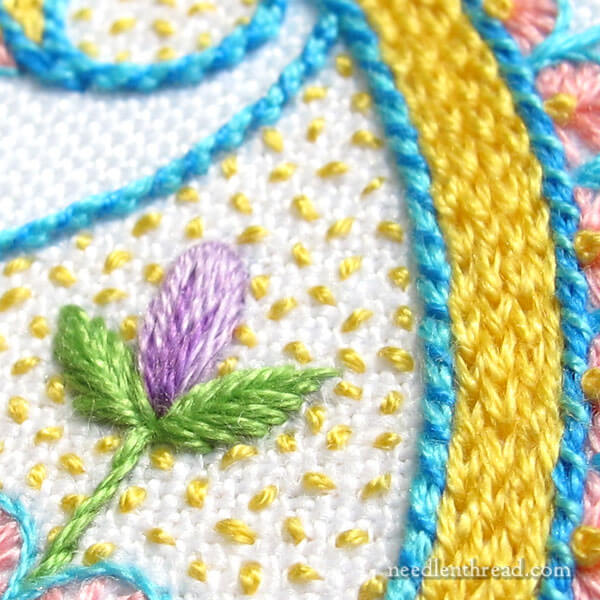 You'll find whipped chain stitch and chain stitch filling, seed stitch, long and short stitch, fishbone stitch, and stem stitch…
…as well as diagonally striped band, granitos, French knots, scallops filled with radiating straight stitches and outlined with stem stitch (covered in this tutorial)…
…Palestrina stitch with a couching stitch worked between each knot, bullion knots, and beads for accents.
It's a busy little piece, stitch-wise!
Threads & Colors
For Birthday Bash, I used DMC floss for the whole design. These are the colors I initially pulled:
I always start a project like this by pulling out the colors I think I might use, and then, as I stitch, I narrow down the colors, or I add a color or shade that I hadn't originally planned on.
Here's the list of DMC colors I ended up using:
Greens, dark to light: 700, 703, 704
Pinks, dark to light: 891 & 894
Yellow: 743
Purple, dark to light: 3837 (not shown above) & 209
Blues, dark to light: 3843, 3845, 3846
Beads: Mill Hill Magnifica beads in color #10104 – I couldn't find the Myuki delica equivalent, but if anyone knows it, feel free to post it in the comments below!
I used two strands of floss for everything except the following, where I used one strand of floss: outlining the pink scallops and inner ring of raised diagonal band with stem stitch; the small purple bud in the center of the paisley in long & short stitch; the yellow couching stitch over the dark blue Palestrina lines the make up the larger swooshes of the design; the whipped part of the whipped chain stitch outlining the paisleys and the larger outer leaves.
There's nothing too difficult about the piece. In a few areas, if you were to interpret the design the same way, you'd want to be mindful of the order of stitching.
For example, in the area where the diagonal striped band is used as a filling, you'd definitely embroider the striped band filling first, and then the outline.
In areas (like the large leaf above) where whipped chain stitch is worked in closer proximity with other lines of stitches, you'd work from the inside to the outside on the leaf, whipping each chain stitch line as you progress outwards. That way, you don't run into the other lines of stitches while you whip the chain stitch.
While there's no intricate shading on the piece, I used three different shades of green to fill the larger leaves with seed stitches, working from dark green at the base of the leaf to a lighter green at the tip. It gives a hint of shading, anyway!
And here's the whole thing – Birthday Bash!
I wanted to achieve something happy and bright, with a sense of movement (the swirls of the design), and a sense of celebration. I was picturing pinwheels, birthday candles and confetti.
Did it come across? Perhaps a little bit!
Favorite Kaleidoscopes Pattern Collection
If you'd like to stitch up your own version of Birthday Bash, you'll find the pattern available in my Favorite Kaleidoscopes collection – over 30 kaleidoscope designs for hand embroidery and other crafts.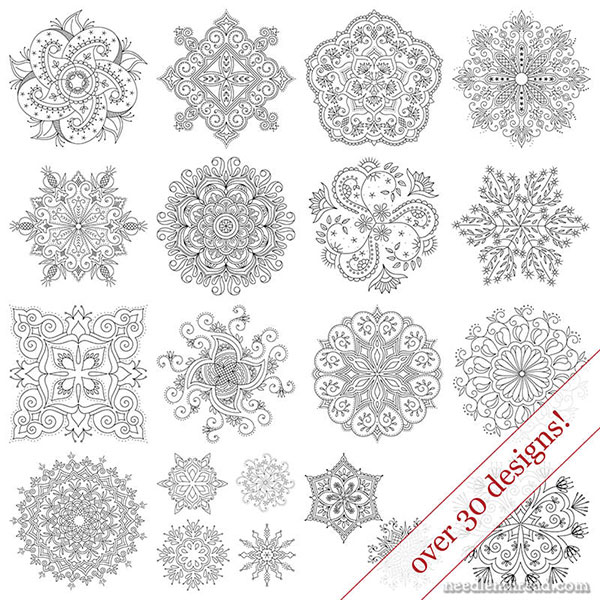 You'll also find the patterns for Party in Provence and Tulip Festival) in the same collection!
The kaleidoscope designs range from small 4″ designs to large 8″ designs, from simple to complex. You can read about the collection in detail here, or jump straight over to my shop to grab your own copy!