When it comes to hand embroidery, the only supplies you really need to accomplish a simple embroidered piece are fabric, thread, and a needle.
But for those who really get into the art of embroidery and who like creating and stitching their own designs (not using a kit, for example), there are lots of tools that will help you do just that.
I'm not talking so much about stitching supplies, but rather art supplies in general, that I use for embroidery-related stuff. If you're interested in pursuing your own designing or you like to dabble in mixed media, you might find some of these supplies handy.
So here's a look at some of the art supplies I use most frequently and how I use them.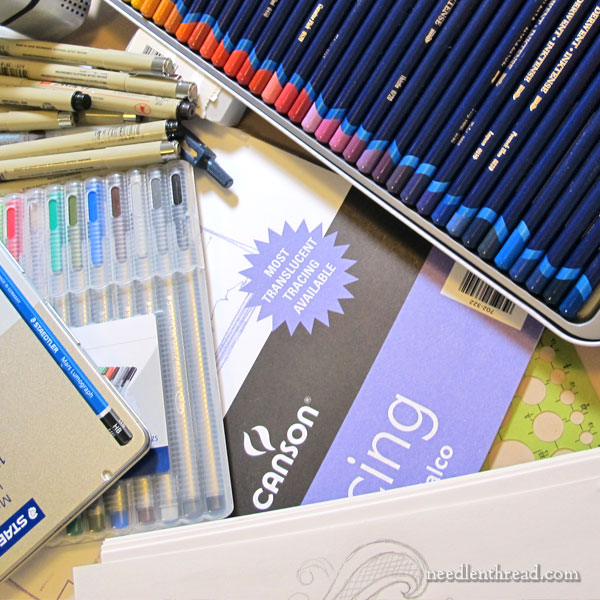 This is a good representation of the types of art supplies I have knocking about in my workroom, that I use for designing and preparing embroidery projects.
And although this article might make it look like I have a huge amount of art supplies, I really don't – they all fit comfortably in a couple trays on the utility carts that I wrote about in this article on workroom organization.
First, there's paper. I have several sketch books that I doodle in, and those doodles often end up as designs for stitching.
I like small sketch books for the most part, because I don't really create huge designs for embroidery. A sketchbook that easily fits in a tote or a purse is my favorite paper tool. It has to open easily (I like spiral-bound sketch books) and it has to have a stiff back. I usually opt for paper suitable for mixed media, so that I can use pens on it when I want to without the ink bleeding through.
I also have several tablets of tracing paper. Tracing paper is super-handy for the hand embroiderer! I use it to trace my "final" drawings out of my sketch book in a clean format that scans clearly. Tracing paper also allows me to combine design elements that I like, without having to redraw them from scratch. For example, I might like a floral element in one of my sketches, but a leaf element in a totally different sketch. I can use tracing paper to combine the two, without drawing either from scratch. And then I can sketch on the tracing paper to create a new design altogether that incorporates both desirable elements.
I also use tracing paper for prick-and-pounce transfers now and then, and it also works decently for tissue paper design transfer.
Another type of paper I use often in my workroom is vellum. Vellum makes an excellent tracing paper as well, but it's heavier than regular tracing paper. I use it for design transfer, too, especially for making my own "carbon" transfers, like I did in this tutorial and for prick-and-pounce, where it works better than regular tracing paper.
Next, writing tools!
A collection of sketching pencils in different weights of lead come in handy not just for drawing, but also for design transfer. Hard lead pencils (2H) are perfect for tracing very fine, light lines on spray-starched linen. (The spray starch helps release the lead when the piece is washed.)
Soft lead pencils work well as a transfer medium, too. If you turn your printed embroidery design over and trace over the lines with a soft lead pencil on the back of the paper, you can then turn the piece of paper over, pin it to your fabric, and trace over the lines on the front of the paper with a ballpoint pen, effectively using the soft lead on the back as a kind of carbon paper. Works great! (Tutorial here.)
But I use drawing pencils, first and foremost, to sketch and doodle.
Along with the drawing pencils comes a good eraser (or 10, depending on your needs!) and a small, portable, hand-held pencil sharpener.
Besides pencils, I frequently use artist's pigma pens with various sized tips. I particularly like Sakura pens, in sizes 005 and 01. I use these pens to draw over the final lines of a sketch, to produce a clean line drawing that scans well.
These pens can also work well for design transfer. You can use them to trace fine, clear, dark lines. Beware, though – the ink is permanent, even though the manufacturers don't guarantee permanence on fabric. It's always a good idea to test your fabric first. If I use a micron pen like these to trance a design, I will generally run over the fabric with a hot iron after tracing the design on, to help set the ink.
Sketching and all that is fun enough, but things really get fun when it's time to play with color!
I prefer colored pencils when dabbling with color for any embroidery design. Often, before I stitch, I'll get an idea of color layout and what works well by working over the design with colored pencils. My favorite pencils for this type of work have always been Prismacolors, but last year for my birthday, I received a set of Derwent Inktense pencils, which are watercolor pencils that are quite vivid. They're fabulous! I love 'em!
Sometimes, I'll use markers, though – usually when I'm deciding on color combinations and layout for outlined designs that don't have any filling. Even if I don't get the colors exactly right on the lines, since most marker sets don't have a large, subtle range of colors and shades and such, I can get a good idea of the general layout of color.
My favorite fine-tipped markers are the Staedtler markers above. They don't come in a huge range of colors, but they draw a nice, fine line, they're affordable, and they seem to have a longer life than most similar pens I've used.
I've considered Copic markers, but they are way beyond my art budget. I've tried them a couple times, and if you can afford them, I think they'd be nice to have due to their blending properties, especially if you're design shaded pieces.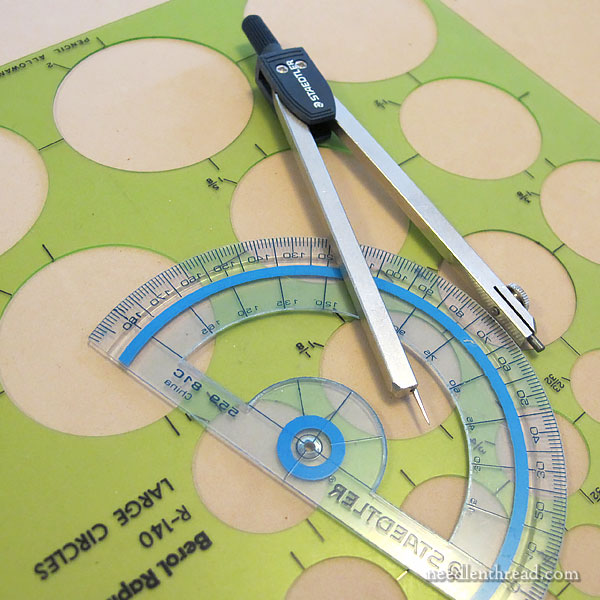 Lastly, other tools!
I have a plethora of small rulers, a decent compass, some curved rulers, a protractor and similar tools that I keep in a pouch, easy to access whenever I need them.
The circle template (green in the photo above) is a great addition to your art supplies, for drawing quick, specifically-sized circles directly on fabric.
For easy transport, I keep a set of pencils, an eraser, a small sharpener, a protractor, a compass, and a small, clear, thin plastic ruler in one pouch. This pouch, along with a sketchbook, fit into a grab-and-go bag. And in fact, I have a beautifully embroidered bag that is my official "sketch bag" now. I'll show it to you shortly!
I'm not a sketching artist by a long shot, but I do like to doodle stylized designs. The Blackwork Fish started out as a doodle, and so did this goldwork pomegranate, this little satin stitch thingamabob that I never finished, this lettering sampler, a few individual monograms that I've stitched up, this tree, and this tree, and many other little playful things that have and have not made it into the embroidery arena. Some day, they might!
What About You?
Do you have a collection of outside-the-realm-of-embroidery tools that you use regularly in conjunction with your embroidery pursuits? Any that you find indispensable? I'd love to hear about them! Feel free to chat about them below!
(I'll link to resources for these supplies on Needle 'n Thread, here, if you're looking for sources!)
Where to Find Them
If you're looking for any of the art supplies mentioned above, you can find them through the following affiliates links. If you shop Amazon through these links, Needle 'n Thread gets a tiny kick-back without any extra cost to you. Every penny helps keep the website going, so thanks!
Canson tracing paper is available here through Amazon.
My favorite Canson sketchbook is available here through Amazon. It's less expensive here than the same one at arts and craft stores, though you'd probably get a comparable price locally when drawing paper is on sale or if you have a coupon.
Staedtler Triplus Fineliner markers are available here.
Sakura micron pens are available here through Amazon, but I often find them less expensive (especially with a coupon) from Hobby Lobby, JoAnn's, or Michael's.
Derwent Inktense Pencils are available here. They can be more or less expensive at arts and crafts stores, depending on coupons, sales, etc.
The circle template here is a decent one. You can also pick these up at arts and crafts stores, for around the same price.
Tags