For all of you who have been hankering to stitch up your own embroidered kaleidoscopes, today I'm releasing my collection of favorite kaleidoscope embroidery patterns!
I've also added some information for you in my previous article on my interpretation of Birthday Bash, this embroidered kaleidoscope that I showed you last week, for those who want to stitch it up using the same colors I used.
So, read on and learn all the details…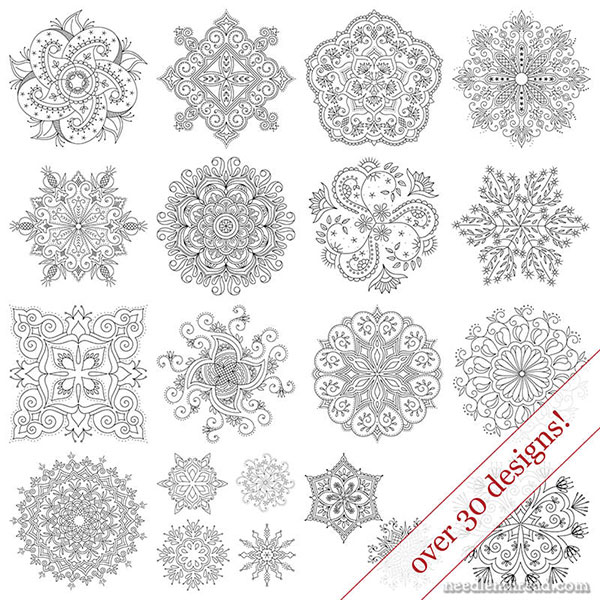 Favorite Kaleidoscopes is a collection of over 30 kaleidoscope designs for hand embroidery and other crafts.
The designs are stylized designs that either grow in radiating bursts or that develop as flowy or geometric patterns. These types of designs are suitable for all kinds of applications in the craft world, from needlework to paper crafts to quilting, appliqué, to wood carving! They even work as coloring designs.
One of the reasons I really love these designs for hand embroidery is that they offer wide scope for interpretation with stitches, whether line stitches or filling stitches. Dimensional, textured, smooth – it all depends on what you want to explore. Each kaleidoscope can easily become a stitch sampler – and a stitched masterpiece!
You can also work the designs with any kind of thread! So they're perfect for stash busting or for experimenting with new threads.
The collection features over 30 kaleidoscope designs that range from 4″ designs to 8″ designs in various levels of complexity, from simple to more complex.
In the e-book, I include several suggestions for design transfer, including transferring on light or dark fabric. I've also includes some examples of how you can break the designs up if you just want to stitch portions for specific applications.
Pattern Book
Please note that the pattern e-book includes the patterns for these (and more!) kaleidoscopes, but not the stitching instructions. It's a design book, not a stitch guide.
Here on Needle 'n Thread, I've shared several interpretations of some of the patterns included in the e-book, such as Birthday Bash, Party in Provence, and Tulip Festival.
I've detailed the threads and stitches for Birthday Bash here. I've updated that article to include the DMC color numbers I used to stitch the design.
And you can see my interpretation of Tulip Festival here and Party in Provence here. If there's an interest in the stitches and threads I used on either of those, I'll post the details here on Needle 'n Thread.
E-Book Delivery & Use
The collection of favorite kaleidoscope designs is delivered via a download link in your email, as a PDF file. You can print the individual pages for the designs you want to work, and you can enlarge or reduce them to suit your stitching preferences. If you want to go really big with any of the designs, just print the design at home and take it to a copy shop for an enlarged version.
When you make your purchase, please double check to make sure that you enter your email address correctly, as the download link is delivered to the email address used for the purchase. If your PayPal email address is different from the email address where you would like to receive the files, please drop me a line after purchasing.
Upon receiving your download link, please download the PDF directly to your computer and save it there. The download link expires after four days. If, however, you lose your file or need your link re-set, just drop me a line and I'll take care of that for you!
Get It!
If you'd like your own embroidered kaleidoscope, hop right on over here to my Needle 'n Thread Shop, where you'll find Favorite Kaleidoscopes, along with a growing collection of other embroidery e-books for patterns and projects!
Thanks so much for your support of Needle 'n Thread! I hope you enjoy this pattern collection as much as I do!