Howdy-ho, friends! I hope your week is progressing wonderfully!
Remember last week, when I reviewed the custom wooden boxes for mounting embroidery, hand crafted by Mark Harris at Mythic Crafts?
Welllllll…. it's time to spread the love a bit, with a give-away!
For the details, read on, read on!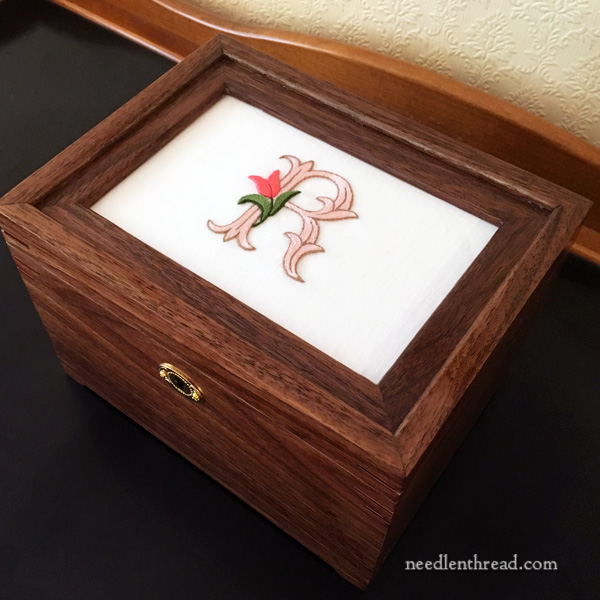 Mark has generously offered one of his custom boxes for mounting embroidery for a give-away here on Needle 'n Thread.
And you know me – I couldn't resist the offer, since it's a chance to pass along to one of you something that is not only beautiful, but useful, too.
The randomly drawn winner of today's give-away can choose among the boxes on the Mythic Crafts website, with whichever customizations options (wood choice, corner choice, etc.) you wish, or, if you have a different size opening you need on your box (to accommodate a piece of needlework you've already completed), you can just let Mark know and he will work with you.
Mark said he'd also throw in a few surprise goodies – and who doesn't like surprise goodies?
If you'd like to join in on today's give-away, please adhere to the guidelines below.
Give-Away Guidelines
The location for leaving comments for this give-away has changed. You can read why here.
1. Leave a comment on this new article on Needle 'n Thread. There's a link directly to the comment form in the guidelines posted in the new article.
2. Make sure you leave a name and a working email address in the correct lines on the comment form. You do not need to leave a website address on the comment form, if you do not own and operate your own website. Do not leave your email address, mailing address, or phone number in the comment box itself, because this is viewable online, and you don't want to end up with a bunch of junk mail, right?
3. In your comment, please answer the following question:
What style of embroidery are you working on at the moment, and do you have any "finishing" plans for it? (i.e. will it hang on a wall, will it decorate something else, is it part of a quilt, is it something you can make up into some specific item, will you put it on a box, is it part of a piece of clothing, and so on)
4. Leave your comment by 5:00 am central time (Kansas, USA), Saturday, September 16th. The winner will be randomly drawn from the eligible entries and announced that day. I'll also contact the winner via email.
And that's it! Go forth and leave your comment on this article, and you could soon be the proud owner of a gorgeous hand-crafted wooden box from Mythic Crafts to display your favorite embroidered masterpiece in all its glory!