Good morning, my friends! I hope your week is trucking along splendidly!
Here in Kansas, the kids are out of school for the Christmas holiday now, and while preparing for Christmas, they're secretly itching for some snow. I'm itching right along with them. If you have any you can spare, send it our way! I'm dreaming of a white Christmas…
But on to other Things! Today, five stitchers out there are going to find out that they won the collection from Inspirations Studios in A Stitcher's Christmas #6 from last week!
And then I'll give you all the details for today's episode of A Stitcher's Christmas, which comes courtesy of Needle in a Haystack, and it involves many of the things you asked for when I inquired about what you'd like to see in a give-away – from fabric to tools to thread. Great stuff for getting started or for stash building!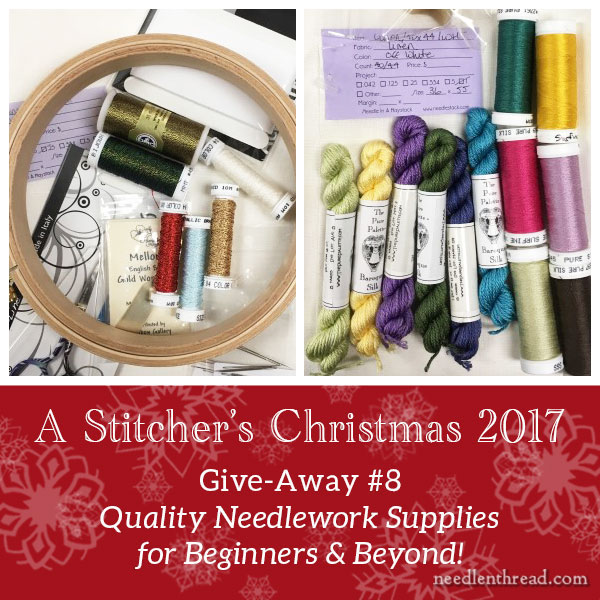 Let's tackle the business first…
A Stitcher's Christmas #6 Winners
A Stitcher's Christmas #6 involves a lovely collection of goodies from Inspirations Studios, who offered the prize package for five winners.
So here are the five winners, randomly drawn this morning: Monique in Texas, Marion in Oz, Carol McGough, Aurelia Eglantine, and Leigh NZ. I will drop you all an email today, to work out the mailing details.
Thanks again to the folks at Inspirations! If you're looking for a last minute Christmas gift for a friend – or for yourself! – how about subscribing to Inspirations Magazine? It's the gift that keeps on giving!
A Stitcher's Christmas #8: Fine Needlework Supplies!
Today's give-away hails from California, from Needle in a Haystack. Cathe has put together two collections of enticing needlework supplies, one for each of two winners.
The collections are perfect for beginners who want to reach into new territories with fine fabric, threads, and tools, and for anyone beyond beginner who has a love for fine needlework supplies!
Collection #1 includes a stitcher's quarter of 40/44 count linen (great for surface work); a 6″ Hardwicke Manor hoop with twill tape to bind it; a pair of Premax serrated scissors; wax; mellore; a spool of DMC Diamont; a spool of Bijoux; 4 spools of Au Ver a Soie Metallic #4; a pack of #10 Bohin beading needles; and a pack of #24 Bohin Chenille needles.
Collection #2 includes a full yard of 40/44 linen; 6 spools of Soie Surfine; 6 skeins of Baroque Silk; waxer; a package of #10 Bohin beading needles; and a package of #24 Bohin Chenille needles.
Both collections are great for trying out new materials and tools, and they'll give you much stitching pleasure, with plenty of fabric and threads to play with!
Give-Away Guidelines
If you'd like to join in today's give-away, please follow these guidelines:
This give-away is now ended – thanks to all who participated!
1. Leave a comment on this article on Needle 'n Thread. You can follow this link directly to the comment form, if you're unsure of where to go.
Please do not leave your comment as a reply to someone else's comment. Comments submitted via email or left on any other page or social media page are not eligible. The comment must be left on Needle 'n Thread, at the end of this article.
2. Please fill out the comment form correctly. Here's what you need to know about filling out the comment form:
Use a recognizable name in the "name" line (this can be first and last name, first name with last initial, a nickname, your first name and where you're from, etc.); use a valid email address; leave the website line blank if you do not own and operate your own website; do not put any personal contact information in the comment area itself.
3. Answer the following in your comment:
Imagine your Ideal Stitching Session – that chunk of time you've put aside to indulge in a nice bout of needlework without interruption. What does that stitching session involve? Some prompts: How do you set it up? What accompanies you through the work? Are listening to music? To an audiobook? Watching sports? Using your favorite blanket? Is there a table close by with your cup of tea or coffee…or glass of wine (or shot of whiskey, or cup of cocoa, or glass of milk…)? Is there a dog or a cat at your feet? A bird on your shoulder? Are there people around, or are you alone? Is the house straight? Fire crackling? Windows open? Sunny breeze, or twilight birdsong?
4. Leave your comment before 5:00 am Central Time (that's Kansas, USA time), Tuesday, December 26th. The winners will be randomly drawn that morning and announced here on Needle 'n Thread.
5. Only one comment per person, please. The give-away is open to everyone.
And that's all there is to it. I hope you have fun answering today's question – you can either sketch reality for us, or you can let your imagination go and do a little dreaming!
Coming Up!
On Friday, the last episode of A Stitcher's Christmas! And if you're wondering what it might just be, I'll give you a little hint: scissor people will be over the moon! Ok. Fine! I'll give you another little hint.
I'll announce the winners for today and Friday's give-away the day after Christmas, December 26th. So you'll definitely want to keep an eye out for Friday's give-away, because it's a fast one, over the long weekend!
Hope you're week is going well – in fact, I hope it's going gently, without haste!
If your comment does not appear on the website immediately (it will read "awaiting moderation" or something to that effect), don't panic and please don't resubmit it. The comments are queued until I approve them. This prevents spam on my website. It will show up eventually. Thanks!