Good morning, my friends, and Happy Friday before Christmas! Are you ready for the final installment of A Stitcher's Christmas, 2017? I hope so, because it's a doozy!
A huge, huge thanks to all the needlework businesses who joined me this year in putting together A Stitcher's Christmas! They really went above and beyond in putting together terrific prizes to help give back to the needlework community with some really special gifts! When you're looking for embroidery supplies, kits, tools, books and the like, please keep them in mind and support these small businesses.
Today, then, is the final installment of this year's series. The prize? Delicate hand-crafted, heirloom quality scissors in their own wooden case, created by Jean Marie Roulot in Nogent, France, and offered to one happy winner by The French Needle. They are certainly the scissor enthusiast's dream!
We'll also discover the winners of A Stitcher's Christmas #7 from Monday – a lovely collection of embroidery books from Search Press North America.
Ready?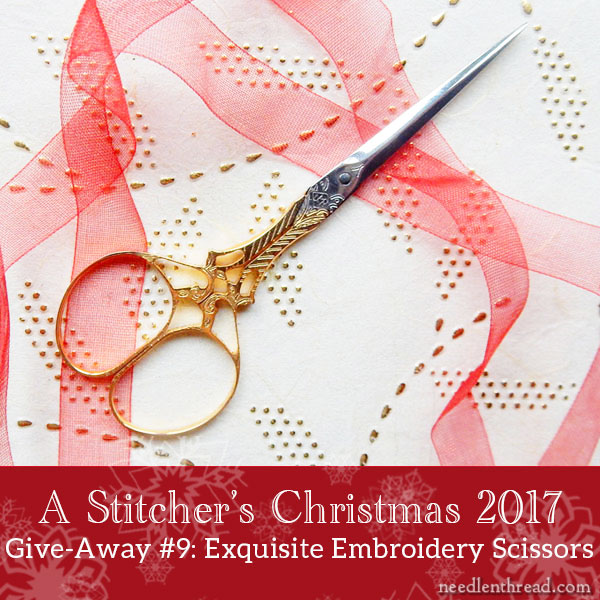 As usual, let's take care of business first!
Stitcher's Christmas #7 Winners
A Stitcher's Christmas #7 announced on Monday involves two winners, who each get a nice selection of instructional and inspirational needlework books from Search Press to add to their needlework libraries!
The randomly drawn winners for A Stitcher's Christmas #7 are Nancy Cook and Wendy in MN. Congratulations to both! I'll drop you a line later today!
A Stitcher's Christmas #9: The 2017 Final Installment!
My love of beautiful embroidery tools was slow developing. Once upon a time, to me, a tool was just that – a tool – and if it worked well and did what I wanted, I liked it. During this period of somewhat dull practicality in my life, I never really concerned myself with the decorative aspect of embroidery tools.
But as my love of needlework grew deeper, so did the understanding that useful things can also be beautiful. Sure, there is beauty in any well-made thing, just by virtue of its being well-made. And scissors are no exception to this. I have scissors that are so well made, with such precision in engineering and construction, that they really are beautiful, even if they aren't particularly decorative.
But scissors can go beyond just the beauty of their good construction and engineered perfection for cutting. Scissors, throughout history, have been an excellent "medium" for artistic expression on the part of the one who uses the scissors, but especially on the part of the maker of the scissors.
Imagine a pair of scissors precisely engineered for cutting perfection and made in such a decorative way that they're a work of art – and there you have the idea behind the scissors in today's giveaway!
M. Jean-Marie Roulot of Nogent, France, is one of the few artisans still making hand-crafted and exquisite embroidery scissors. You can read a little bit about M. Roulot in this article about The Scissor Man.
The French Needle stocks an ever-changing variety of these scissors from M. Roulot.
These are the types of scissors that you'd give as a very special gift, to someone very dear to you who loves needlework, or perhaps as a gift for yourself to celebrate some Milestone of Life.
Today's give-away, then, is the gorgeous pair of hand-crafted embroidery scissors pictured above, small works of art and cutting perfection! Specifically, they are scissor #40, which you can see here, and they come with their own specially crafted wooden case.
There will be one blissfully fortunate winner randomly drawn for this give-away, which ends on December 26th and will be announced that day.
Give-Away Guidelines
If you would like to join in on today's give-away, please follow these guidelines:
This give-away is now ended – thanks to all who participated!
1. Leave a comment on this article on Needle 'n Thread. You can follow this link directly to the comment form, if you're unsure of where to go.
Please do not leave your comment as a reply to someone else's comment. Comments submitted via email or left on any other page or social media page are not eligible. The comment must be left on Needle 'n Thread, at the end of this article.
2. Please fill out the comment form correctly. Here's what you need to know about filling out the comment form:
Use a recognizable name in the "name" line (this can be first and last name, first name with last initial, a nickname, your first name and where you're from, etc.); use a valid email address; leave the website line blank if you do not own and operate your own website; do not put any personal contact information in the comment area itself.
3. Answer the following in your comment:
Describe the most beautiful piece of needlework you've ever seen, that impressed itself on you so much that you can still recall it! Tough question, I know, but I think this one's worth working for!
4. Leave your comment before 5:00 am Central Time (that's Kansas, USA time), Tuesday, December 26th. The winners will be randomly drawn that morning and announced here on Needle 'n Thread, along with the winners of A Stitcher's Christmas #8.
5. Only one comment per person, please. The give-away is open to everyone.
And that, my friends, is that. Go forth and comment! And for those who are thinking "I never win anything," I'd just like to mention that several winners from this year's series have said the same thing…
Enjoy your weekend! I'll see you on Christmas Eve!
If your comment does not appear on the website immediately (it will read "awaiting moderation" or something to that effect), don't panic and please don't resubmit it. The comments are queued until I approve them. This prevents spam on my website. It will show up eventually. Thanks!