Lately, I've been working on some relative small embroidery. Not miniature embroidery, but rather little things that require fine threads in order to get a balanced look to the finished embroidery.
And while I'm embroidering these little things, often with only one strand of floss, I'm constantly reminded of the necessity of good lighting for needlework.
Couple this with the fact that I've had a lot of requests for recommendations for good lighting recently, and I figure it's a topic that we should revisit, especially for those who are in the market for a good stitching light and for those who don't realize just yet that their lighting might not be adequate.
So, today, let's have a little chat about lights! I'll recap some lighting options that I've reviewed here on Needle 'n Thread (and that still work great for me), and I really hope everyone else will chime in down in the comment section and let folks know what light you use and why you like it! Together, we can help fellow stitchers make informed decisions on lighting solutions for needlework.
And…shhhhhhhh! Just between you and me and the lamp post, I've also include a good coupon code exclusive to Needle 'n Thread readers for one of the lights. The code is from last year, but it still works!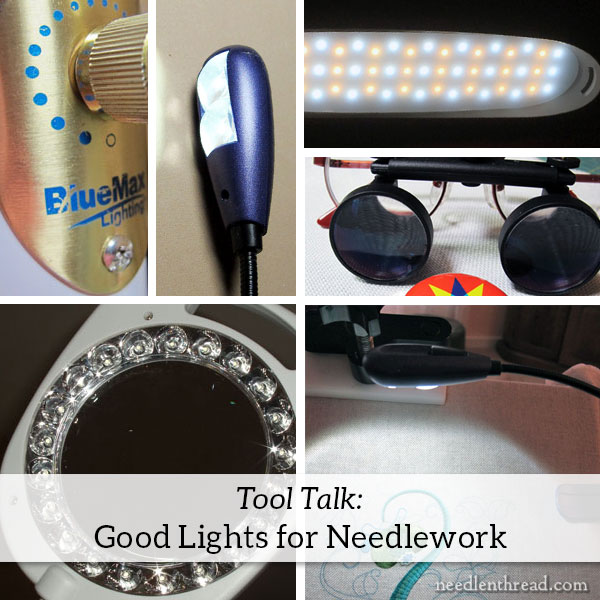 Good Lighting is Important
It's true that a hundred and fifty years ago – and stretching back into centuries – embroiderers didn't have great task lighting, and they still produced beautiful embroidery.
Even so, this is not a good excuse to neglect good lighting today. We have a plethora of good lighting available on the market, for every budget. Your eyes deserve excellent light! You've only got two of them, and they can't really be replaced.
That said, a sunny window on a cloudless day can provide wonderful light, so even if you can't afford or don't want to make the investment in a task light right now, use free sunlight!
While working in dim light – and reading in dim light – don't necessarily make your vision worse (even though that's what Mom or Dad always said when they caught you reading in a dim room!), it can cause eye strain and tire out your eyes.
And when it comes to embroidery or handwork, often we don't realize what we're not seeing, because we're working in dim light.
So if you've ever looked at your embroidery and thought "Why does it look so crooked?" or "Why is my spacing off?" or "Why is the fabric visible behind those stitches – I thought I covered that area completely!" … it could very well be your lighting!
Another point, too: if you're struggling to see details and you think you must need magnification or reading glasses or new specs all around, you might first consider how good your lighting is! Often, the problem is not a need for magnification, but rather a need for better lighting.
Lighting Solutions for Different Situations
Before you invest in a light, consider your situation and ask yourself some questions:
1. Will the light be in a permanent spot, or will I need to move it around?
If the light will be in a permanent spot, it's ok to have one with a heavy base. If it's in your living room, do you need it to be decorative, or is it ok if it's just functional?
Do you want a floor light? Or do you work permanently near a table where a table light will work best? (Ttable versions are usually less expensive!)
2. Do I want a light I can travel with and use at home as a task light?
If you want a task light you can move around and even take with you when you travel, you'll need to consider the weight of the thing and its size and package-ability. Can you pack it up and move it easily? And will it still serve your purpose as a good task lamp at home?
3. What's my budget?
While it would be swell to have unlimited funds for our needlework or anything else we want, the reality is that most people don't, so we have to consider price tags carefully!
That said, I often find it's a little more sensible to spend a little more for the better light (or whatever) that will last longer or fulfill all my needs (now and future needs), rather than spend less this month or this year, only to have to buy again next month or next year.
4. What configuration do I want? A floor lamp? A desk or table lamp? A clamp or clip-on light?
Good task lighting comes in all kinds of configurations.
There are floor lamps with heavy bases. There are floor lamps with lighter bases. There are table lamps with heavy bases and table lamps that are much lighter.
There are large clamp-on lights that can be fixed to the edge of a table or to a needlework stand or what-have-you. There are clip-on lights – much smaller lights that can clip onto a frame or hoop and that are little and easy to travel with.
There are lights that you can wear around your neck (I don't have good luck with these) and lights you can wear on your head!
5. Do I really need magnification, and if so, do I want to include that in my lighting option, or keep it separate from my light?
Magnification can come in magnifier / light combination units. And magnifiers can be bought separately. If you know you need magnification, then consider that when you're looking for your light!
Lights that Work for Me
So I've been doing this whole Stitching Thing for a little while, and I've tried a lot of lights. Below are the ones that work for me.
Workroom Lights: BlueMax
In my workroom, my permanent lighting solution is in the form of two floor lamps that I shift around as I need them (though they are heavy).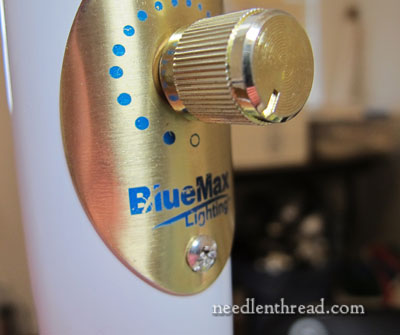 I use BlueMax 70W dimmable floor lamps (which I've written about here) in my workroom, for the following reasons:
1. I've not found brighter task lighting anywhere, that offers full spectrum light and can be dimmed. It's like being out in full sunshine but without the harsh shadows, so it works well for stitching, but also for photography.
2. The lights don't pulsate, which, again, makes them work well for photography. Often, your eye might not see that a light pulsates, but once you turn a camera on, you'll see it and your photos will reflect the problem.
These are my most often-used lights, because that's where I do most of my work.
Keep in mind that the BlueMax lights are not LED and they do give off heat.
Traveling or Easy-Moving Task Light: The Stella Two
For traveling – when I'm going to be staying in a hotel or at someone else's house where I'm not sure of the lighting – or for moving about the house with a task lamp, I use the Stella Two desk lamp, which I reviewed here.
The Stella Two desk lamp is super light, it's flexible, it fits in a great carry-box, and it offers a triple-range of LED lighting – warm, cool, and combination. The lighting is excellent, and I couldn't be happier with the portability. If you attend workshops where you have to bring your own light, this is a great option. You can use it in the workshop and in your hotel room and have great lighting to work by.
That said, I never use it for photography. Although there is no visible pulsation when you're working under it, if you turn your camera on to snap a picture, you'll get waves.
Since it's LED, it doesn't put off any noticeable heat. Those who want to avoid a heat-producing light yet still have an excellent work light, this is one to look into.
I've heard great things about their floor lamps, but I've not tried one. I just use the table lamp version.
And I even have a coupon code exclusively for Needle 'n Thread readers for Stella lights, which I think is mighty nice of the company. If you purchase a Stella through their website and enter mcbrite in the promotion or coupon code box at checkout, you'll get 15% off your purchase, plus free shipping within the US. Not bad!
Clip-on Lights for Cars and Small Spaces: Mighty Bright
My favorite lights to use for car traveling – and I would think airplane and train travel as well – are Mighty Bright clip on lights, which I reviewed here.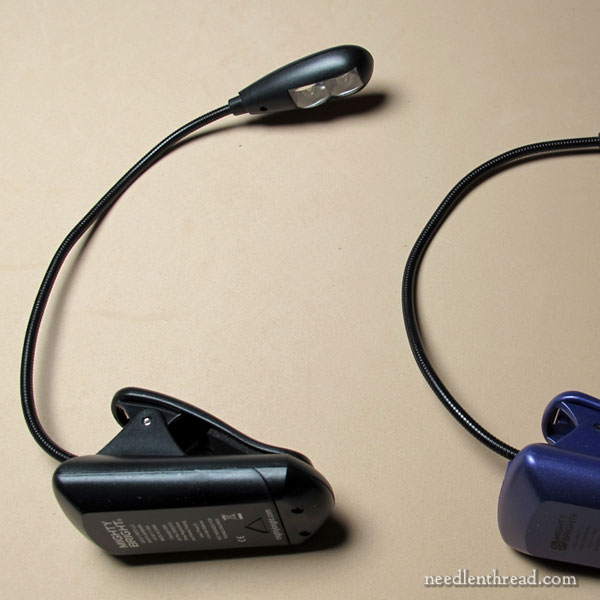 They're made for reading and such, primarily, but they work fine for needlework lighting that's close and directed, when you're in a small space.
Magnifier & Lighting Combos
This Dublin Craft Magnifier is the one I've had for years, and I've not had any need to replace it yet. It still works great! I know there are other brands out there, and eventually, I know I'll need to get a couple more floor magnifier / light combos (when I finally get my Dream Workroom and Classroom Space – some day!), but for now, this one is still plugging away for me when I need a magnifier.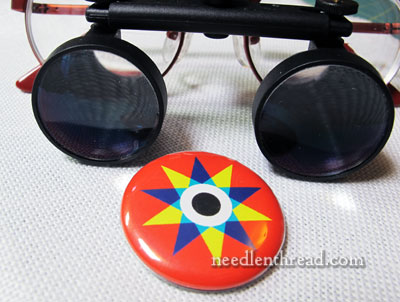 CraftOptics are the Luxury Magnifying and Lighting Solution for folks who really need magnification, who wear glasses already, and who want excellent, focused magnification that will allow them to look at their needlework, and still be able to look up and see around them through their regular prescription. I've reviewed CraftOptics here, and I highly recommend them for people whose vision is holding them back from their needlework.
Not the Only Ones I've Tried
The lights above are not the only lights or light / magnifiers I've tried. They're the ones I've stuck with and been very happy with, after trying other lights.
I know many folks use Ott lights, and they are a serviceable and affordable option for a first task light.
I don't use them anymore, but I would use them in a pinch on the principle that anything is better than nothing. They just aren't an absolute favorite. I can see them pulsate, for one thing. They aren't the highest on the full spectrum scale, for another. And they're not quite bright enough for my every day task lighting.
What About You?
What lighting solution (or lighting and magnification solution) do you use, and why do you like it? Share your input below, and let's help people who are looking for lighting find the perfect light that will work for them!