Today, let's talk embroidered flowers! I want to show you an embroidery project book I've had for a while, that I think is utterly charming.
Hopefully, if you're in the same hemisphere I'm in, you're finally enjoying some spring weather. It's been slow coming this year, hasn't it? No matter where you are, though, Embroidered Garden Flowers will certainly put you in the mood for All Things Growing!
Let's take a look at it!
Embroidered Garden Flowers is a project book by Kazuko Aoki. Originally written in Japanese, we're looking at the English translation published by Roost Books.
The book focuses on botanical motifs for needle and thread. The motifs range from simple to more complex, and all are delightful.
Unlike most needlework project and instructional books that we're used to today, the book doesn't begin with in-depth information on the basics, like setting up, transferring, tools, materials and so forth.
Instead, it launches straight into images of all the projects covered in the book.
So, for the first half of the book, you'll find page after page of beautiful embroidered botanicals.
The projects are presented more like botanical studies, with different parts of them segmented and highlighted from the main growth.
Approached the right way, this gives the embroiderer a lot of freedom to choose what to stitch – whether you want to stitch a full flower with stem, leaves, and all, or just the flower, or just part of the flower. Or, of course, you can stitch all the elements in the same botanical-study fashion as presented in the book.
Occasionally, you might even come across a bug!
It isn't until the middle of the book that you'll find a two-page, short spread on basic tips when working the embroidery.
This is very light information on threads, needles, fabric, transferring designs, frames or hoops, and very basic tips on stitching the flowers.
If you are an absolute beginner, it might not be enough to get you going from nothing, but if you have had even a little experience in stitching, it's adequate.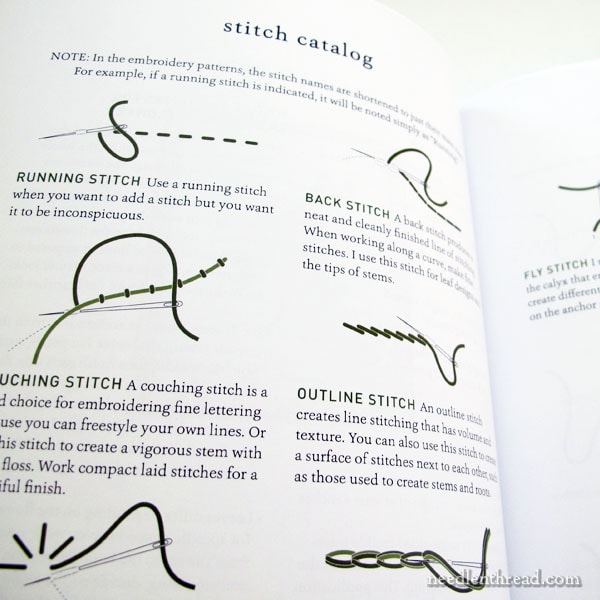 As far as stitch instructions go, there are a few pages (three, actually) with very simple stitch diagrams.
Again, these are adequate for embroiderers who have had some experience, but for the more complex stitches (like long and short stitch), they are a bit too basic for beginners.
After this short middle section (five pages total) that would comprise any instruction in the book, you'll find the pattern, stitch guides, and color layouts presented in the rest of the book for all the projects you saw at the beginning of the book.
For each project, everything is a little jumbled together here. The line drawing is the design that you would transfer, which you would probably want to trace with tracing paper first and then transfer using your preferred method.
There's a color list in DMC threads, and lines point to the various areas on the designs to indicate what stitch and what colors go there.
There are no step-by-step instructions for actually stitching any of the designs, which, again, might make it problematic for absolute beginners, but if you'd had a little experience, you should be ok!
In a Nutshell
Embroidered Garden Flowers is full of charming botanical designs for embroidery, suited to advanced beginners (who might need to supplement with a little more stitch instruction from a good stitch dictionary or online videos) through expert embroiderers. The designs and their interpretations are lovely! The instruction is light.
If you love botanicals interpreted for embroidery, you'll want the book!
Pros
Pretty stuff to embroider! Especially if you like a minimalist approach to pretty floral embroidery, it's a nice design source.
The book is clear enough for intermediate and advanced embroiderers.
The book is affordable and nicely printed. It's a book that feels good.
The colors and pictures of the finished embroidered pieces within are delightful.
Cons
Light on instruction! Beginners through advanced beginners will probably need supplementary help to tackle the designs, especially the more complex.
The jumbling of the design and stitch / color layout guide is not my favorite approach, but again, it's workable. Just use a decent tracing paper to extract the design itself from all the information around it.
More by Kazuko Aoki
Kazuko Aoki also has another book out called The Embroidered Garden: Stitching Through the Seasons of a Flower Garden.
It is similar in approach and layout, but the floral motifs are more full-garden oriented, rather than individual botanical elements, and they're really pretty!
The designs in this book have a sketchy, light style to them that makes them delicate, but at the same time, very colorful and fun. There's a definite sense of whimsy to them, while still being an accurate representation of garden growth.
Both books are great for flower lovers!
Where to Find It
You can find Embroidered Garden Flowers and The Embroidered Garden by Kazuko Aoki through the following book affiliates:
In the US, you'll find both books listed near the top of my Needle 'n Thread Recommendations page, here on Amazon.
Worldwide with free shipping, Embroidered Garden Flowers is available here through Book Depository and The Embroidered Garden is available here.
This article contains affiliate links to book sources, which means that Needle 'n Thread receives a small commission for any products purchased through those links, at no additional cost to you. Every little bit helps! Thanks!