Well, my friends, this week did not start the way I planned!
By today, I should have been working in my new "digs" – the space I've rented to host all things Needle 'n Thread. Yesterday, I had planned to show you around a bit. But due to unforeseen technical difficulties, a tour and a chat will have to wait.
In the meantime, I'm writing from an iPad, which leaves a lot to be desired. I'm optimistic, though! I'm sure the glitches will be sorted this week and the studio should be operational soon. Not attractive, mind you. Just operational. That's all I'm striving for at this point. I'm dying to get some stitching done and to share with you some design work and doodling I've been dabbling with.
Speaking of designing and doodling, today, I'd like to share with you a free online source called The Embroiderer's Book of Design: Contains Initials, Emblems, Cyphers, Monograms, &c. It's a neat book and it has a lot to recommend it. It might take a little bit of work to get the designs transfer-ready, but the book itself is a terrific source for ideas!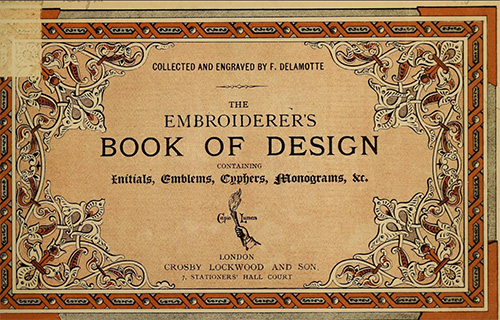 The Embroiderers Book of Design promises a lot, and back in the day when it was published (1891), it surely lived up to its promise.
Today, we tend to look for a more streamlined approach to embroidery designs. But this particular book can certainly be used as a springboard for inspiration!
Throughout the book, as promised on the cover, you'll find monograms and cyphers, initials, emblems, small embroidery motifs.
If you've ever wondered about the difference between initials, monograms, and cyphers, I've written about the subject here. It's a pet subject, if you hadn't guessed. I love decorative lettering in any form!
Some of the alphabets in this particular book offer quite a bit of scope for the embroiderer's imagination. With minor adjustments, the alphabet above could be quite pretty! I think there's a bit too much weight in some of the lines for clarity, but adjusting those to finer lines or outlines rather than filled areas could achieve interesting results.
This is another alphabet in the book that has some potential, but the more I look at it, the less inclined I am to like it. It's a bit too wonky and swooshy? What do you think?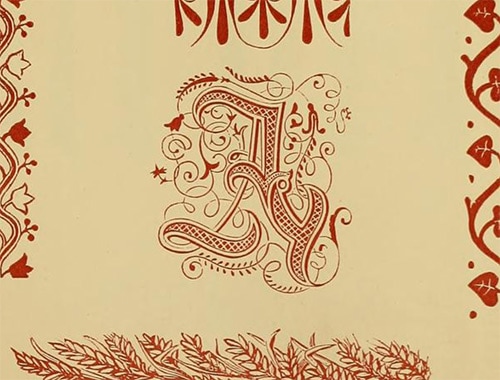 This, however, is an A after my own heart! I love this rendering!
But I find myself viciously muttering against Mr. F. Delamotte, the engraver behind this particular collection, who was stingy with the rest of this alphabet. Alas, we only get the A.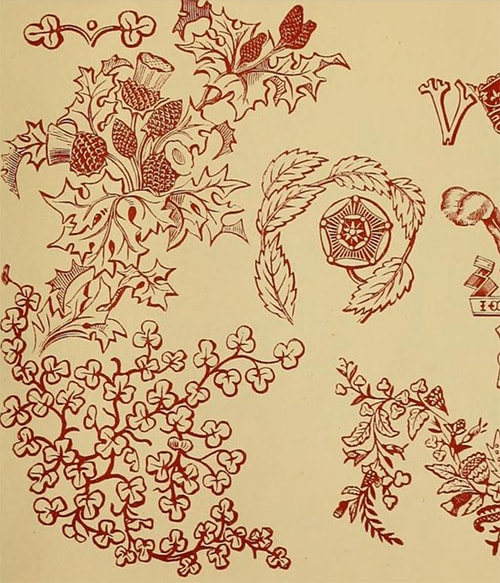 For those still consumed by Royal Wedding Fever, the full page of designs representative of Britain, including an abundant thistle, lots of clover, some roses, some initials, and other flora and emblematic elements, may be of interest.
At the end of the book, there's also a spread of ecclesiastical designs and sacred monograms. And of course, throughout the collection, you'll find single elements that would work well for embroidered accents, borders, and motifs.
Where to Find It
You can find The Embroiderer's Book of Design free for download right here on the Internet Archive.
It's definitely worth saving to your computer!
When I get this whole studio nonsense squared away, this book has at least one design in it that I'm planning for adaptation.
But first, I am determined to get back to this project and these projects!
Wishing you a happy and productive week!