Happy Mid-Week!
Today, just a quick little free hand embroidery design for you. I worked a very simple floral border up earlier this summer, thinking I might use it on a linen towel or even a flour sack towel.
After playing around with it for a bit, this was the resulting little border: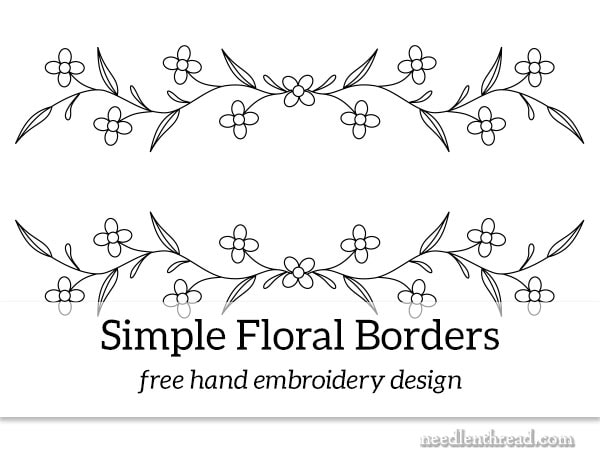 After doodling up the first line of flowers, I scanned it and then drew it as a vector. Then, I duplicated and flipped it, discovering that it would make a sweet little frame for a monogram, too, if you're into monograms.
But, even without the monogram, one line of the border – either the top or the bottom line – would make a simple, quick little accent for the center of a towel, or the corner, by tracing or transferring two lines of the design perpendicular to each other.
The lines could also be repeated, if you wanted to work them across a wide edge on anything – like a towel, a pillow case, a quilt border. So many possibilities!
Stitch Suggestions
How would I stitch the border?
I'd probably do the flower petals in raised satin stitch dots, either leaving the center blank, or working some kind of textured stitch in the center. For the long leaves, I'd work any variety of stitch there that would fill a long shape: closed herringbone stitch, fishbone stitch, vertical fly stitch worked close – plenty of possibilities. Stems? Stem stitch. Tiny leaves? Just a little granito or daisy stitch would do.
Transfer Suggestions
If you're working on a fabric that's easy to see through with light behind it, I'd trace the design, either using a light table or a sunny window as a light source. Place the pattern down first on the light table (or taped to a sunny window), pin your fabric onto the pattern, and trace away, using a light touch with a mechanical pencil. I find that a spray-starched and ironed piece of fabric releases pencil very easily when washed.
You could also use Sublime Stitching's Fine-tipped iron-on transfer pen. I love the blue one! Just keep in mind that the lines don't wash away, so you have to cover them completely.
Or you could use any other method of transfer that you prefer!
Free Design Download
Here's the PDF download for the simple floral borders:
Simple Floral Borders (PDF)
I hope you enjoy the free design!
Looking for More?
If you're looking for more free patterns for hand embroidery, you'll find plenty of them here, in my free embroidery pattern collection.
You'll also find several embroidery pattern e-books available here in my Needle 'n Thread shop, from monograms, to kaleidoscopes, to church embroidery patterns.