Happy Friday after Thanksgiving!
Today's the day I get to share with you my newest e-book, A Thousand Flowers, and, for the first time, a kit to go along with it!
Here's the low-down: I'll tell you what's in the e-book, what's in the kit, and where you can get them.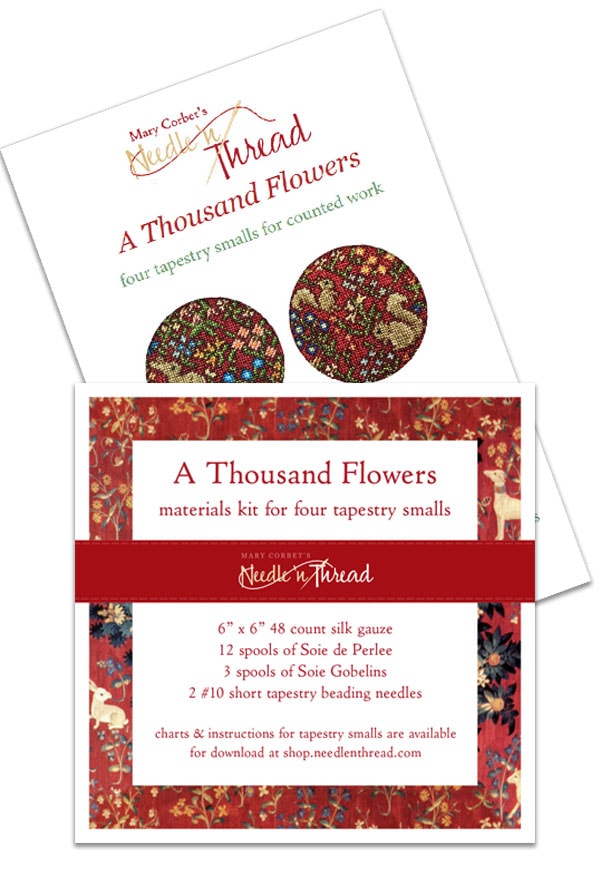 A Thousand Flowers E-Book
A Thousand Flowers is an e-book. It is a PDF file that is delivered to you after purchasing, via a download link through your email. As a PDF, the e-book can be viewed on your computer or laptop, as well as on any mobile device (phone or tablet) that supports PDFs. The e-book can be printed in part (or whole), just like any document on your computer.
The e-book features four charts for tapestry smalls worked in counted petit point on silk gauze. The charts are offered in three different formats. You will also find stitching and finishing tips to successfully guide you through the projects.
For the examples in the e-book, the tapestry smalls are stitched on 48 count silk gauze, to produce 32mm (or 1.25″) rounds that can be mounted in jewelry bezels or finished as ornaments, scissor fobs, large decorative buttons, or whatever else you can conceive!
Who's It For?
The projects in A Thousand Flowers are best suited to stitchers who have some experience with counted work and know how to follow a chart.
If you love counted work, if you love medieval textile history, if you love cats, dogs, squirrels and bunnies, if you love miniature work and finishing beautiful needlework into useful or decorative items – A Thousand Flowers is for you!
Because 48 count silk gauze is rather fine, you will need good lighting and you might need magnification. That's said, you can substitute other gauges of silk gauze or your favorite even-weave fabric.
When I originally designed the tapestry smalls, I designed them to mount in these jewelry bezels that I wrote about a while ago. They make beautiful gifts as brooches, necklaces, or ornaments when mounted in these bezels!
For one example, I worked the design (the squirrels in the photo above) on 40 count silk gauze and finished it as a scissor fob.
The same finishing technique works if you want to hang the tapestry small as an ornament.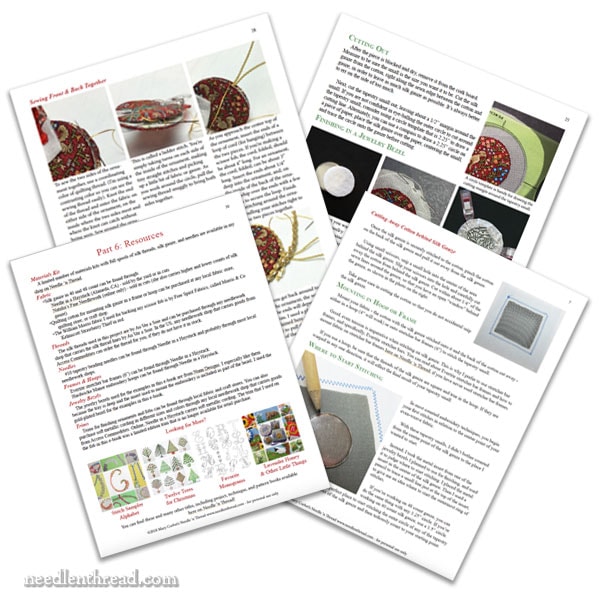 The e-book includes instructions and tips on stitching and finishing the smalls as jewelry inserts and little ornaments, both of which processes can be adapted to other finishes as well.
You'll find a complete materials list, with information about making substitutions as well.
You'll find full-page, large charts for all four smalls, in three formats: black and white charts with symbols only, full color and symbol charts, and charts with colored symbols.
This way, you can choose and print your preferred style of chart.
The Materials Kit
The materials kit for A Thousand Flowers includes fabric, thread and needles necessary for stitching the four tapestry smalls.
It does not include printed charts or instructions.
The charts & instructions are only available as a PDF download, purchased separately.
Each kit includes 48 count silk gauze, 15 full spools of exquisite French silk, and two required needles.
To keep the cost reasonable and to allow for differences in needs and individual preferences, finishing materials are not included in the kit. However, the e-book includes resources for finishing materials and tips on what to buy and where to find them.
The kit provides enough silk gauze to stitch all four tapestry smalls.
And, glory be! There's enough silk thread in the kit to stitch well more than four smalls! The full spools give you the opportunity to experiment with other sizes of silk gauze or other even-weave fabric, too, if you wish, without worrying about running out of thread.
(Insufficient threads in kits is a pet peeve of mine, so I prefer to offer full spools or skeins, rather than risk your coming up short with any of the threads!)
The silk is the highest quality French silk from Au Ver a Soie – 12 spools of Soie de Paris and 3 spools of Soie Gobelins.
You'll Need…
To stitch the tapestry smalls, you'll need a hoop or stretcher bars; some scrap cotton fabric (quilting cotton, muslin, calico); scissors; and lighting and / or magnification.
Pricing, Purchasing, Shipping, and Downloading
Materials Kit
The materials kit for A Thousand Flowers is sold by itself for $72. This represents the retail cost of all the parts represented in the kit. The materials kit is available here.
When purchasing, please make sure that you enter your shipping address and your email address accurately.
The kits will be sent via priority mail to the US only.
A Thousand Flowers E-Book
The e-book for A Thousand Flowers is available here. It is $15, and will be delivered to you via a download link in your email.
You'll receive a download link at the email addressed provided when you make your purchase. If you do not receive your download link within a few minutes after your purchase, please contact me. There are some email service providers that block auto-generated emails, so keep an eye on your inbox, and if you don't receive the download link, just let me know and I'll get it to you.
You may print part or all of the e-book for your personal use. I recommend printing just the chart you plan to use, and reading the rest of the e-book on your computer or tablet.
I also recommend reading through the entire e-book before you begin stitching. You'll pick up tips and techniques throughout the e-book that will help you successfully stitch and finish with your tapestry smalls.
If you have any difficulties with your e-book download, just drop me a line and I will sort them out for you!
That's All, Folks!
And that's it! Pop on over to my shop if you're keen to stitch your own Tapestry Smalls from A Thousand Flowers!
I'm going to be stitching a few more in the weeks to come, so why not join me? I'll be sharing progress and a couple other finishing ideas along the way. I hope you enjoy stitching them as much as I do!
The Deer – A Supplemental Chart to Expand the Collection
For those who wish to expand their collection of A Thousand Flowers tapestry smalls, I've developed a design for a deer (or stag) as well. It looks like this:
You can read about the deer design and pick up some finishing tips for the pocket watch setting in this article.
If you wish to add the deer chart to your collection, it is available here, as a separate chart from the original Thousand Flowers tapestry smalls. The deer supplement is the chart only, with no key or materials lists and no stitching or finishing tips. Those are all found in the original e-book for A Thousand Flowers: Four Tapestry Smalls.