The last two weeks, I've been doing a bit of finish work – that is, making the needlework projects that I've been working on into specific, finished things.
While I was working away, I realized how much I rely on the little tools I'm going to tell you about today, to make finishing much, much easier for me.
So, just in case you're in the throes of finishing up, for example, needlework ornaments for the holidays, I must tell you that Clover's mini wonder clips are a mini wonder – and they will help you!
Plus, you get a little sneak peek at a series of projects coming soon on Needle 'n Thread!
Clover's Wonder Clips in the regular size are terrific! They're great for hemming and sewing and whatnot, in place of pins, and they hold a plethora of other things secure, too. Whether you're doing office work or needlework or sewing or many other hobbies, Wonder Clips are incredibly handy.
When finishing small bits of needlework, though, I like the mini Wonder Clips, because their smaller tips fit better on smaller needlework.
I use them to hold parts together while I'm finishing.
To protect the surface of the tapestry small I'm working on here, I put small bits of leftover Pellon interfacing between the clip and the silk petit point surface. I do this more to distribute the "pinch" of the clip (because they really pinch) than to protect the silk. So far, I've never had a clip snag on anything – they're very nicely finished.
I like that I can use the clips as extension fingers, holding onto the clips rather than holding onto the stitched surface while sewing the two sides of this piece together.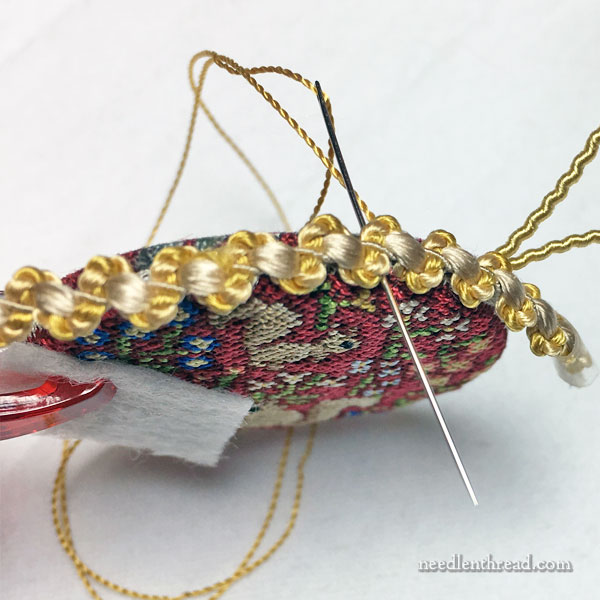 While I'm adding finishing touches like trim, I move the clip around the edge to hold onto while sewing the trim and it also helps to guide the trim along the edge of the piece.
I don't clip directly on the trim – I feed it through the handle of the clip, so that it's flowing along the edge and out of my way while I'm working the trim.
Clover vs Generic
I've tried the generic clips, too, because I was enticed by the fact that they are, comparatively, dirt cheap. But you get what you pay for! The ones I had were scratchy (which I don't want, when working with needlework surfaces and threads), and they were not nearly as mechanically substantial.
I've read some reviews that claim that only difference between the generic and the Clover clips is that the generic are made in China and the Clover clips are made in Japan. This isn't what I found. The generic are simply not as well made. I ended up passing my test purchase of the generic ones off to the nieces & nephews to use for kid crafts. The Clover ones are tucked away in their nice little organizer boxes, and used only in my workroom.
Where to Find Them
If you're doing finish work and you need some helpful little tools, try Clover's Mini Wonder Clips! I don't think I could have survived the past ten days without them!
You can find Clover Mini Wonder Clips in sewing and quilting, craft and hobby stores. The regular sized Wonder Clips are terrific for a lot of needlework applications, too – I use them whenever I hem things. (You can see them in use here.) They're not huge and they'll work equally as well for needlework finishing – but for finishing something small, I like the mini clips best.
If you can't find them locally and you want to order online, you can find them listed here on my Amazon Recommendations page, where you can buy them in jolly nice packages of 50.
This article makes use of an affiliate link, which means that Needle 'n Thread may earn a small commission from any purchases made through those links, with no extra cost to you. Every bit helps! Thank you!