Happy Monday!
It's hard to believe we are already into December and onto the third installment of A Stitcher's Christmas, a series of pre-Christmas give-aways here on Needle 'n Thread.
When it comes to What Embroiderers Love Best, I think I can safely say that we love embroidery thread. The more I embroider, the more I love thread – all kinds of thread! When I see thread, I see possibilities. Don't you?
Today's give-away, courtesy of Colour Complements, involves a gorgeous collection of hand-dyed threads in a glorious four-season array of color.
Winter, spring, summer & fall! All four seasons are represented in this collection of a dozen skeins of cotton embroidery threads. To provide you with plenty of texture, you'll find stranded cotton (floss) and perle cottons intermixed.
Lorraine at Colour Complements hand dyes beautiful threads of all sorts, including specialty threads and ric-rac. Her sampler packs are extremely popular! She also supplies thread packs for various needlework designs on the market.
I love the riot of color on Lorraine's website! It's fun to browse, just to revel in color! The Colour Complements blog is also a lot of fun to follow. That's where you'll find out about new color and thread releases, but it's also where she highlights needlework projects of all sorts worked with threads from Colour Complements.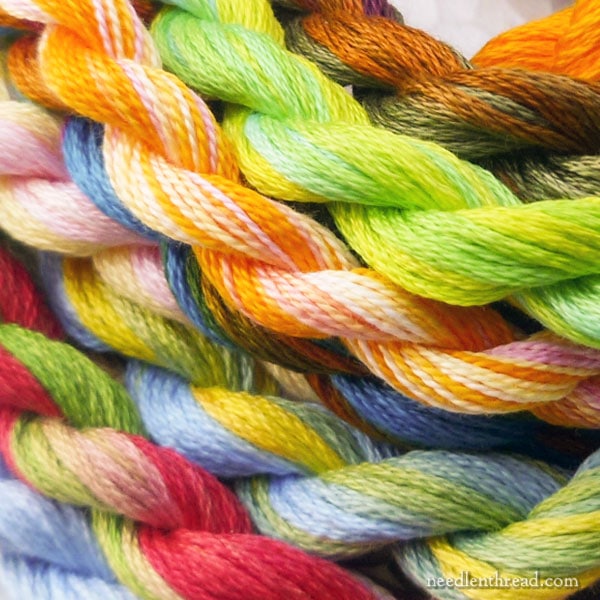 Give-Away Guidelines
This give-away is now ended. Thanks for participating!
If you'd like to join in today's give-away, please follow these guidelines:
1. Leave a comment below, in the comment form following this article. You can follow this link directly to the comment form, if you are unsure of where to go. Please do not comment as a reply to someone else's comment.
2. On the comment form, please fill out the name line with a recognizable name (no anonymous comments) and the email address line. You do not have to fill out the "website" line. You can just leave that blank. Please make certain your email address is entered correctly. In the comment box, answer the question posed below. Please do not leave your email address, mailing address, or phone number in the actual comment box. The comment box is also not the place to advertise your own needlework business, so please do not leave links to other websites in the comment box.
3. In the comment box, answer the following:
Tell us about the most time consuming embroidery project you've ever worked on. (I won't say accomplished – it might not be accomplished yet!)
4. Please leave your comment by Friday, December 7th, 5:00 am central time (Kansas, USA). I'll randomly draw the winner that morning and notify you by email.
5. Please leave only one comment on the give-away. Multiple comments will be deleted. You can enter all the give-aways in the series, but please enter them only once each.
Coming Up on Needle 'n Thread
Well, on Wednesday, I'll announce the winner of last Friday's give-away (if you haven't entered yet for the beautiful Crewel Work Company Kit, jump over there now and enter!)
I'll also show you my "stitching break" project. It's not a break from stitching – it's just a project that makes a nice stitching break. It's easy and relaxing, perfect for this time of year.
On Friday, we'll have installment #4 of A Stitcher's Christmas, 2018. I'll give you a hint: ummmm… it's two things, and they both begin with S (as in scissors… or silk…). But of course, I'd never want to ruin the surprise and tell you straight out.
I hope this first week of December is off to a grand start for you!
Do not be alarmed if your comment does not show up immediately. Comments on Needle 'n Thread are queued for moderation and published only after they are approved, in order to prevent spam. Since I'm not always at my computer, the comments might build up in the queue for a while, but eventually, they will show up!