A couple months back, I received one of those surprise packages that are fun to go through but often put me in a quandary!
It was a collection of linens and other fabrics from a reader who was de-stashing and who wanted the goods to go to a good home. (Thanks, Laura!) In the box were nice scraps of linen and silk, good for experimenting on and for using for demonstrations and tutorials.
Due to the whole Christmas hubbub and general life happenings lately, I didn't have an opportunity to go through and sort the package until just recently. One of the items in it was an older linen table cloth – huge in size – pre-stamped for embroidery. It presents a bit of a quandary.
I'm going to tell you a little bit about the tablecloth, explain the quandary, and tell you my plans. And then, of course, I'd love your input, too! Especially if you've had similar experiences (and I know many of you have, because you've written to me and asked what to do…), but even if not and you just have some ideas, I'd love to hear from you!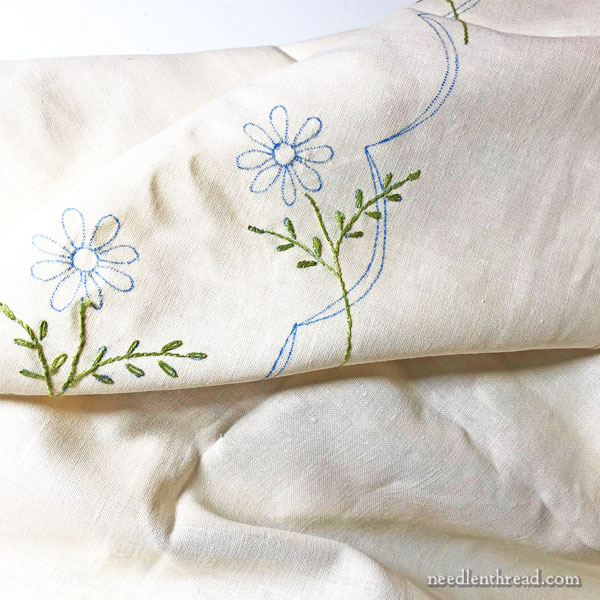 The tablecloth, as I said, is large. It's linen, and rather weighty, made of a medium to heavy weight linen.
The design is essentially two rectangles, one inside the other, of scallops crossed over with single daisies, as shown above.
On first impression, under regular room lighting, the linen came across as off-white or even ecru, and from afar, it looked "ok," though perhaps a little dingy.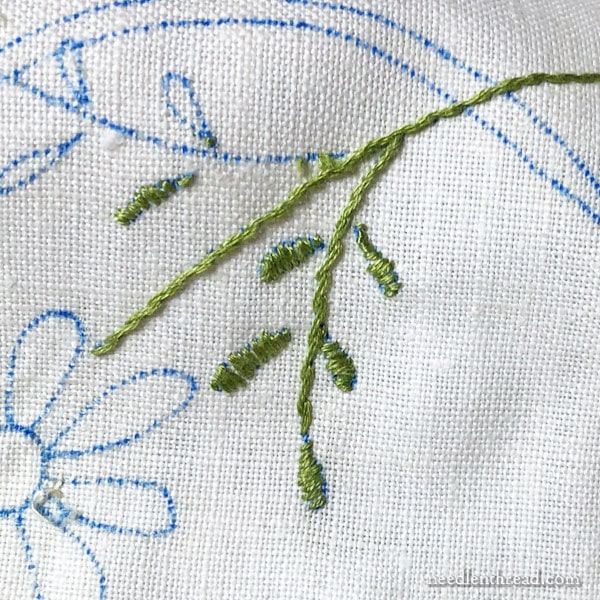 Some of the motifs have been embroidered, or partially embroidered. The embroidery skill varies between the motifs, so I'm guessing they were done by different people.
I don't know the history of the whole piece, but I would guess that it was either handed down or found through a second-hand shop and purchased with high hopes of salvaging, or some similar scenario.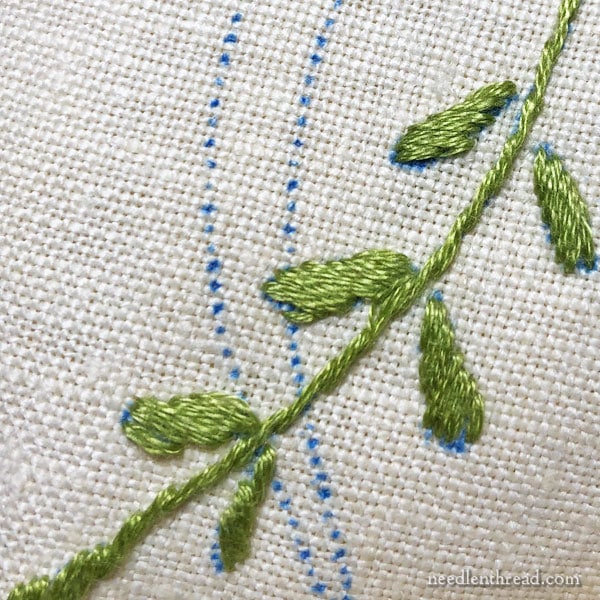 The thread isn't in bad shape, and it doesn't look too old. It's stranded cotton.
There is some evidence that there was embroidery on some of the daisies, and the embroidery has been picked out.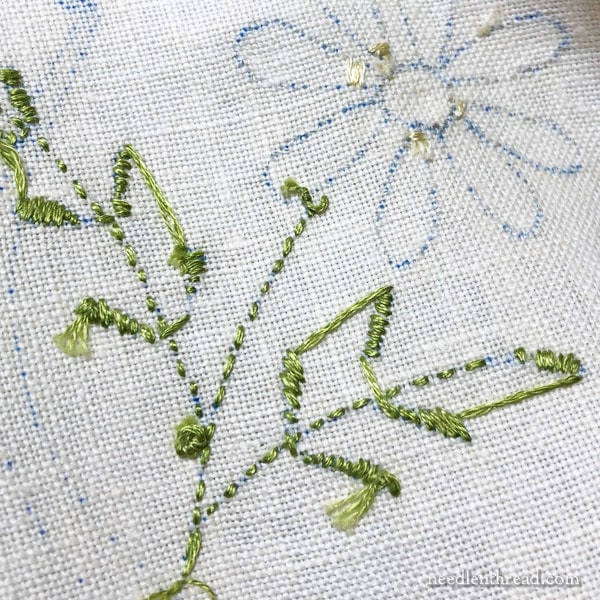 On the back, you can clearly see the structure of the stranded cotton. It looks like three strands were used for most of the stitching.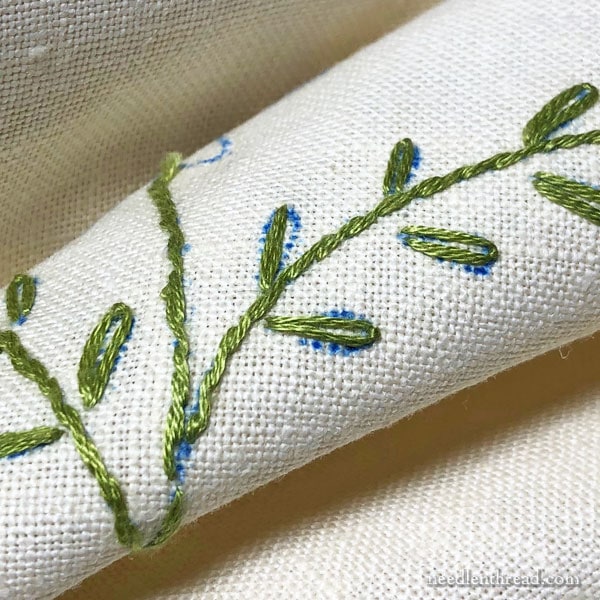 If I were to salvage this piece, I already know that I would pick the embroidery out. There's not a lot of stitching on it – maybe five or six motifs have the stems and leaves stitched, but that's it.
There are several reasons I'd pick the embroidery out:
1. I would want to start over with plenty of fresh thread, in a color scheme I prefer. To spend time stitching a project like this, you really want to love the thread and colors you're working with!
2. Starting over would give me the opportunity to make the embroidery consistent across the whole piece. Again, when you're putting in time on a project this large, you want the outcome to be as consistent as possible.
3. Mentally, I'd have a different outlook on the piece in general, if I'm starting fresh. To me, there's something a bit more stimulating about starting completely fresh on a big project, as opposed to picking up where someone else left off. And to approach a project this size, I'd have to have that stimulation!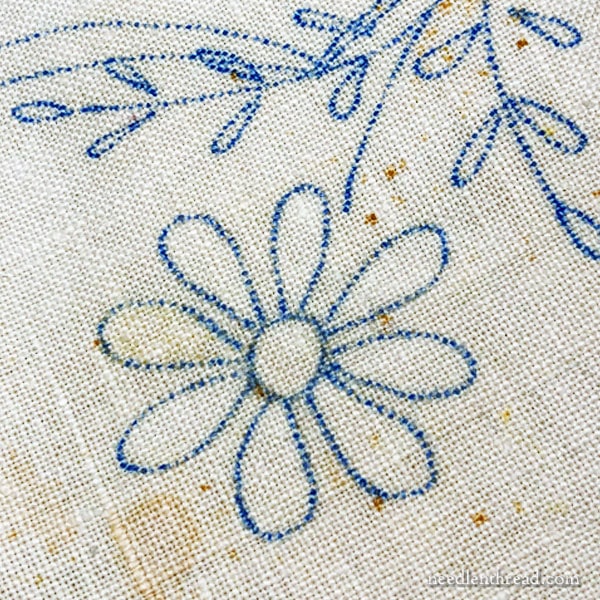 But, you see, the linen ground is not really in the best shape. It is stained from storage and time – yellowed inconsistently among the folds of the fabric and spotted here and there with what looks like rust stains.
And this presents a problem, especially when dealing with pre-stamped linens.
I don't think this piece is exceptionally old. But I don't really know how permanent the design impression is. On most used, pre-stamped goods that I've had experience with, the stamping is permanent. I have come across some, though, with stamping that washes out. The latter seem to be older linens. Like I said, I don't think this piece is too old. I'm guessing it was probably made in the last 20 or so years.
I do know that I don't want to put any time in on the piece, if there's any chance that I can't restore the linen to an acceptable level of beauty. If the ground fabric is permanently stained from the outset, stitching the whole tablecloth would be futile.
So….what to do?
There are two choices, really: 1. Stitch it and hope that the stains in the linen will wash out; or 2. wash it, and hope that the stamped design does not wash out.
The least risky, time wise and expense wise, is the latter: wash it first and see if the linen can be restored. If the stamp washes out, so be it. (I don't think it will.)
So, to wash this piece, it's going straight into the washer. No hand-washing here! This needs a heavy duty washing, with a good period of soaking before hand. I'm not going all delicate on detergent choices, either. I'll use anything it takes, save bleach, to restore the fabric. I'll start with regular detergents – including a good soaking with Biz – and move on to something like OxiClean if they don't do the trick.
As far as my time goes, I'm ok with spending some time and effort to clean the piece. But I would never put time into stitching it, if the linen ground can't be restored.
What it boils down to is this: the most valuable aspect of your embroidery is – and always will be – the time you put into it. It's the one commodity that we only have so much of, and that we are incapable of creating more of. While I hate the idea of wasting the piece of linen, I am more jealous of the notion of wasting my time.
The linen, if it can't be stitched, can be salvaged for other things. The areas that clean up ok, for example, can be salvaged into decent toweling for kitchen use, for example.
Your Thoughts?
How would you approach a thing like this? Would you try salvaging it? Would you consider stitching it, before washing it? What would you do with the linen, if the piece can't be salvaged for stitching? I'd love to hear your take! Feel free to join in the conversation below!
Thanks to all who have inquired about my mom, and for all your prayers, good wishes, and encouragement. She is home and doing much better. The recovery process will take a while, but things are going well so far. Thank you!