Variegated embroidery threads are embroidery threads that change color within the same thread.
We refer to variegated threads with other names – like over-dyed threads, space dyed threads, and so forth. But all of these threads share the characteristic of variegation. When there is variegation in a thread (that is, changes in color), it falls under the general category of a variegated thread.
From there, threads can be subcategorized based on dyeing methods. Some dyeing methods produce very subtle variegation, while others produce very vivid and bold variegation. Some rely on building colors upon colors, while others don't. But in essence, if there's a change in color within the thread, it's a variegated thread.
Strangely enough, it took me years to discover that I could actually like and use variegated threads in surface embroidery. I used to have an aversion to them…
…which is mighty strange for me, because, in general, I tend to love embroidery threads and to love color. You would think that I'd have an affinity for threads that pack a lot of color into one thread.
But not really. Like I said, I used to have an aversion to them.
It took me several years of playing with variegated threads off and on to finally discover that I could enjoy them – and not only enjoy them, but really like stitching with them, making them a regular part of threads that I might reach for automatically.
Then, it took a little more time to acquiesce to designing a project with variegated threads in mind. That breakthrough just happened with Octoberfest, year before last. It was the first project that I designed specifically with the plan of using variegated threads. I used House of Embroidery threads for that design.
There are many sources of variegated threads on the needlework market today.
For example, I love Lorraine's beautiful hand-dyed variegated (over-dyed) threads at Colour Complements. She dyes such a glorious array of color, on different weights and types of threads. They are gorgeous threads. You just have to glance at her home page right now to be bedazzled by her color combinations and to fall in love with her threads.
Most "commercial" (even small-business commercial) thread lines put out some kind of variegated thread. From Week's Dye Works to Caron Collections to Valdani to House of Embroidery (which is all variegated to some degree) to Dinky Dyes, to DMC to Cosmo, Anchor, Madeira – they all have some variegated threads in their lines.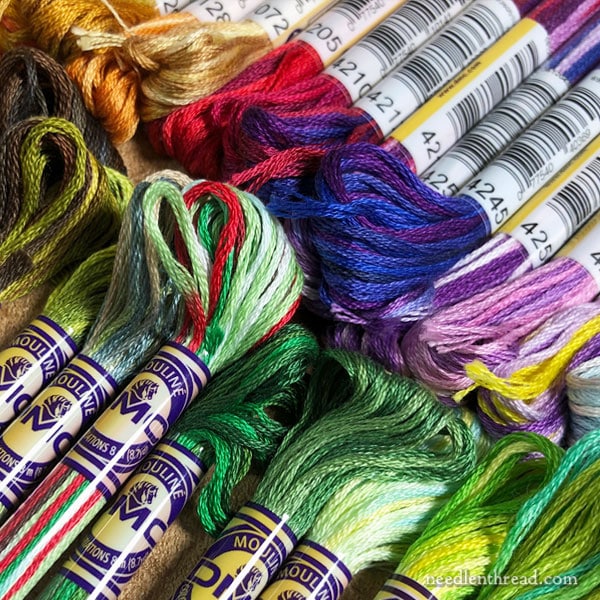 Lately, I've been working with DMC's Variations quite a bit. There are several reasons I've been using this thread line:
1. I like the Variations color line. With the exception of two or three out of the sixty-three available, the colors and transitions are subtle and pleasing.
2. The threads are consistent from batch to batch, which makes designing with them more feasible.
3. They're readily available. If I run out of a color, I know I can pick it up next time I'm in town. If I recommend a specific DMC Variations color for a design or project, I know most people will be able to acquire the color fairly easily.
4. The colors in each skein correspond with solid colors in the DMC line, making it easy to coordinate solids and variegated threads in one project.
5. They're colorfast and fade resistant, so I don't have to worry about losing excess dye if I'm working on something that will need to be laundered.
Still, I do have some pet peeves about variegated threads that I probably still need to overcome, but I don't know if I ever will overcome them.
For one thing, I'm not a huge fan of the stripy affect that is often had when using variegated threads. There are several tricks to overcome too much stripiness – we'll talk about those a little later.
For another thing, I am not hugely fond of variegated threads that change too drastically in color. So a thread that goes from bright red to bright green doesn't really float my boat. I prefer subtle variations in color.
(Despite this point, I had a lot of fun working with Coloris, a different DMC variegated thread with very un-subtle color changes, when I embroidered this kaleidoscope. I suppose there's a time and a place for every kind of thread!)
What About You?
What about you? Are you a variegated thread user? If so, what do you like about them or how do you use them? If not, why not? What puts you off from them? I'd love to hear your take on variegated embroidery threads!
Two of the projects I'm working on right now incorporated variegated threads. I thought I'd devote an article or two to different ways to use variegated threads effectively in surface embroidery. So if you have any questions about using variegated threads, you might leave them in the comments below, too, and I'll try to address them.
Please feel free to join in the conversation below and share your thoughts about using variegated threads in surface embroidery!