Happy Wednesday, everyone! We're well past the halfway point in March, and I think it's time for a little excursion. Think of it as a field trip!
Today, I'm going to share with you a few embroidery-related documents I've come across recently online. They're free resources of works in the public domain for the most part. I was actually exploring the concept of "design" when most of these came up, so you'll find a few that will fit more in the designing category than the actual stitching category, but they can all be related somehow to needlework or needlework designing.
I hope you enjoy perusing them – and maybe one of them will speak to you and lead you on to creating something great with your needle and thread!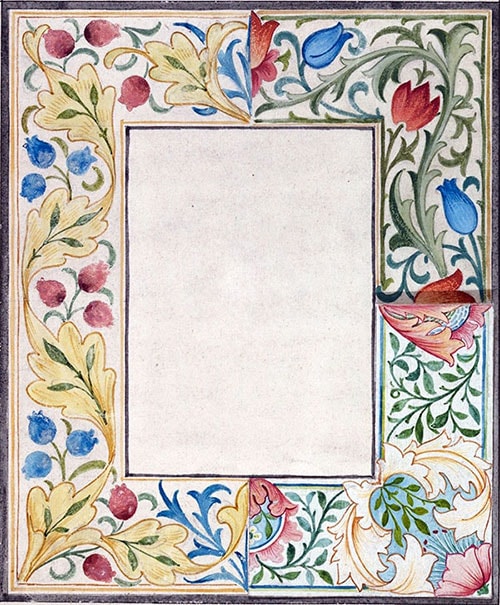 We'll start off with this!
Hand Embroidery Designs for a Frame
I edited the image above a bit to clarify the colors and remove some blemishes. This is a conceptual drawing of an embroidery design (or three, actually) for a frame. You can find it here, in a larger size and downloadable, on Internet Archive.
To create a whole frame from this design, you'd select one of the three designs you like, trace it, and then flip it and repeat the tracing until you've drawn the whole frame.
It's not unusual to see old embroidery patterns efficiently use space like this, by offering several designs in one shape or layout, expecting the stitcher to do the repeating to make the design whole.
Anyway, I thought this was pretty! And if you're looking for a frame design, maybe it will speak to you!
Ecclesiastical / Border Design
You'll find another nice border design – it could be used for ecclesiastical work, which is apparently how it was intended, or it could be used for a secular design – available here on Internet Archive.
This one is a repeat pattern as well, with only one design option. I think it would make a nice layout for a table linen edge or something similar.
Old Embroidery Books
Three old embroidery books came to my attention while I was exploring. Here's the list:
The Embroidery Guide by Helen Marvin
The Embroidery Book by Winifred M Clarke
It's nice to know that I'm not the only one who's ever had trouble coming up with exciting titles for embroidery-related works!
Art Nouveau Design Ideas
If you like the Arts & Crafts / Art Nouveau eras for artistic design, then you might find Nature Drawing & Design an interesting book to pursue.
There are many images in it that you could easily adapt into embroidery designs. The designs focus on different types of flowers and growing things, and they're a good representation of a specific style.
This is also a concept book for drawing and creating your own designs from the "geometry" of nature. It's interesting!
Thanks to Margaret Cobleigh (at The Sharp Needler) for bringing this one to my attention. She knows I like this era of art and design!
I hope you enjoy these resources. I'm a sucker for old books, so when I come across online versions, I like to explore them! And I like to share them with you, too, usb in case you like exploring them as much as I do.
Coming Up on Needle 'n Thread!
I made some progress on the new project that I showed you on Monday. In fact, it's not the best progress in the world, and we'll talk about why. We'll also talk about fabric resources. Of course, I'm using a piece of fabric that's been discontinued…! You'd think I'd check these things out before I go to the trouble of setting up a project, but alas. I didn't. Lesson learned.
On Friday, it's Floral Corner time! Last summer, I used a few versions of this design when hosting embroidery classes. You can see another version of it here.
Lots of people wanted to stitch it, too, and many asked about the instructions for it. So I've written up instructions that parallel, somewhat, how we approached the designs in the classes. We didn't just say, "Stitch this element with this stitch." We gave options and showed how different stitches could be used for different effects – some stitches easier and quicker than others, some approaches to the design simplified or more complex, all depending on how each person wanted to tackle the design and explore the use of different stitches.
So I'll be releasing that on Friday, and I'll also have a limited number of towel sets with pre-transferred designs on them, for those who prefer to forego the whole hurdle of transferring designs. (I can't take pre-orders or reservations for those, so you'll have to watch the website Friday morning around 7:00 am central time for Friday's blog post with the links.)
With Spring creeping upon us, it's a great time to stitch something bright and happy!
Much more in line for the last part of March and the beginning of April, too. I've got Things to Share, and I can't wait to share them with you!