Happy Friday!! It's time to celebrate!!
At long last, and just in time for spring & summer stitching, here's the instructional guide for Floral Corners, three floral projects that I used for local hand embroidery classes for youth last summer.
This e-book is a little different. It's more about giving options when interpreting a design into hand embroidery stitches. There's a lot of freedom of choice in the projects, but plenty of guidance, too.
I've also put together a limited number of flour sack towel sets with the designs transferred on them for those who don't want to bother with the design transfer process. You'll find information on those at the end of this article.
Here's a little overview of what you can expect from the e-book…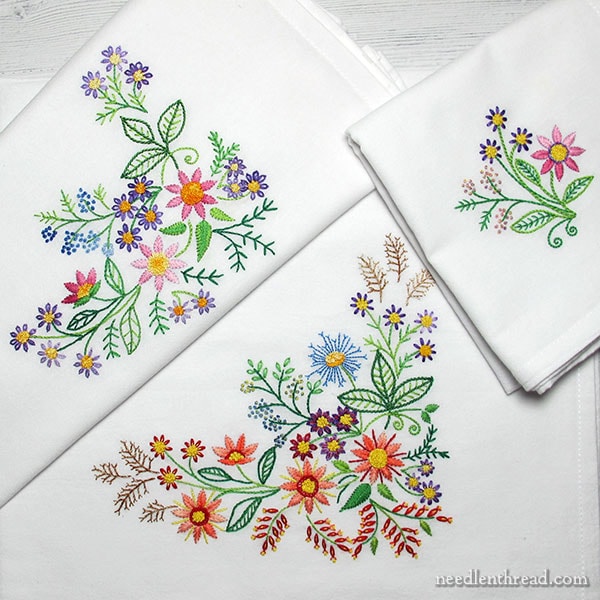 In Floral Corners, I've done my best to give you all the options for stitching the designs that we covered in our summer classes.
Unlike most hand embroidery projects that come in kit form or in a project book, where you are told "use this stitch here and that stitch there," Floral Corners demonstrates different possibilities that can be used for stitching the designs. You will have the freedom to make your own stitch choices for the design elements by selecting the options illustrated in the stitching guide, or even by substituting your own preferences.
This approach allows you to create a piece of embroidery that is uniquely your own, but with enough guidance to help the hesitant stitcher make good decisions about stitch choices and placement.
Working through the designs with the guidance in the e-book, you will gain confidence in making your own choices for stitches and colors for this project and future projects.
There are three versions of the design in the e-book – the full version, a lighter version, and a small sprig – so that you can choose whatever level of complexity you want to stitch.
You can stitch the designs on any type of ground fabric or on pre-finished embroidery blanks. We stitched the designs on flour sack towels, but they can be stitched on anything, really.
If you're new to embroidery, you might start with the small sprig, then advance to the light version, and finally to the full version. In each version, you'll have the opportunity to add other stitches and interpret different types of floral elements in embroidery.
If you've been stitching for a while, you might jump straight into the full version – or you might just want to stitch a small sprig or two for a nice exercise in relaxation.
The e-book begins with embroidery basics, covering everything from transferring your design, using a hoop, and stripping floss, to different ways of starting and ending stitches so that they are secure and as invisible as possible on the exposed back of the embroidery.
The tips shared in this e-book are pertinent to any embroidery project, so everything you learn in the e-book you'll be able to apply to future embroidery.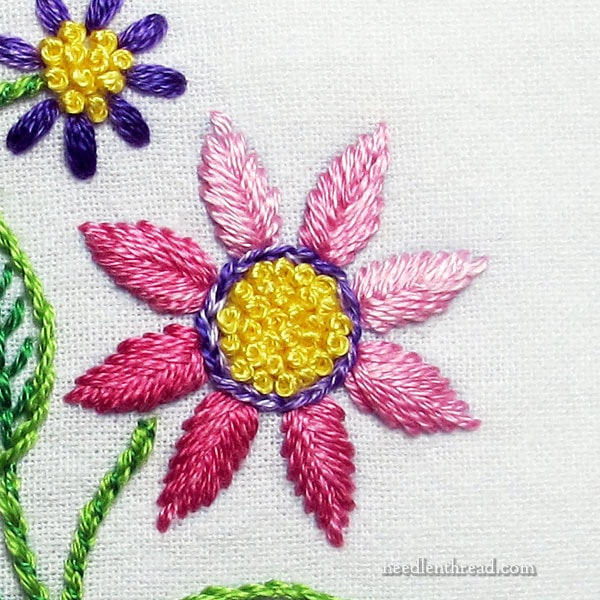 Often, I think we forget that every piece of needlework we do does not have to be a Magnum Opus! Sometimes, just kicking back with a simple design on something as basic as a flour sack towel can remind us of the joy, ease, fun, and relaxation that should an integral part of all of our handwork.
With projects like Floral Corners, my hope is that we remember that embroidery can be a source of real relaxation and satisfaction.
You can find Floral Corners available here. It's ready for instant download, so you can start stitching this weekend!
Especially if you are new to the whole concept of downloadable e-books, please continue reading through the next section, so you can know what to expect when you purchase Floral Corners.
Delivery & Download
Floral Corners is delivered to you as a PDF via a download link that will come in an auto-generated email after placing your order. It is an electronic file and it is not available in print form.
You can view the document on your computer or on your mobile phone or tablet. You can also print all or part of the PDF at home, or you can take the file to a local office supply store and have them print a copy for you.
Now, lately, as things often go online, there have been adjustments by email service providers in the way they filter email. In order to better assure that the auto-generated email comes through to your inbox, you might add "support@pulleyapp.com" to your approved senders list before you place your order. Pulley is the app I use for sending digital goods from my shopping cart. It usually works flawlessly, but due to recent changes in email protocols with some providers (especially comcast, bigpond, btinternet, and xtra.co.nz), the email may end up being filtered.
In any case, if you do not receive your download link within 30 minutes of placing your order, or if you have any difficulties downloading, just contact me and I'll get you sorted out. You can drop me a line at mary@needlenthread.com, or reply to any of my newsletters or your confirmation email.
When you receive your download link, you should download the file directly to your computer first. It is a larger file and the download will work more surely and smoothly if downloaded first to a computer or laptop. From there, you can copy the PDF to your mobile device or tablet. This way, you will have the backup copy on your computer, should you lose the copy on your mobile device.
All this said, normally, the whole process for the download is very simple. You place your order, and you receive an email with a download link. You click the link. The file automatically downloads to your computer. Once downloaded, it opens in your preferred PDF reader. You can move the file to other folders on your computer, just like any file on a computer, and you can load it on your mobile phone or tablet that supports PDFs, just like you can any PDF.
Pre-Transferred Towel Sets
To celebrate the release of Floral Corners as an e-book, I've prepared a limited number of Floral Corner flour sack towel sets with the designs already transferred on them. You can find them available in the Needle 'n Thread Shop, here.
Pre-transferred towels are the ideal solution for folks who are hesitant or intimidated by the transfer process – or who just plain don't like doing their own transfers! (And who can blame you?!)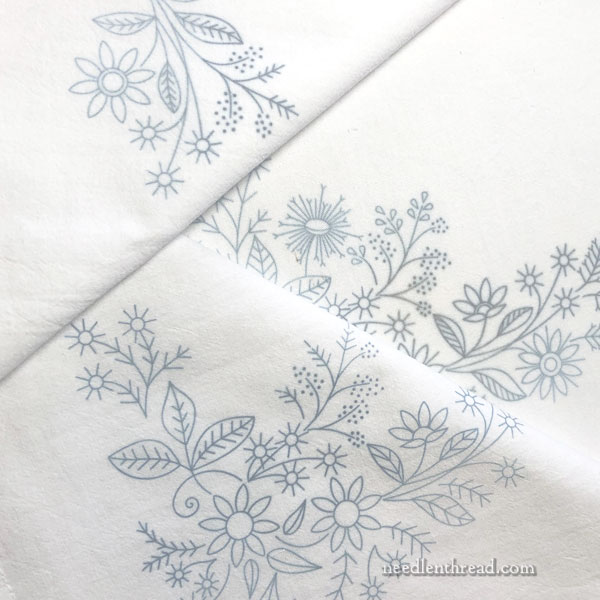 There are three towels in each set, with each towel sporting one of the three designs (full, light, and sprig) featured in Floral Corners.
The flour sack towels are approximately 27″ x 27″. They are low-lint, 100% cotton towels with a hanging loop. The transfers feature easy to see, accurate lines fine enough to cover with embroidery stitches. The lines will eventually wash out with laundering.
Shipping is via Priority flat rate, and up to two sets (so, six towels total) can be mailed in one mailing. If you want more than two sets, you have to order them in groups of two.
Unfortunately, due to postal costs, it is not feasible to mail the towel sets outside the US, because the postage would cost more than the towels.
Some Notes about Flour Sack Towels
Flour sack towels have always been economy towels. They are not meant to be a luxury fabric, and it is not unusual to find minor flaws in them. I have sourced what I think are some of the best quality bright white flour sack towels available in the States. While there are some other decent towel sources out there, they don't necessarily produce bright white towels.
Flour sack towels are excellent for drying dishes and wiping down counter tops. If you are putting a lot of time into embroidering them, though, you might consider using them for lighter work!
The towels can be used as bread basket liners, gift wrapping, tea tray liners, or as a small center cloth on a table. There are many creative ways to use your embroidered flour sack towels, aside from drying dishes and cleaning counter tops!
Where to Find Them
I hope you enjoy Floral Corners and find it instructive, inspiring, fun, and helpful!
You can find the e-book Floral Corners available here.
You can find the pre-transferred flour sack towel sets available here.
If you have any questions or comments, please feel free to leave a comment below!
Have a wonderful weekend with your needle and thread!