Last year, as winter was setting in, my niece Julie accosted me, looking for some needlework to do that wasn't difficult, that worked up easily and quickly, and that would give her something creative to do with her hands during the evening hours.
We foraged about in my Bin of Sundry Collected Needlework Goods, and came across a couple Huck weaving (also called Swedish weaving, among other names) towel kits. So I passed them off to her – and guess what came back to me last weekend? A finished towel!
Huck weaving also came up in our Needle 'n Thread group over on Facebook not too long ago, too, so I thought I'd touch on the topic here, mention some resources, and direct you to the free pattern that you'll see on Julie's towel.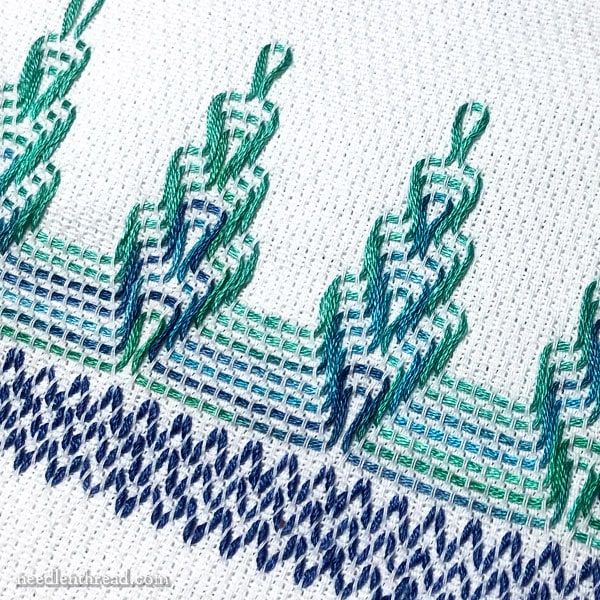 Huck weaving – which is also known as Huck embroidery, Huckaback darning, Swedish weaving, and other names depending on which country you hail from – is a fairly simple surface darning technique that produces geometric and linear designs on a particular type of fabric, called huck fabric.
Although different forms of huck weaving (and decorative darning) stretch back pretty far into textile history, the huck weaving we know today was mostly popular in the US during the 1930's-40's. It was inexpensive way to decorate toweling, after all.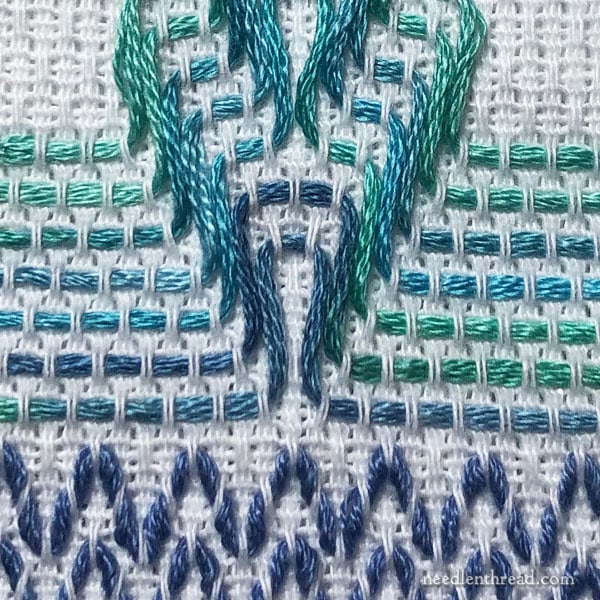 Huck fabric is a cotton toweling fabric that features "floats" in the weave – or threads that cross in front of other threads in the fabric without locking into those other threads. In this manner, the threads crossing in front "float" above the threads behind.
The floats provide a nice little pattern in the weave and they make it very easy to pass a decorative thread under the floats to adorn the fabric.
Today, huck fabric is still pretty common stuff, and it's normally fairly inexpensive. It's absorbent and very low lint, making it excellent for toweling, so in various industries, you'll actually find inexpensive towels made of huck fabric.
Huck toweling used to come about 14″ wide, but these days, it's more common to find 15″ or 17″ wide huck toweling. You can also purchase huck fabric in widths up to 60″.
Both sides of the fabric look pretty much the same, except that, on one side, there are two threads per float, and on the other there is only one thread per float. The side with the two-thread floats is considered the front of the fabric.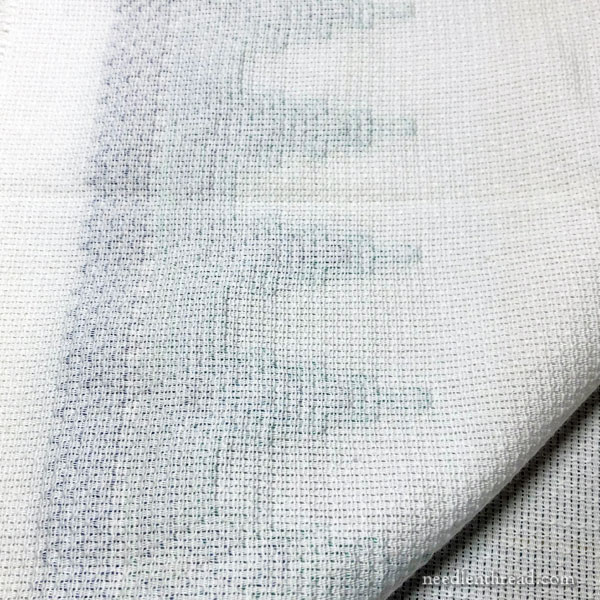 The really interesting thing about huck fabric is that the floats allow you to stitch without taking your needle to the back of the fabric, so that no thread shows on the back.
That's kinda nice, isn't it?
Huck weaving can be as simple or as complicated as you want to make it. It can be worked with perle cotton threads or with stranded cotton.
It can even be worked on other cloth, like monk's cloth, but if you want the towel effect, huck toweling is the better choice. You can use monk's cloth for larger scale afghans and the like.
Some folks use Aida cloth for huck weaving, because it also features floats, but Aida cloth is not as absorbent and it doesn't make as pretty a towel. The structure of the weave is different, and the fabric tends to be much thinner.
Where to Find Swedish Weaving Supplies, Books, Kits, and Instructions
If you're looking for huck toweling to practice decorative darning or Swedish weaving, there are several ways to come by it. It's available through fabric stores like JoAnn's, but I've heard that the quality isn't all that great. I haven't bought any myself, so I don't know for sure.
Huck toweling is also available as already-made (and hemmed) towels through suppliers for textiles in industries like the medical industry, the restaurant industry, and so forth. Though I haven't done it myself, I've heard that folks buy these already-made towels, take out the hemming, trim the towels up as necessary, and re-hem the sides, leaving the top and bottom edges self-fringed.
There are vendors for Swedish weaving designs and supplies on Etsy, too. Just search "Swedish Weaving."
I haven't ordered from Swedish Weave Designs, but I think it looks like a good source for toweling (in both white and blue), for other colors of huck fabric (in widths other than toweling), and for a variety of designs and booklets.
Finally, the design on the towel above can be found for free here on Nordic Needle, where you'll also find some Swedish weaving kits and some design booklets (including downloads) available.
If you're eager to try a relatively simple and inexpensive embroidery technique that can produce some pretty results, why not give huck weaving a try?
Thanks, Julie, for the pretty towel! You did a swell job!