It's summer. And in summer, I like to host children's embroidery classes. For those who don't know, Needle 'n Thread actually sprang from children's summer embroidery classes that I taught way back in the summers leading up to 2006.
This past week, Needle 'n Thread turned 13 years old. And even though there was a break due to lack of a teaching space, I'm happy to say that, as of last summer, I'm back to offering summer classes for local children and youth.
I think it's important to teach children the needle arts, to show them that they can create beautiful things with their hands, and to give them the opportunity to learn a creative hobby. Even if they don't stick with it "full time" in their early years, there's a good chance that they will eventually come back to it.
I've been prepping the project samples for this year's classes. We're doing two projects. I showed you the first one (this sampler needlebook and a less complex variation thereof) already. The second one is another flour sack towel, because these give the kids a "picture" to embroider and a finished object to display.
But I'm not quite sold on this particular class sample below, and I'm thinking I need to make some adjustments. Take a look…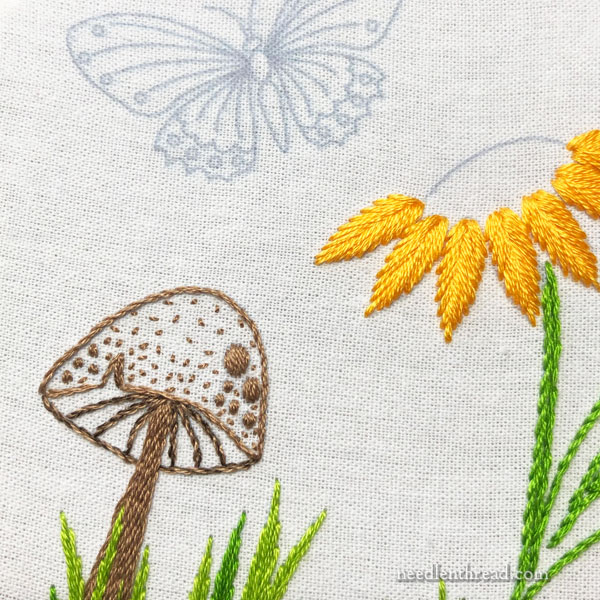 After last year's Floral Corners projects, this year, I wanted to simplify the main project.
While the kids did ok with the Floral Corners, those who worked the full version didn't go home with as much of the project completed as I would have liked.
(Subsequently, though, I heard that many of them completed their project, and several even worked the design repeatedly to give as gifts for Christmas. That was heartening!)
Still, this year, I wanted to simplify.
I pondered. No kind of inspiration struck.
I was feeling a bit pressured, so I just started doodling things I like. Sunflowers. Toadstools. Butterflies. And I stuck them together in a scene of sorts.
Sure, it's not the height of art. But hey!
I carried over some design elements from last year's Floral Corners – especially the flower petals worked in fishbone stitch.
That stitch went over really well with every level last year. The younger kids picked it up right away, and so did the older participants.
Fishbone stitch is wonderful for filling petal shapes, because it completely fills the shape, but it is a forgiving stitch made up of a sequence of straight stitches. It works better than satin stitch, which can easy go wrong and look bad. Fishbone stitch pretty much always looks decent!
But you know what?
I'm not sold on the mushroom.
I'm just not feeling it.
The underside of the cap will definitely get a different treatment – the lines there are too heavy. But what about the top of the cap? Does it work? Or no? Got any other ideas?
And that stem… it's just wrong. It should be light. So that has to change.
If I were stitching it myself, independent of teaching it to kids, I'd fill the cap. The spots would be white and the rest of the cap would most likely be a pale brown or maybe – depending on my mood – red.
But do I venture into long and short stitch with the kids? Maybe a chunky long and short stitch? I'm not a fan of chunky long and short stitch, but I realize that there's a time and place for everything in embroidery.
So I've formed a different plan in my head, but I also figured this is a great opportunity for the Collective Mind of Needle 'n Thread to come up with some suggestions! Who knows? Maybe the mushroom isn't as bad as I think it is. I'm sure many of you will have fantastic solutions that I would never think of. This is the wonder of having such a great online community to consult!
What are your thoughts? Any suggestions that you think would work better? How do you envision that toadstool? Got any fun fungi ideas for me?
I'm all ears, my friends! Feel free to join in the conversation below!
And in the meantime, I'm going to do some design tweaking on the rest of it… More to come down the road!