It's funny how a single needlework topic comes up repeatedly in several different venues all at the same time.
For example, over the past couple weeks, I've had no less than six emails asking about how to control excess fabric when you're embroidering something in a hoop. The topic has come up on Facebook three times in the past week.
When this happens with an embroidery technique (i.e. "I'm having trouble with plaited braid stitch, can you help me?"), I assume that folks are involved in a stitch-along or a class, or that a kit involving the technique has recently hit the market.
But when the topic comes up about something like how to control excess fabric when working with a hoop, I just figure there are a lot of people out there stitching who are being annoyed by excess fabric hanging off their hoops.
So I'm going to show you my solution, which I adopted probably about a year ago now, after perusing the notions wall at a locally owned fabric shop.
Here's a 6″ embroidery hoop on a flour sack towel. There's excess fabric around the hoop, and especially on the right, where my hand mostly accesses the back of the hoop.
If the excess fabric is hanging there, I have to access the back from a different direction or move the fabric out of the way every time I go to grab the needle.
But if I clip that fabric up somehow and get it out of the way, I have easy access to the back of the hoop and the fabric stays cleaner and tidier while I stitch.
I've used all kinds of things to hold back excess fabric on larger projects – from clothespins to paper towel tubes and clothespins and rubber bands and quilt roller things and on and on.
Of course, it depends on the project. If you're talking about a massive amount of excess fabric (say you're working on a king sized bedspread or a huge table cloth), certain solutions are going to work better than others.
But if you work on average sized projects – table runners, hand towels, pillow cases, and the like – your solution can be relatively small, like the colorful little doohickeys in the photo above.
These delectable little morsels are almost as enticing as candy, aren't they?
They are spool huggers – or, on a tongue-twisty day, hool spuggers.
They are exactly what they look like: silicone wrappy things that roll in on themselves. They are made to "hug" spools of thread and hold the thread in place so you don't have slippery threads straying all over your sewing area.
When I first saw them at my favorite fabric shop, the package caught my eye because they're so colorful and bright and cheery. My first reaction on reading what they were for, though, was to roll my eyes.
What next? thought I. A gimmick for sure!
But then I realized that there are other types of spools in the world than the ones I use, and there are some that have very slippery thread, and so perhaps they might come in handy for those.
And as I started to walk away, I thought, But wait. I can think of other things to use those for, too…
And I took a package home with me.
In fact, I'm pretty sure it was just the color, the novelty, and my mood to buy something cheery that provoked the purchase.
I took them home and tried them on spools.
But the truth is, I would never take the time to hug up the few spools of sewing thread I use with these things. And besides, the sewing thread spools I usually use have a little notch at the top of the spool for grabbing the stray end.
And I wouldn't really use them for hugging up my embroidery thread spools. After all, they have that little click top for holding the stray end.
I might use them on spools where the click top is broken, though – I do have quite a few of those.
The first definite, real use I found for them was for bunching together favorite pencils, pens, and paint brushes for toting. I like them for that!
But then, one day, when I was stitching with a hoop and using a clothespin to hold excess fabric out of the way, I had an a-ha moment.
You see, clothespins – which had always been my go-to solution for excess fabric – can be unwieldy. They can flop about. And if you're working with a longish thread, the thread will magically be attracted to the clothespin no matter what precautions you might take to keep them from ever meeting.
I'm sure it's just some sort of misdirected love-chemistry going on, but it can be a huge source of annoyance – even more annoying than excess fabric.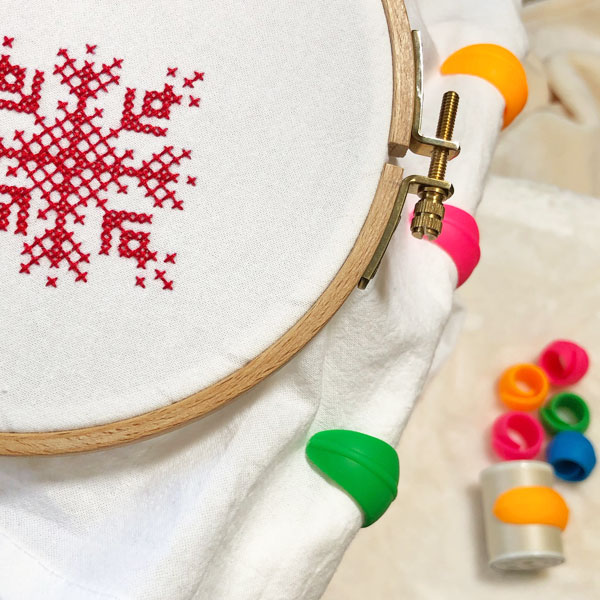 Enter: the Hool Spuggers! (Hoop sluggers. Sloop uggers. Gool pluggers…)
They work great for holding back excess fabric. Just roll up the fabric and unroll the hugger and let it roll back up around your excess.
They've become good friends on my hoop-stitching days!
I am sure I am not the only one who has done this. I know there's a gal in my Leafy Tree group who is using them on her hoop – it made my heart happy to see them!
And that is your solution for the day, if you've ever experienced irritation or annoyance with excess fabric hanging from your hoop. They won't work on Huge Projects, but they work great on most average sized embroidery projects.
Sure, they're an "extra" and they probably aren't super-necessary, but I like 'em! I love not having extra fabric hanging off the access side of my hoop.
Where to Find Them
Once I found such a delightful use for Spool Huggers (and for bunching together my paintbrushes, pens, and pencils), I ended up purchasing a slew of them on Amazon, where they come in bulk packages.
If you want some, too, you can find them listed on my Amazon Recommendations page, under Tools & Accessories.
The link to my Amazon Recommendations page is an affiliate link, which means that any purchases made through that link results in a small commission for Needle 'n Thread at no extra expense to you.