Good morning, Happy Friday, Happy Weekend, Happy November!
I thought I'd share a bit of weekend reading with you today, in the form of a very brief News Snips article.
And yes, I'll tell you where the tweezers are.
So pull up a comfy chair, pour your favorite morning beverage, and let's chat…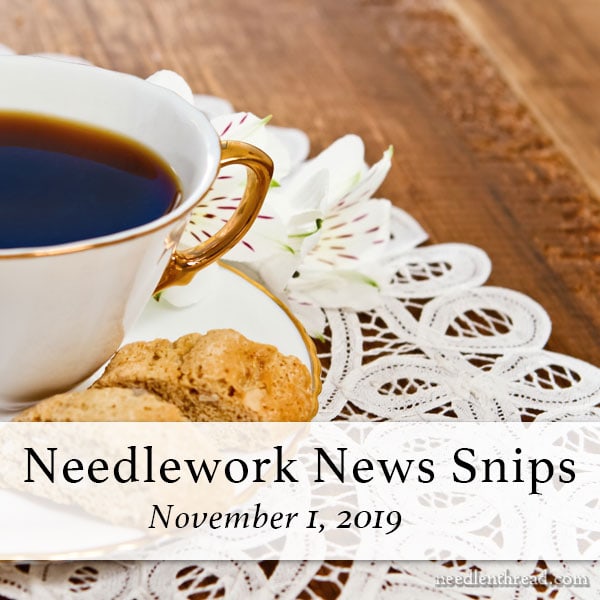 Let's get business out of the way first:
My Tweezers…
Following up on Wednesday's article and the "I Spy" photo, yes, the tweezers were under the two skeins of gold floss in the middle of the photo!
Good eye, for those who found them, and don't worry – if you think they don't look like tweezers, you're pretty much right. They don't. More later on those!
Embroidery & Healing
I mentioned last month that the San Francisco School of Needlework and Design's current challenge has to do with Embroidery & Healing.
The folks at SFSNAD asked me to write a guest article on the topic for them for their newsletter, which came out yesterday. It was not quite an easy task, but for those who have been following along on Needle 'n Thread for a while, you already know a little bit about my history and why the subject would be important to me.
So, if you want to know more about it – and a little more about me – you are most welcome to hop over to the SFSNAD newsletter for this month and read the article I wrote for them. It focuses on embroidery, healing, and community.
The Band Sampler Project
While you're over there, take a look at their band sampler project. This is a world-wide group project, and it's intrigued me ever since the day they first publicized it.
I'm going to take the proverbial plunge some time between Thanksgiving and the turn of the year and set up a band to work on. Anyone want to join me? You'll find all the information to create your own band by following the link above. Think about it!
Crazy Quilt Quarterly for Winter
Pam Kellogg over at Kitty & Me Designs has the winter issue of her Crazy Quilt Quarterly out. For CQ fans, you're sure to find lots to delight you there!
Rita's Quilt
I liked this little story when it hit all the media outlets all over the place!
It's the tale of Rita's quilt pieces and the folks who finished the quilt. The gal who found the UFO at an estate sale bought the pieces for $6 and put a call out on social media for volunteers to help her get it finished.
You can find the story here on BBC news.
Colorfast Threads?
Oh, it's a sad topic that comes up occasionally in the Needle 'n Thread Facebook Community and that shows up in my email too often, too – and usually with a very gut-wrenching story to go along with it.
How can you tell if threads are colorfast? What I can do about bleeding threads?
There's a good article on the Stitcher's Paradise website on Bleeding Colors in Threads and essentially how to avoid them. The article is more about prevention rather than correction, and it's worth reading.
Mitered Corners Tutorial
Luzine Happel is a wonder! I have been following her Schwalm website for years, and I love her books.
She recently published a beautiful tutorial on perfectly mitered corners.
If you make your own table linens, it's a must to know how to miter a corner well!
While you're at it, check out her tutorial on working a pea-hole hem around a corner.
Weekend Plans!
My weekend plans include some stitching, of course. I'm working on a table runner for winter at the moment. Think: whitework on icy blue. I'll share that with you soon. As usual, I went overboard on the embroidery elements. I should have stuck with one or two – not 22.
I'm also going to spend some time hunting down a good linen in a darker blue – perhaps a Wedgewood-type blue or a maybe something a little more brilliant. I'm dying for some good linen in more lively colors. Anyone else noticing a dearth of decent colored linen for hand embroidery?
And of course, the snowflaking hasn't come to an end yet!
Now that it's November, if you're thinking ahead to Christmas and want to get some seasonal stitching in, check out my Twelve Trees for Christmas ebook – they're fun projects for adorning just about anything with holiday cheer!
I'll have some holly & evergreen ready-to-stitch towel sets available in the next week or so, along with a new design set. So keep an eye out for those!
Have a marvelous weekend!