Time to shatter (once again) that perception that all things in my Needlework World are perfect.
They aren't!
Sometimes, my deadlines are not very realistic.
And sometimes, just when I think I'm on target for hitting a deadline, I do something really stupid. Most frequently, my stupid-doing involves making things Much More Complicated than they need to be. For example, yesterday, I spent six hours working on an idea for a snowflake. Once I finally had a vague idea of what I wanted to do, I started stitching it. And picking it out. And stitching it again. And picking it out. This went on for hours.
But one area where I chastise myself quite frequently is the area of tidy organization while developing projects.
I just can't seem to do it! While I was perusing photos and bemoaning the fact that I'm a stitching slob, I came to a realization.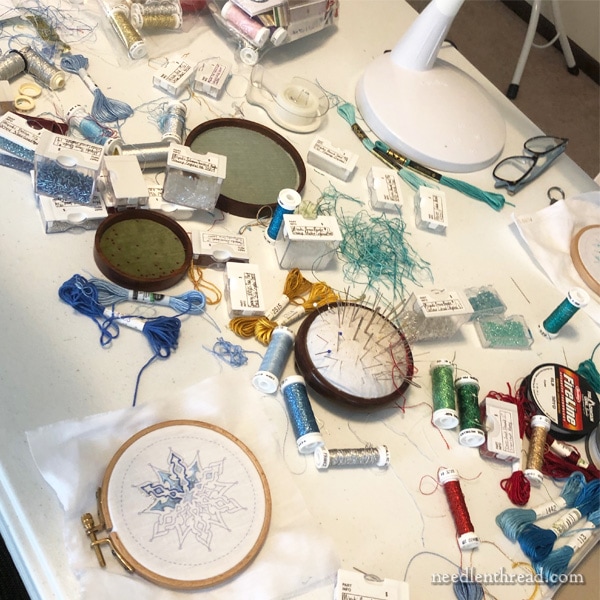 This is what the working part of my work table looks like at the end of any given day recently.
While I have organizational trays for beads (I use these), I obviously don't make use of them as they are intended.
Bead containers mixed with threads and scraps and tools and loose needles, pincushions, scissors, several hoops going at a time, and threads – and threads – and threads! anywhere and everywhere.
Sometimes, when I look at the same area over and over again, I can't find what I'm looking for, even though I know it's got to be Right In Front of Me. If I were tidier, think of the time it would save me, when searching for things.
It got to the point the other day where I couldn't for the life of me find my tweezers, so I took the photo above, zoomed in on it, and searched for them.
I found them. But then, I knew what to look for. Can you find them?
Anyway, I chortled to myself, because I came to the realization that messy work tables can be kind of fun, if you look at them the right way.
I decided I should be writing I Spy puzzle books for needleworkers.
Find the Needle.
Spot the Scissors.
Where Did I Stick my Stiletto.
The whole table is not exposed in the first photo. Above, you can see my favorite part of it.
I love to gather together my orts at the end of a stitching session! Orts are smalls scraps – they're the pieces of thread you can't use because they're too small, or because you removed them too many times and they've lost their stitching integrity.
But they make a jolly lovely mass of threads at the end of a work session, and they always make me feel as if I've accomplished something.
If you find my tweezers, chime in below! I'll show them to you up close one of these days. They're the best tweezers I've ever used for needlework, and they taught me not to take tweezers for granted!