I hope this note finds you enjoying a happy, joyful, and peaceful Christmas!
This year, I thought I would do something a little different, and share a little Puzzling Christmas cheer with you.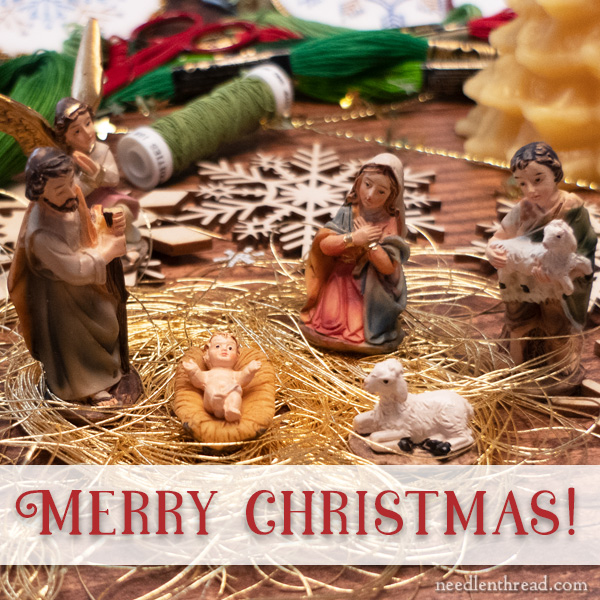 Remember the Eye-Spy from Thanksgiving? Well, I drummed up a Christmas version, but it's got a slightly different twist. Plus, I've shared a puzzle version for those of you who like jigsaws.
You can click on the photo above for a larger version.
No rhyme this time! Instead, you have to come up with the numbers. How many snowflakes (visible as snowflakes) can you count in the image above? Can find the correct number? It might be a little more challenging than you'd think!
A few other counted items to look for:
How many sheep?
How many scissors?
How many pins (red? green? gold? and white?)
How many trees can you find?
How many Marys?
How many rings for thread?
Not to be too macabre, but there's something on the brink of disaster. Do you see what it is?
How many threads (skeins, spools, and twists)?
How many deer, rein and otherwise?
I'll share the numbers on Friday, but feel free to weigh in with your guesses below, and we'll see who comes close!
A Christmas Jigsaw
And if you like to work jigsaw puzzles, here's an online jigsaw version of my Christmas, 2019 Eye Spy through the Needle's Eye picture.
You can adjust the number of pieces you want to use and customize the puzzle different ways – just take a look at the checkerboard menu in the center when the page opens. (Here's a handy hint: you can close that ad at the bottom of the page, and it will be much easier to view the puzzle.)
Merry Christmas!
Christmas Day here in Kansas is usually filled with quite a bit of family visiting. Christmas dinner is at my sister's house, where cheer is abundant!
This photo – taken by my brother – is from our snowstorm about a week and a half ago. In true Kansas fashion, though, it's supposed to be 65 degrees today. No white Christmas here!
Merry Christmas, my friends!