Good morning! Happy Eve of Christmas Eve – and welcome to the last installment of this year's Stitcher's Christmas series on Needle 'n Thread!
Today's give-away is a little bit different. It came to me out of the blue, from Phyllis Brown in North Carolina, who wrote to offer a whole set of cotton floche for this year's series! Needless to say, for your sakes, I couldn't resist! I'm really excited to offer it to you, because I love floche.
The give-away is for a whole set of 1/3-hank twists of floche (around 56 yards per twist, with one of every 90+ colors), to one super duper lucky winner! I'll tell you more about it below.
I'll also announce the winner of last Wednesday's give-away for Jenny Adin-Christie's beautiful needlework tools.
Phyllis has a website at Heirloom Beginnings, where you can read a little bit more about her.
She is a smocking instructor for SAGA (the Smocking Arts Guild of America) and an active and enthusiastic member of the EGA (Embroiderers' Guild of America).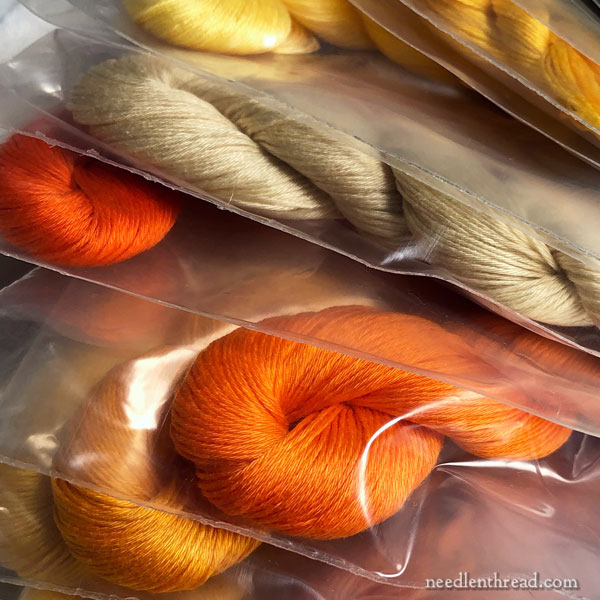 While she doesn't have a shop online just yet, Phyllis sells floche, since it is a favorite thread for smocking, but tends to be hard to come by. If you are interested in buying floche by the 1/3 hank (or by the full hank), just drop Phyllis a line through her website.
I know there are lots of avid smockers and heirloom stitchers out there who are looking for resources – you should add Phyllis to your list, as she can help you find what you need!
She's also available for teaching, and she has a vast line-up of classes that she can teach to your group.
Now, about floche…
What is Floche?
If you haven't heard of the thread, I've written about it a few times here on Needle 'n Thread. This article, which compares floche to coton a broder (another softly-twisted, non-divisible cotton embroidery thread), will probably give you the most information about it.
This article shares three good reasons why you should try floche.
This article – which is quite old, but still good – illustrates a comparison between floche and stranded cotton (that's the 6-stranded DMC floss we're all familiar with) and pearl cotton.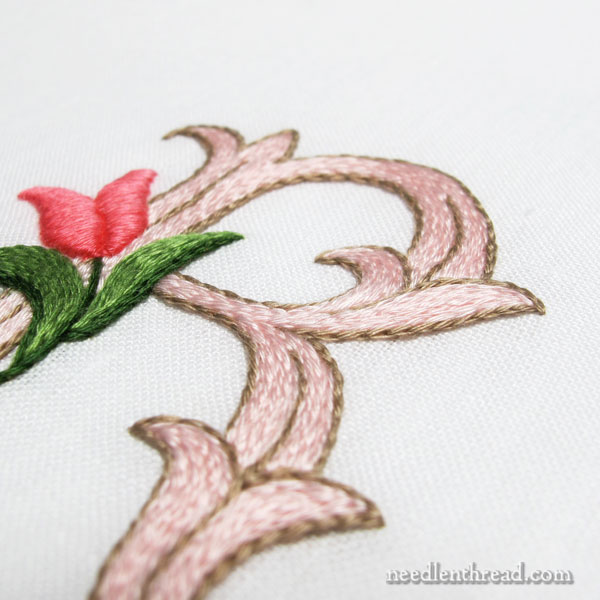 I've also written about using Floche for long and short stitch, as well as floche with satin stitch, and of course, I've used floche on many a monogram – like this R tulip monogram – because it is a wonderful for monogramming.
In fact, I use floche extensively in Stitch Sampler Alphabet, my collection of decorative letters featuring a huge variety of stitches and variations of stitches. So if you have that e-book, but you've not tackled the letters yet because you're not flush with floche (you can substitute stranded cotton, but anyway…), today's give-away is a great way to give you the whole set to play with!
What Makes this Give-Away a Little Different?
Usually, the give-away gifts for A Stitcher's Christmas are mailed directly from the business offering the gift. But with this particular give-away, I'll be mailing the set of floche…. which means I'll also have the opportunity to enclose a special surprise or two for the winner.
If I told you what, it wouldn't be a surprise, now, would it? But I'm pretty sure you'll like the package and everything within!
Give-Away Guidelines
This give-away has ended. Thanks to all who participated!
1. Leave a comment on the comment form below. If you're not sure how to get to the comment form, click on this link – it will take you straight there. Your comment must be left on the website on today's article, not on any other article. Comments submitted via email are not eligible and I am not able to reply to them due to time constraints. Please do not comment as a reply to another comment. Replies are not counted.
2. Be sure that your comment has a name on it that is recognizable as yours. You might include a last name, nickname, or the place you live.
The reason I particularly mention this one is that it reduces confusion when the winner is announced. It's always hard to disappoint people if they mistake the name for their own!
3. Make certain your email address on the comment form is entered correctly, so that I can email you if you win. Leave the "website" line of the comment form empty. Do Not leave your personal contact information in the comment box itself. In other words, don't sign your comment with your email address or your mailing address! That's just an invitation for spam.
4. In your comment, answer the following question:
If you had a whole set of floche at your fingertips, what do you imagine you'd stitch with it? I'd love to hear your ideas for the thread!
5. Leave your comment before 5:00 AM central time (Kansas, USA) this Friday, December 27th. The winners will be randomly drawn that morning and will be announced in the blog article that day, along with the winners of last Friday's give-away from The French Needle (sign up for that one, too, if you haven't!)
So go forth and comment, and in 2020, maybe you'll be playing with a huge collection of lovely floche… along with a few little special somethings from me.
The give-aways for A Stitcher's Christmas are open to everyone, but please be aware that, if you are subject to customs or duty fees, they are your responsibility.
Jenny Adin-Christie Tools Winner!
And the collection of lovely stitching tools from Jenny Adin-Christie goes to Penny S in Iowa – I will drop you a line today, Penny!
For those who have written in and asked, I noticed that Jenny has restocked some of her kits lately, too, so if they were on your wish list – check them out! I'm currently trying to resist her whitework workbasket kit.
Coming Up
I'll pop in on Christmas with a little homemade Christmas cheer for you, and then on Friday, I'll announce the winners of the last two installments of A Stitcher's Christmas, 2019.
Then I'll be taking a short break until the 6th of January. I'll be working behind the scenes as usual, but the website needs a little clean-up before we lunge too far into 2020!
Hope you're week's off to a grand start!