Just in time for you to stitch up some winter holiday cheer for 2019 in the form of a dozen fantastic snowflakes, my newest e-book is ready for you today!
Snowflakes: 12 Winter Designs for Embroidery has been in the works for a long time, so I'm really happy to finally make it available! It was a gargantuan (but oh-so-fun) work, and I'll tell you all about it below!
Snowflakes! has been my pet project for the last several months.
For a while, I've wanted to follow up my previous collection of 12 Trees for Christmas with a similar group of small Christmas or winter designs that would be fun to stitch and useful for spreading a bit of holiday cheer.
When I started doodling about with the snowflakes, I realized the snowflake offered an almost endless variety for interpretation in embroidery.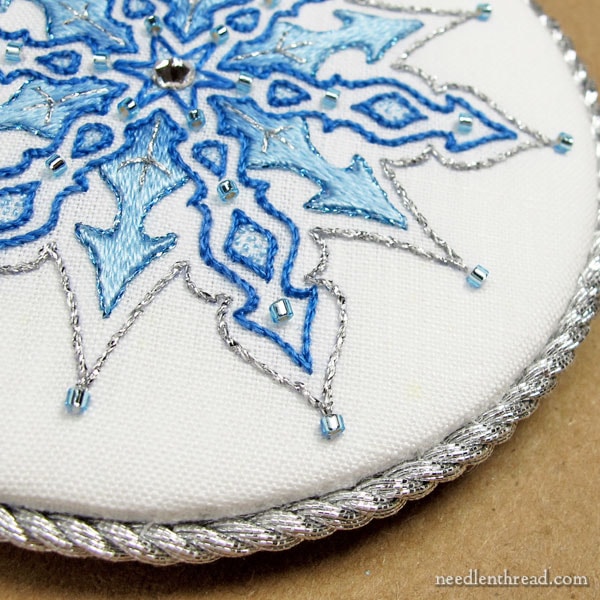 The twelve designs in my collection are offered with color, stitch, and materials guides, but really, they are meant more for personal interpretation. Go to your thread cabinet, dig through your stash, find your favorite threads, your favorite beads, your favorite trims, embellishments, fabric – and then go for it! Create your own unique snowflakes using the designs and tips in the e-book as a guide.
The samples I stitched for the e-book are all small – they are ornament size, at 3.5″ in diameter. But I've provided other sizes in the designs, as well – 3.5, 4.0, 4.5, 5.5, and 6 inch designs, so that you can adapt the snowflakes to other embroider-able things, like table linens, Christmas stockings, quilts and blankets, banners and all kinds of other decorative items.
In the e-book, you'll not only find five design sizes for each snowflake, but you'll also find a materials list and stitch guide, stitch instructions, and step-by-step detailed finishing tips for making the ornaments featured in the e-book.
You'll find tips on working with metallic threads and beads, too.
You'll also find designs for embroidering (and dating, if you want) the backs of the ornaments, though I also talk about using regular fabric to finish the backs.
The Technical Side of Things
The e-book is a 103-page PDF. It is delivered to you immediately after purchasing via a link sent to your email address that you used to make the purchase.
For the best user experience with a PDF, I recommend installing Adobe's reader on your computer. It's free, and it's the standard PDF reader that most people use. You can find it here, if you don't already have a PDF reader. Many people already have it, but make sure you've updated it recently. Sometimes, if your software goes a long time with an update, things glitch.
When you receive the download link in the email, open it on your computer or laptop first, and download the file there, so that you can access it whenever you need it. Don't try to repeatedly access the file through the download link – the link eventually expires for security reasons.
Once the PDF is on your computer, you handle just like you do any other file. You can move it to any mobile device or tablet that supports PDFs. You can print it on your home printer. You can also take a copy of it to a an office supply shop and have it printed (granted, this could be expensive, as the PDF is 103 pages). You can also opt just to print the pattern pages.
If you purchase the e-book and the email with the download link doesn't show up, please check your spam filter. If it's not there, drop me a line and I'll help you out. You can contact me at mary(at)needlenthread(dot)com with any questions.
I hope you enjoy embroidering this collection of snowflakes as much as I have! I hope they bring you a sense of peace and calm, and a bit of winter sparkle and joy!
You can find Snowflakes: 12 Winter Designs for Hand Embroidery available right now in my shop!
Happy Stitching!
PS – If you have difficulties with the download or anything, just drop me a line at mary(at)needlenthread(dot)com! If I don't get back to you immediately, please don't fear – I will get back to you within the next 24 hours and probably sooner. There's always a little flutter of activity when a new e-book comes out, so please be patient! Thanks!