It's time to kick off this year's series of A Stitcher's Christmas, the original needlework Christmas series featuring honest-to-goodness give-aways of needlework treasures with no gimmicks attached!
For those of you who have been around for a while, you know what to expect! For newcomers to Needle 'n Thread, I'll explain below how the series works so you can know what to expect.
Today, we're going to kick off the 2019 series with some luscious embroidery thread, courtesy of Colour Complements – because, after all, who doesn't love thread?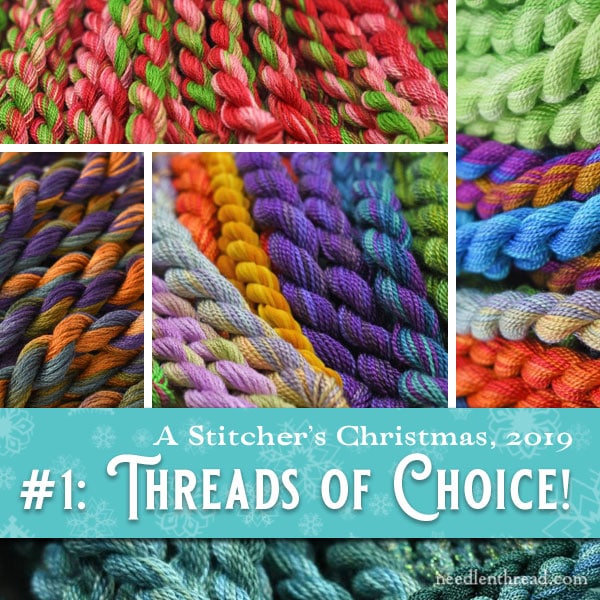 Each give-away in this year's A Stitcher's Christmas features needlework delights from embroidery-related businesses. In each article, I'll feature the gifts for the give-away and tell you a little about the business. My hope is that you will visit the businesses and put them on your needlework-supply radar. They are excellent small businesses run by real people who bring something unique to the embroidery world. Your support will help keep them around for years to come!
I'll pose a question for you to answer in the comment section on that article if you want to be part of the drawing. You can enter as many of the give-aways in the series that you wish, but you can only enter each give-away once. The drawings are open to anyone, anywhere. Winners are randomly drawn and announced at the beginning of a later give-away. Most of the give-away prizes will ship directly from the business.
Ready?
Give-Away #1 from Colour Complements
Lorraine at Colour Complements up in Canada hand-dyes a range of embroidery threads and fibers with enticing color schemes. Her threads are lovely to stitch with and beautiful to behold!
If you want to see what can be done with her threads, you should stroll through her blog, where she features the works of folks who design and stitch with her threads. The play of color and texture is fascinating!
You can view her entire line of hand-dyed perle cottons, floss, and specialty fibers on her website, where you'll find right now a sale going on as she makes way for new stock. (Need some special threads? Now's a great time to pick some up!)
Lorraine's threads and specialty fibers – such as hand-dyed ric-rac, petite very velvet, and flat ribbon floss – are wonderful for a whole array of needlework techniques. Think: crazy quilting, needlepointing, cross stitching, and surface embroidery.
Today's give-away features the winner's choice of five of any skeins offered on the Colour Complements website.
If you win, I'll send your information on to Lorraine and Lorraine's information on to you. Then, you'll drop by her website and pick out what you want! Five of anything! She'll ship it right to you – and since we're pretty far out in the series and fairly early in December, you may very well be able to put it your Christmas stocking and surprise yourself on Christmas morning.
Give-Away Guidelines
This give-away has ended. Thanks for participating!
1. Leave a comment on the comment form below. If you're not sure how to get to the comment form, click on this link – it will take you straight there. Your comment must be left on the website on today's article, not on any other article. Comments submitted via email are not eligible and I am not able to reply to them due to time constraints. They'll just be deleted. Please do not comment as a reply to another comment. Replies are not counted and will be deleted.
2. Be sure that your comment has a name on it that is recognizable as yours. For example, Mary is a pretty common name, so if your name is Mary, you might put your last name or your last initial, or maybe your middle name. Or might put a recognizable-to-you nick name. Or you might add a reference to where you live – for example, "Mary in Santa Clause, AZ" or something like that.
The reason I particularly mention this one is that it reduces confusion when the winner is announced. It's always hard to disappoint people if they mistake the name for their own!
3. Make certain your email address on the comment form is entered correctly, so that I can email you if you win. Leave the "website" line of the comment form empty.
4. In your comment, answer the following question:
Pick two of your favorite colors of Colour Complement threads. Tell us the color numbers and how you imagine using them. If you visit this listing for perle cotton and floss, you can browse through and pick the colors that you find particularly enticing.
5. Leave your comment before 5:00 AM central time (Kansas, USA) Friday, December 6th. The winner will be randomly drawn that morning and will be announced at the beginning of that day's give-away.
So, go forth and comment, and let's get this year's Stitcher's Christmas series underway!
See you Wednesday, with the next installment!