Gosh. Aren't we so incredibly fortunate to live during a time when there's access to So Very Many embroidery fibers?
It amazes me how many thread suppliers are out in the world! And while I will always gravitate towards my tried-and-true favorite threads, I enjoy playing with new-to-me threads.
Lately, thanks to Lisa at The French Needle, I've had the opportunity to try out some silk from Chameleon Threads. These are overdyed threads, meaning they are threads that have been dyed with different colors, with the colors applied over each other, so that the colors blend together in some places and retain their properties in other places.
The silk threads used by Chameleon Threads are from Au Ver a Soie. They dye both Soie d'Alger and Soie d'Paris.
Knowing that I like Soie d'Alger, Lisa sent along a set of greens for me to play with. So today, we're going to look at overdyed Soie d'Alger from Chameleon Threads, so you can see if it's something you want to play with, too!
Chameleon's Soie d'Alger comes in 30 meter twists. The overdyed colors that I've tried out are softly blended together, and the overdyed effect comes across very subtly.
The Soie d'Alger, which is a softly twisted, spun silk, retains its natural sheen in the dyeing process, so that the resulting embroidery has a soft sheen and a beautiful "spread" from the softly twisted fibers.
Soie d'Alger is a stranded, spun silk. Each of those thickish "ropes" of embroidery floss you see within the whole twist in the photo above can be separated into seven strands that can be used individually or recombined with any number of strands.
So while each twist comes with 30 meters of thread, if you are only stitching with one strand, you really have 7 x 30 (210) meters of silk to stitch with. If you're stitching with two strands, you've got 105 meters, and so forth.
Stranded silk like this handles pretty much like stranded cotton, so it's an excellent silk for beginners. You strip the individual strands apart and put them back together to stitch with, just as you do with cotton floss. (You can read about how to strip or separate floss – and why – here, if you're unfamiliar with the concept.)
As I began to take the first twist apart, I was, admittedly, a little disappointed that the thread is put up in tight twists, so that, even when untwisted, the thread retains some kink.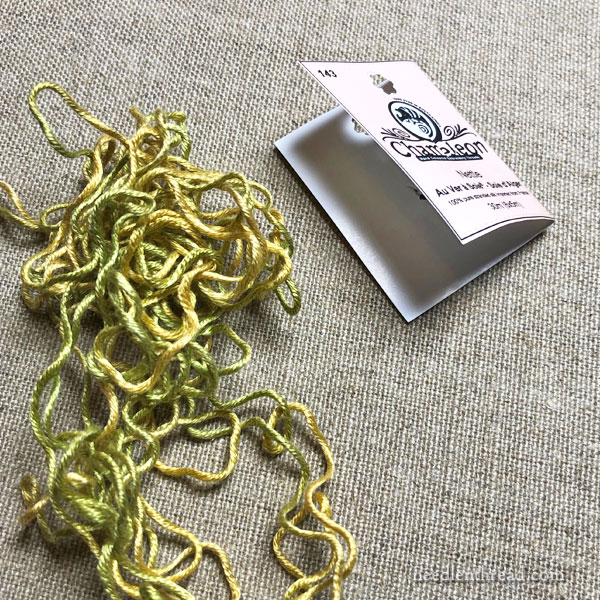 This can be a little annoying. I opened the whole twist up and ended up having to cut it into usable lengths (which I don't like to do when working with overdyed threads, because it gives me less control over color placement), just so I could keep the thread tame.
So I opened the whole twist out into a ring and then cut the ring to give me workable lengths of thread.
These, I strung back into the paper tag, so that I kept the information for each color with the correct thread.
The threads look a bit like ramen noodles.
But – once you start using them, they work fine!
I really enjoyed stitching with the very subtle color changes on this overdyed silk. The little leaf in the above photo is embroidered with long and short stitch, with a stem stitch down the center for the vein.
With this particular color, I ended up with a golden leaf with a green tint, with the colors blending together really well even in a small space. There's a hint of a color combination going on, without any bold striped effect or any distinct color patches.
Being Soie d'Alger, I'm predisposed to like stitching with the threads, anyway, but what really sells me on them is the very subtle overdyed effect. They're really beautiful threads! I may have to explore other color combos…
As far as washability, according to the Chameleon Threads packaging, the silks can be washed in cool water. I always recommend testing threads first, though, before using them on a major project – especially when working with overdyed embroidery threads.
Where to Find Them
If you are in the US, you'll find silk Chameleon Threads available through The French Needle, where they are arranged in four-twist color collections.
In the UK, you can find the whole collection of Chameleon Threads through Lorna Bateman, who uses the threads in her designs.
If you're in Australia, All Threads carries the range of silks and cottons.
Chameleon Threads has their own website, but I'm not sure how well it's kept up to date. Every time I check it, there are photos missing, including their logo in the header. Still, if you want to check out their lovely color collections and some projects worked with their threads, take a look at their Gallery here. Worth a meander!