Here on the studio end of Needle 'n Thread, we're gearing up for our first summer in our new (very old) building. While the first half of 2023 has proven to be a wild adventure involving much upheaval on every level, I'm really hoping the summer settles into a quiet, focused, productive era!
Here's some fabulous news: I've expanded our staff! We have part-time morning help for the summer! Christine – a young lady who participated in my kids' classes years ago when she was just a wee thing – is a teacher with some summer time off and she was looking for part time work. She'll be a great fit here! This means we can catch up from the frenzy of the first half of the year. It means we can actually get kits assembled and out in a timely manner for the next Stitch Snippet! It means we can restock on ready-to-stitch items – and bring out two new summer sets (remember that camper?!). And it means that we can finally bring a pet project of mine to fruition!
Am I excited? You bet!
Frankly, I'm excited that we're at the point where we can offer some employment to locals who are looking for flexible part time work. It's so important in small rural communities that there are job opportunities! And I hope that Needle 'n Thread continues to grow enough to be a viable part our our community in that way.
Anyway, my pet project! It has to do with thread, of all things! Surprising, isn't it?
Guess what thread?
Yes, yes, it's floche.
I know, I know! I've been pushing floche quite a lot lately!
I have thoughts about floche, you see.
When I was in my early years of college – that would be the first part of the 1990's – I was introduced to floche by my sister, who was working on a small floral sampler as part of a class from Julia Golson.
That was around the time that Inspirations magazine first launched, and around the time that the former Country Bumpkin also had a smocking and embroidery magazine – AS&E (Australian Smocking & Embroidery). My sister was into heirloom clothing, smocking, and the like. She had both magazines at her house all the time. Floche was a big player in heirloom sewing and smocking (it still is), and so she used it frequently.
So I fell in love with floche!
Unfortunately, though, floche isn't what we'd call a "common" embroidery thread. It's not like stranded cotton or even crewel wool, which have been much more common threads on the market in the US for the past five or more decades – although I'm happy to see that floche is becoming more well-known lately.
Floche is made in France by DMC, but it is only distributed by one company here in the US, since it's here in the US that there's a larger market for the thread. So, if I understand it correctly, if people want floche, they have to get it through the distributor in the US. And while some shops might carry a little bit of floche, there aren't that many shops that carry the whole range.
It's true that floche has what might be considered a couple small drawbacks.
For one thing, it comes in Massive hanks of 150 yards of thread, and those hanks come with the corresponding price tag for that much thread. This makes it difficult for folks to acquire the whole color range of floche. It's not a huge range of colors (under 100), but still, when you're buying very large hanks, it can be expensive to acquire the entire color range.
For another, those massive hanks are not so easy to manage. If you're not used to them and you don't have a management system for them, they easily fall into disarray, which can lead to frustration and ultimately to waste.
My love for floche has increased over the years, and I've developed this obsessive idea that if we don't start really using the thread a lot, it may just slip into the ether, never to be heard of again. I have a real fear of that.
That's why I started adding projects with floche to Needle 'n Thread – to introduce other embroidery enthusiasts who may never have heard of it to the joy of stitching with floche! Hence, Key to My Heart – a floral heart project entirely worked in floche. Hence, the variety of monograms over the years, worked in floche. Hence, some ecclesiastical embroidery in floche.
In short, when a project presents itself as eminently doable with floche… I do it with floche.
Yes, I admit it! Over the years, I've been nefariously and surreptitiously indoctrinating people about the wonders of floche!
Why? Because I love the thread, I want everyone to know about the thread and experience it, and I want to see the thread around for a long, long time so that future generations can enjoy it, too.
When I developed Key to My Heart (and the voided monograms I was working on at the same time), I decided I would put together floche color packets for that project, and we did.
The color packet contains 20 colors of floche, broken down into manageable 50 yard twists – enough to give you plenty to work the Key to My Heart, with plenty left over for other projects.
Then I had this hair-brained idea idea that themed color packs of floche would be a great way to get the thread into more people's hands, in an affordable and manageable way, so that they can build their own collection of floche (again, in an affordable and manageable way). Themed color collections wouldn't necessarily have to be associated with specific projects – but they would give people a springboard for developing a color palette for their own personal projects.
So we developed the Heritage Warm and Heritage Cool Collections, specially curating the groupings for you in color themes that made sense.
Then I heard from folks who wanted a pastel range of floche (spring was coming on). To that end, we put together a mini collection of just four colors that we call Spring Frost.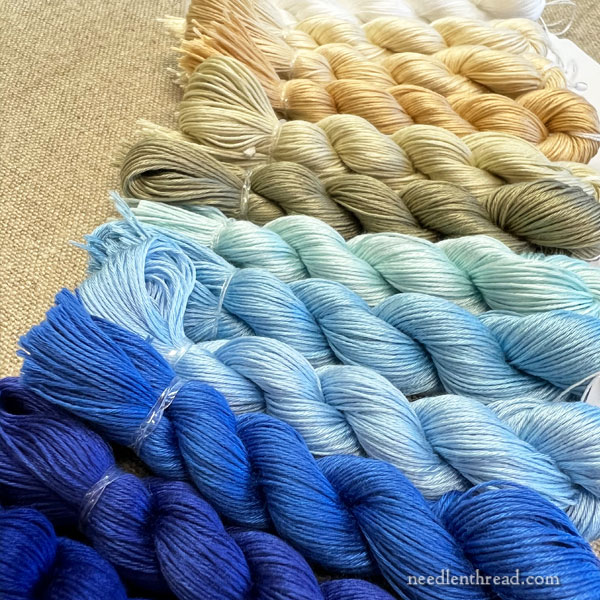 Between the Garden Bright collection, the Heritage collections, and Spring Frost, we ended up with a few repeats of the colors (three, to be exact). Mostly, this happened because there was already a project associated with the Garden Bright collection and I couldn't reduce that collection and still offer the range of colors for Key to My Heart.
But from that point on, I was determined that no color collection of floche would contain any further repeats. This way, folks could collect all the color collections and eventually have the whole range of floche, if they want it. But they could also just purchase an individual collections because it appeals to them, because they can envision embroidering That Certain Something with it.
The Pet Project?
And so… the Pet Project: I want to offer, through curated color collections, the entire range of floche in a "collectible" format. This way, you can acquire every color collection until you have the whole range, or you can simply buy individual collections that appeal to you, because you like the colors in that particular collection and you can envision them on your own personal project.
I think curated color collections are an exciting way to build your embroidery stash!
They're also a practical way to build a collection, because they give you a usable group of colors that work well together.
Best of all, they help reduce the angst of color selection when you're working on your own personal projects. Color selection can be a huge hurdle for some stitchers! With curated collections, you have a base group of colors pre-selected for you, that you can build on if you want.
All of these color collections will be listed under Embroidery Supplies in the shop here on Needle 'n Thread shortly. I'm going to re-vamp the floche listings into one listing with variations that can choose from, and we'll have most of them in stock by the end of this week – if not sooner!
If you're as excited about floche as I am, keep an eye out for those. I don't know how fast they'll go, but we plan to keep them in stock as much as possible. We are limited to what we can get from the distributor, when we can get it, but we will do our best to keep them available for you!
So, that's one thing happening in the studio at this point – and for the rest of the summer, we'll continue putting together thread packs and kits and all kinds of fun things. I'll keep you posted on how it goes!
Welcome to June! I hope your season – summer or winter, depending on where you are – is off to a great start!