Couching is a very simple hand embroidery technique. It involves two threads: a laid thread (this is the thread that is being couched onto the fabric) and a working thread (this is the thread that holds the laid thread onto the fabric).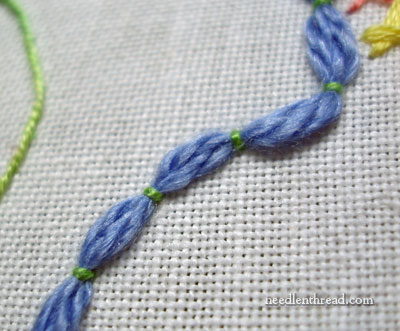 The simple couching stitch involves a small straight stitch taken over the laid thread. In the photo above, a couple strands of blue wool thread are couched onto the fabric using one strand of green perle cotton.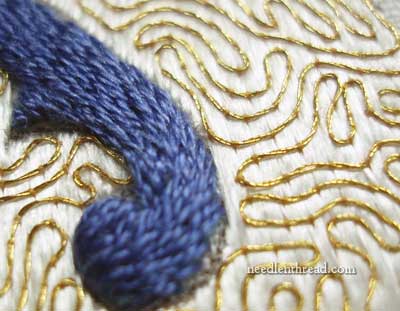 The couching stitch is very simple, and it can be used in all kinds of embroidery, from simple surface embroidery to complex goldwork techniques. In the photo above, the background is covered with a tiny gold thread couched onto the fabric in a technique called "vermicelli." You can find plenty of tips and information on how to work vermicelli in gold in this article.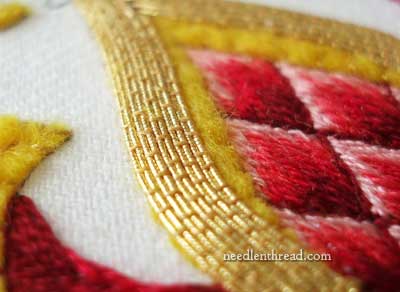 Couching is often used in goldwork. Above, you can see double lines of gold thread couched down over felt padding to fill an area. If you'd like to read a little more about this type of goldwork, you're welcome to read through all the step-by-step articles for the goldwork pomegranate project .
You can also couch threads using a variety of stitches. To read more about this, please visit my Stitch Play article on couching threads using other stitches.
Here's the video for the basic couching stitch:
Do you want more inspiration & information on hand embroidery?
There are all kinds of reasons to sign up for the Needle 'n Thread daily newsletter! Check them out and sign up today!
If you'd like to learn some other hand embroidery stitches, feel free to check out my collection of how-to embroidery videos here on Needle 'n Thread!
If you like what you see on Needle 'n Thread, if you want to be a part of keeping the website thriving (and free of annoying network advertising), why not become a patron on Patreon? Check out my Patreon page here, where I'll occasionally add special needlework bonuses for patrons.
If you shop on Amazon, you can support Needle 'n Thread without any extra expense to you by visiting my Amazon Recommendations page here, where you'll find books and sundries for the needleworker available on Amazon.