Stem Stitch is my favorite hand embroidery stitch, because it is so versatile and so attractive. The poor stem stitch doesn't get the attention it is due, in my opinion – most folks tend to stitch lines today using backstitch, running stitch, and chain stitch, more than they do with stem stitch. But stem stitch makes a beautiful line stitch! Hopefully, the how-to video here will help you learn or perfect your stem stitch, and maybe you'll end up loving it, too!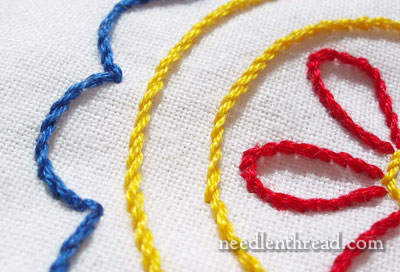 You can see that the stem stitch makes a rope-like line. How heavy the rope is depends upon the thread you use. Stem stitch can be very delicate, and can be used on the most delicate embroidery pieces. Or it can be bold!
Stem stitch also takes curves really well – so vines, curly-q's, little circles and so forth are a breeze with stem stitch.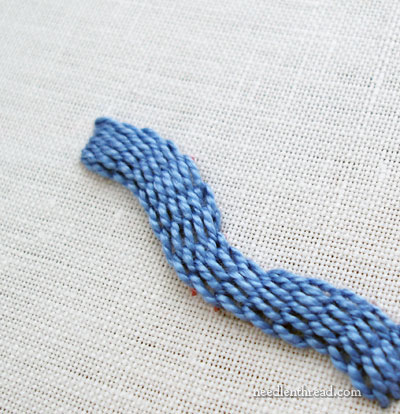 You can also work stem stitch over stitched bars, to create a raised stem stitch band. You can see directions for raised stem stitch here.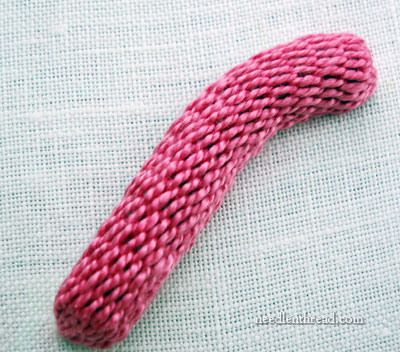 Stem Stitch is also used in Casalguidi Embroidery, worked over thick string to create a highly textured, super-raised stem stitch rope. You can find instructions for this Casalguidi embroidery technique here.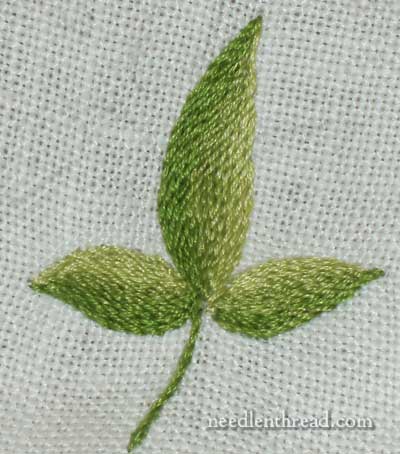 And finally, stem stitch can be used to fill an area, by working rows of stem stitch close together. The shading on the leaf above is achieved by switching out different shades of green as the leaf was filled in.
If you want to read about the stem stitch in addition to watching the video tutorial, please check out the Basic Embroidery Stitch Index, where you will find stem stitch under the Line Stitches.
A Note Concerning Threads and Hands
Threads: For the stem stitch to produce the rope-like results in the photos above, if you're following the method described in the video below (stitching left to right, and keeping the working thread below the needle), the thread you use should be an S-twisted thread. When threads are made, they are either S-twisted or Z-twisted. Cottons – such as DMC, Anchor, and other embroidery flosses, perle cottons, and so forth – are S-twisted threads. Most commonly used silks are S-twisted threads, but some are Z-twisted (for example, Trebizond, Soie de Paris, and The Silk Mill threads are all Z-twisted). Rayon flosses used in Brazilian Embroidery are Z-twisted. So what does this all mean for the stitch itself? It means that, to achieve the nice rope-like look of stem stitch, you would actually stitch with the thread above the needle, when traveling from left to right. But never fear! As complex as this sounds, most commonly used embroidery flosses are S-twisted, so in all likelihood, if you're a beginner, you're using an S-twisted thread, and the instructions in the video are exactly what you should follow.
Hands: If you are left-handed, go ahead and watch the video – you will see that if you use the stab method, you can stitch the stem stitch just like a right-handed person does, and if you want to use the sewing method, just follow the directions for stitching the top line on the rectangle in the video (from left to right, with the thread above the needle).
Here's the video:
Some further tips on stem stitch can be found here:
Joining Stem Stitch in a Circle
Stem Stitch Corners
Raised Stem Stitch Band
Casalguidi Embroidery
Do you want more inspiration & information on hand embroidery?
There are all kinds of reasons to sign up for the Needle 'n Thread daily newsletter! Check them out and sign up today!
For more video tutorials, please visit my whole collection of How-To Hand Embroider Videos here on Needle 'n Thread!
If you like what you see on Needle 'n Thread, if you want to be a part of keeping the website thriving (and free of annoying network advertising), why not become a patron on Patreon? Check out my Patreon page here, where I'll occasionally add special needlework bonuses for patrons.
If you shop on Amazon, you can support Needle 'n Thread without any extra expense to you by visiting my Amazon Recommendations page here, where you'll find books and sundries for the needleworker available on Amazon.