The whipped backstitch creates a rope-like line in a very simple way. The foundation of this stitch is a backstitched line. If you need to see how the backstitch is worked, visit the backstitch video.
You can see the whipped backstitch in this photo below – it's the lower line, in yellow and blue: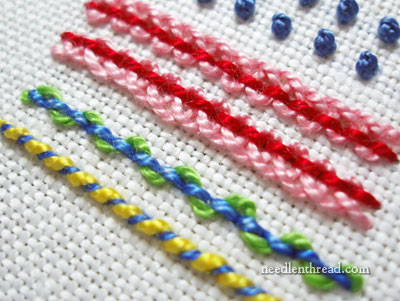 You can use the whipped backstitch for any solid line that you want to create on your embroidery projects. The whipped backstitch can be worked in contrasting colors for a vivid, colorful, and fun effect, or you can work it in the same color as the backstitch foundation, to create a solid colored, rope-like line.
In the photo above, I'm using the whipped backstitch to embroider a small word. If you use one strand of cotton embroidery floss for your backstitch and one strand of floss to whip the backstitch, you can create a very delicate line with it, which works great for small lettering.
In the video below, I'm using perle cotton #5 on linen. I'm stitching with a tapestry needle that has a long eye and a blunt tip. The blunt tips makes it easier to pass under each of the backstitches without snagging the stitch.
Here's the video:
Do you want more inspiration & information on hand embroidery?
There are all kinds of reasons to sign up for the Needle 'n Thread daily newsletter! Check them out and sign up today!
If you're looking for more embroidery stitch inspiration, check out my collection of hand embroidery how-to videos here on Needle 'n Thread!
If you like what you see on Needle 'n Thread, if you want to be a part of keeping the website thriving (and free of annoying network advertising), why not become a patron on Patreon? Check out my Patreon page here, where I'll occasionally add special needlework bonuses for patrons.
If you shop on Amazon, you can support Needle 'n Thread without any extra expense to you by visiting my Amazon Recommendations page here, where you'll find books and sundries for the needleworker available on Amazon.