Most of my embroidery patterns that I have used for special projects are drawn by hand on tracing paper. I just got a new toy, though (a Wacom Intuos3 tablet), and my plan is to convert some of my hand-drawn embroidery patterns into cleaner digital images. Well, I'm no graphic artist, let me tell you! But I thought I'd share my first attempt. It's not so great, but it's a neat pattern that I've used, so I even have photos of this particular one worked.
I embroidered this stole several years ago. The pattern is an adaptation of a motif on a very old vestment, part of which I sketched, altered, and then adapted to my project. I like the stylized flower / pomegranate thingy, even if my sister does insist they look like something out of Little Shop of Horrors!
Here's the pattern, worked in silk on silk. Mostly it's worked in satin stitch, although some parts are stem stitch filling. If you've meandered through my whole website, you may have already seen this! If not, you'll find links to close-ups of the rest of the flowers on the stole and to a whole image of the embroidery on the gallery page.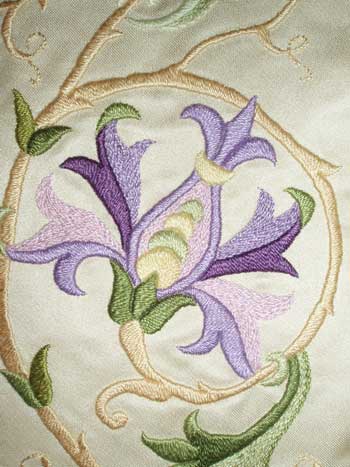 And here's my first attempt at drawing something on the tablet. It's a lot harder than I thought it would be! It's takes some getting used to, but it's fun, so I'll stick with it and hopefully, I'll improve with time and practice!
But, in the meantime, if you want this pattern to play with and to adapt to your own project, feel free! Right click on it to download it to your computer. You can scale it up or down in a photo editing program, or you can use a copy machine. The image is flipped, by the way. The picture above is from the right side of the stole – the pattern is drawn from the left side! I just realized that! Sorry!
For all you graphic artists out there, I can't help but admire your skills! It must take perseverence at this kind of thing to get good at it! I don't know any of the tricks for working with these kinds of images, so if anyone has any links or suggestions or anything, I'm all ears!
Have fun with the pattern!
Looking for inspiration & information on hand embroidery?
There are all kinds of reasons to sign up for the Needle 'n Thread daily newsletter! Check them out and sign up today!