Estense Embroidery or Ricamo Estense by Elisabeth Holzer Spinelli, translated by Jeanine Robertson (who writes the blog Italian Needlework), is a beautiful little embroidery book that introduces a style of embroidery inspired by Italian ceramics. The book is fascinating for a number of reasons, not the least of which are the beautiful embroidery projects you'll find inside.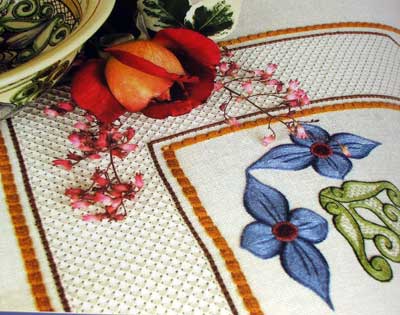 When I first came across the book,
Estense Embroidery
, I had no idea what this style of needlework actually was, but the cover attracted me.
The book was not available in any of my normal needlework book haunts, so it slipped my mind. Then I discovered Italian Needlecrafts, a website out of Italy (in English) that sells Italian needlework publications, Italian linen, and embroidery threads. And voilá – there was the book. I almost put off ordering it… but then I didn't!
And I'm glad I didn't! Estense Embroidery has opened up a whole new world of beautiful needlework combinations that are enchanting!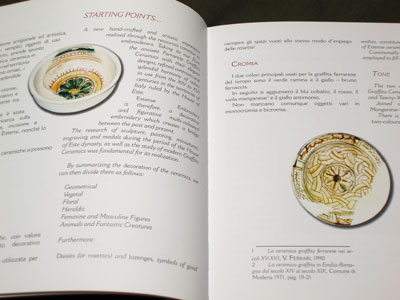 The embroidery style is inspired by the artistic designs found on antique and modern Graffito Ceramics from Ferrara, Italy, and the book details this connection for the curious reader. In a nutshell, the style is a unique combination of surface (free-style) embroidery, counted work, and drawn thread embroidery.
Inside the book, you'll find the original text in Italian side-by-side with an English translation. For the majority of the instruction in the book, the language is not an issue, though, so even if you do not read Italian or English fluently, you can still learn the techniques. After presenting the origin of this needlework style along with information on style and color, the author gives a run-down on the necessary supplies. Typically, 38-count ivory colored linen is used for Estense embroidery. The ivory color of the linen mimics the background color of the pottery. The threads used are pearl cottons in #8 and #12, and coton a broder #25, along with regular floss. The style employs a nice color range of threads: shades of green, yellow, brown, brick red, pink, violet, and blue. The supplies are all detailed in the book.
Besides discussing the origin of this style of needlework and providing information on supplies, the books is divided into two main parts: the stitches used and projects. In the stitch section, clear stitch diagrams are presented for each stitch and stitch combination
But what's interesting about this style of embroidery is the way the stitches are combined. Decorative bands made up of common stitches take on an uncommon look!
Fillings are worked in counted techniques, but surrounded by surface stitches. In the above motif, for example, you'll find what is called in the book "coil stitch" – a counted technique – surrounded by stem stitch, with a buttonhole wheel for the yellow part of the flower.
Above, honeycomb stitch fills the flower, which is outlined again in stem stitch.
This combination of surface and counted work reminds me of Colbert embroidery, only voided areas are not used in Estense embroidery.
Decorative bands are widely used in this style of needlework. In the book, a photo of the decorative band is given, accompanied by a list of the stitches used to create the band. Other decorative bands common in Estense embroidery are made up of complex and interesting combinations of stitches. For example, you'll see backstitch and satin stitch, stem stitch and buttonhole stitch and so forth worked together to create a decorative composite line of stitches. It's very attractive – there's texture, boldness, and at the same time, delicacy! It's beautiful!
Here, you can see how drawn thread work is combined with composite stitches to make a colorful decorative band. This combination of drawn thread stitches and composite surface stitches seems common in Estense embroidery.
Perusing the various composite bands of stitches, it occurred to me that these combinations are not necessarily relegated to Estense embroidery alone. The book would make a great resource for those who like cutwork and drawn thread embroidery (there are some terrific edge treatments and drawn thread combinations!), but also to folks who like crazy quilting, band samplers, and so forth. The crazy quilter will find unique stitch combinations that would make great seam treatments, and the sampler stitcher will find a plethora of ideas for filling up a sampler.
The composite stitches are diagramed clearly in the book – in the example above, each level of the composite stitch is shown with different colors to keep the order of work straight.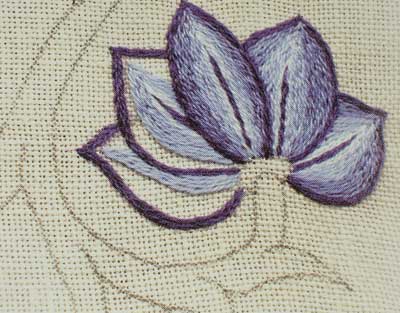 For the beautiful shaded filling areas on Estense embroidery, different techniques are used. Some of these techniques are typical of canvas work, while some are complete surface embroidery, like the stem stitch filling being used in the photo above to shade the petals of the flower.
And what about the projects in the book? There are quite a few beautiful projects in the back of the book. Some are large, some are not, and all can be taken apart and recombined for smaller or even larger projects! Line drawings are given, along with the recommended enlargement percentages to make the designs full sized.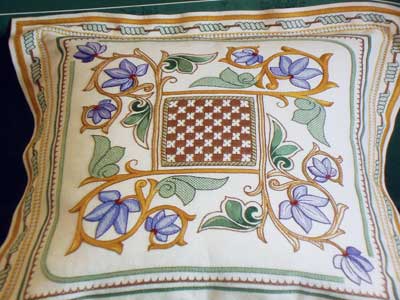 And wow. Some of the projects are just stunners!
I'm happy I got this book! I'd love to try this style of embroidery out. For me, I'd start small, with just one motif on a bookmark or something. But wouldn't it be grand to have such a pillow adorning your room? Or to see your table bedecked with a tablecloth in this style? Wow! Methinks it would!
If you're looking for the book, check out Italian Needlecrafts. I haven't found it anywhere else online yet. But if I do, I'll let you know!