Ahhhhh – I love this thread! Silk Gimp is unlike any other thread on the market.
Really. I mean that! It's absolutely unique.
It's not like other threads called gimp (here's a comparison of different threads called silk gimp); it's not like DMC memory thread (some folks have substituted memory thread for it, but there's no real similarity between the two threads, so the embroidered outcome is completely different); it's not like normal silk embroidery thread.
It's a bit difficult to explain exactly what it's like, and if you've stitched with it, you know what I mean!
If you haven't stitched with it, I'll describe it as a tiny, shiny, wormy-like thread, soft and supple, with incredible sheen, very manipulative, producing an absolutely unique result in the finished embroidery.
Here's the green assortment for silk gimp by Access Commodities. I love it! It's a lovely line up of shades that are very woodsy – perfect for autumn and equally perfect for spring, depending on how they're used and what other colors they are combined with. Loads of possibilities!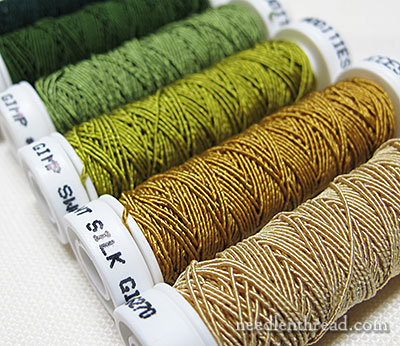 Silk gimp, made entirely from Au Ver a Soie silk from core to outside wrap, is a tiny cord-like thread (it's very fine!), and you can read all about it in this article about silk gimp that I wrote last year. You can see various stitches demonstrated with silk gimp, and the beginning of my silk gimp autumn tree, which was great fun to work!
Another recent color of silk gimp on the market is this magnificent orange. I'm not sure what to call it, except flaming orange – it's a deep, bright orange, perfect for fall stitching (I'm thinking little pumpkins, like these embroidered pumpkins, only worked with silk gimp instead of bullion knots). Fun color!
Silk Gimp in Action
So, what can you do with silk gimp?
First, you might wish to check out the article (mentioned above) that explores different types of surface stitches created with silk gimp.
But gimp is primarily couched, and when it's presented in shade packs, lots of possibilities open up with couching. The next three samples were stitched by Lamora Haidar, on needlepoint canvas.
On this first photo, you can see the effect of changing shades pretty clearly, from the darkest greens on the outside, to the light browny-yellow-greens on the inside.
Oh, the possibilities for this technique! Incorporated into goldwork and metal thread embroidery? Here, Lamora laid down equally spaced rows of thick string, and is couching the gimp over them.
For those of you interested in stumpwork and dimensional embroidery, imagine the dimensional fillings you can achieve like this! I love the idea. It'd be fun to work out something similar in blues, for water…
The photo above doesn't feature silk gimp. Instead, it shows the same color assortment in silk wrapped purl. I love it! Perfect for the leaves on my autumn tree, which I plan to re-do into "something" one of these days.
This is the tree. I'm dying to re-work it now – or at least, a version of it.
In the meantime, I'm excited about this color assortment and the possibilities – you can pretty much bet I'll be playing with them soon.
And I'll be giving you an opportunity to do the same – I've got a couple sets to give away down the road. So keep an eye out!
Now, I'm off to play! Enjoy your weekend!