Never under-estimate a simple hand embroidery stitch!
In hand embroidery, the technique of "whipping" an embroidery stitch is a terrific thing to know. Whipping a stitch gives you a whole new stitch with a whole new look!
For whipped running stitch, first you need to know how to work the most basic embroidery stitch – the running stitch.
Whipped running stitch is a simple, quick stitch to work. This stitch is one of many line stitches that can be used for bold or delicate outlines, depending on your choice of thread.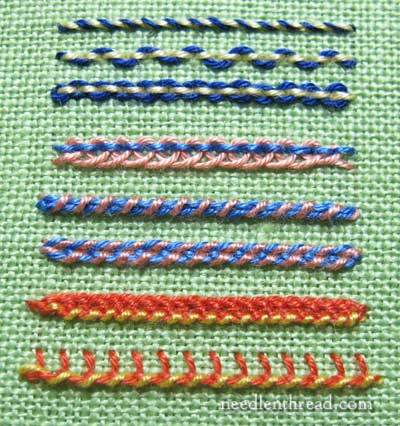 In the photo above, the first line of stitching is a whipped stitch. In this case, it's a backstitch, but you can achieve the same look with a running stitch.
The whipped running stitch looks great when using two colors of thread, as I did in this video tutorial. However, if you want a solid line out of one color, you can use it for that, too! You can change the look of the stitch by varying the spacing of your running stitches. To learn how to work the running stitch, you can check out the video tutorial or read the illustrated instructions.
If you want to see some examples of whipped running stitches in bold colors, you can explore the article on embroidery for children. This is a simple stitch, and kids especially love it – but it isn't limited to kid use!
For even more information on whipped and laced embroidery stitches, you can check out this article on Whipped and Laced Stitches
The video below is somewhat old! But it's scheduled for a re-do sometime soon!
Do you want more inspiration & information on hand embroidery?
There are all kinds of reasons to sign up for the Needle 'n Thread daily newsletter! Check them out and sign up today!
If you'd like to learn more embroidery stitches, you can find over 75 how-to videos for hand embroidery here on Needle 'n Thread, along with many other embroidery stitch instructions in this A-Z stitch dictionary, and, for fun, complex, and interesting stitch combinations, check out the Stitch Fun Series, too.
If you like what you see on Needle 'n Thread, if you want to be a part of keeping the website thriving (and free of annoying network advertising), why not become a patron on Patreon? Check out my Patreon page here, where I'll occasionally add special needlework bonuses for patrons.
If you shop on Amazon, you can support Needle 'n Thread without any extra expense to you by visiting my Amazon Recommendations page here, where you'll find books and sundries for the needleworker available on Amazon.