I've managed to work up a few more stitches on Breath of Spring, which is really turning out to be a super-fun project! Here are some photos of progress and plans!
When I last posted photos for this project called "Breath of Spring," I hadn't quite finished the French knot flowers that look like butter mints. But I finished those up late last night, and you know what? I really like them!!
I'd say I'm a little more than half finished with the piece: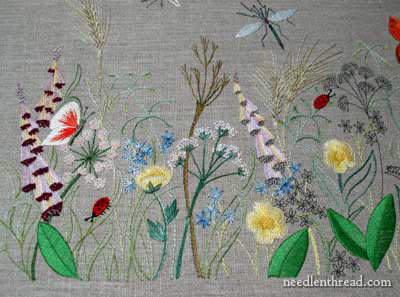 The little blue forget-me-nots stand out a lot more than I realized they would. I'm not quite so keen on the really dark undersides of the foxglove (the bell-shaped purple and yellow flowers on the left), because they Really seem to stand out. But … I still like them!
This is my favorite section so far – I like the butter mint flowers and the angelica (the other "white" French knot flower burst on the right of the photo).
Over all, the angelica looks white, but you can see that it, too, is worked in a variegated thread of pastel colors. I'm glad – if they really were white, they'd be too stark. I like the subtle shades of color.
A new ladybug – I like this one better than the first, but he's got a little antenna thing going on there, like the tip decided to disconnect. Funny, it took an up-close photo to make this clear. I didn't notice it until I saw the picture!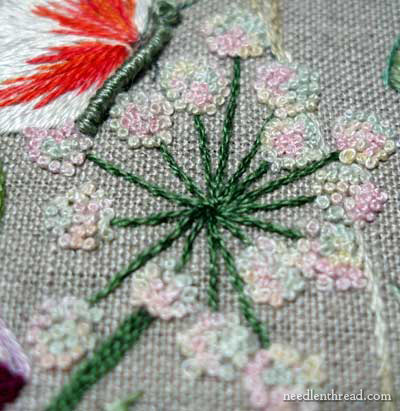 Here are the "butter mint" flowers. I don't know what else to call them, because I don't know what they're supposed to be! They are worked in slightly darker shades of pastel than the angelica. I like them, after all. I didn't think I would, but I really do!
And this is where I'm going next – the thistle and the caterpillar. I can't wait! That thistle looks fun.
And then, after that, the grasshoper. I'm kind of getting into this bug thing. Embroidering bugs is great fun. Kind of weird, but really fun. "I'm going to go embroider a bug, if you'll excuse me." Not something you say every day, you know?
So that's my progress so far. I can't tell you how wonderful it is to be able to sit down later in the evening, after long days at work, and just stitch for a half an hour or so before going to bed. It's great relaxation. I'm so thankful to have stitching as a hobby, aren't you? It's just… the Best!