Here's this month's embroidery stash give-away! Last year (January of 2008), I began doing these monthly give-aways. I've tried to include in them fibers or embellishments (beads, buttons, charms, etc.) that would enhance your stash and perhaps give you something new to try in the realm of surface embroidery. I also tried to keep them varied enough each month to make them interesting (I may have failed a wee bit in that regard…)
Mostly, the items included in these little give-aways come from my own needlework stash or my own library. Sometimes, though, I include a neat little something I've picked up new that I thought would be a fun addition to the give-aways. And, in today's case, part of the give-away comes from someone else! A very generous reader wrote to me to say she had an extra copy of the book featured today and of one of Trish Burr's books. Would I like to have them? I could pass them on to someone else, if I wanted. And of course I said, "Yes, please!" (THANK YOU!)
Well, let me get on with it, then. This is this month's loot, up for grabs!
A nice little stack!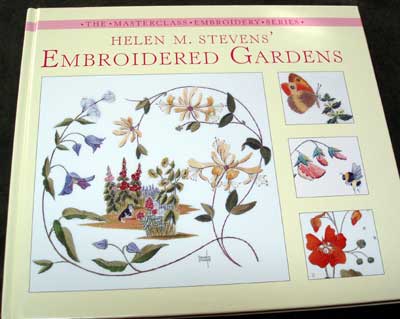 The book is Helen M. Stevens' Embroidered Gardens
(this will take you to a more detailed description of the book at Amazon). It's a fantastic and beautiful hard bound book that's part of the Helen Stevens "Masterclass Series."
To go along with the book, some fibers and embellishments – and not just any fibers! Some really nice ones! Gloriana Ribbon, Baroque Silk, Charon Watercolors, Silk 'n Ivory, and a spool of TESS – the silk that Helen Stevens uses in her embroidery. Also, there's a little package of frosted glass Mill Hill beads, and a little heart charm.
Just think, all of this wonderful stuff could be yours! Just leave a comment below, answering the following question:
Do you have a needlework project that you pine over, that you don't have anymore, for whatever reason (you gave it away, it got lost in a move, it got damaged, etc.)? And if so, what was the project and why do you wish you still had it?
You can thank Laura Bullinger for that question! I pulled it off the comments on the August stash give-away, where I asked people to submit questions that I could use for stash contests.
Make certain you leave a name with your comment! If you post "anonymously," sign the comment with a name.
NOTE: Please leave your comment on this post on the website. You need to be actually on the website, not in the e-mail newsletter. Below, you will see a link that says "Click to comment." It's right under the text of this article, under the "Posted by Mary Corbet" line. Click on that link, and you'll be able to leave a comment.
The contest ends Wednesday, February 4th, at 5:00 am CST. I'll post the winner on Wednesday, and the winner will need to contact me with a shipping address. The contest is open to anyone, anywhere.
Good luck!