There are few of us – even the most avid needleworkers among us – who would undertake hand embroidering lengths of fabrics to use for household decor. That's ok. There are companies that make beautiful (and quality) embroidered fabric, and sometimes, it's just downright fun to browse through fabric and textile websites to enjoy a bit of inspiration without actually having to make the commitment to purchase yardage. I mean, we can dream, right? I bumped into just such a website yesterday. A beautiful place with beautiful embroidered fabric that I would love to get my beautiful paws on.
Lengths of embroidered fabric covered with vines, flowers, plants, animals, insects – browse through Chelsea Textiles and take a gander at the delectable offerings!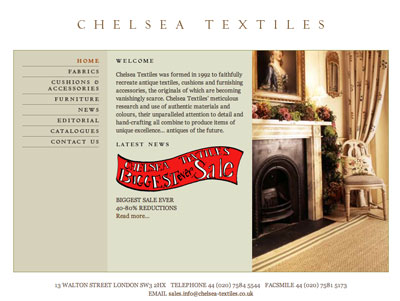 There are heaps of beautiful fabrics featured on this website, and with most of them, you can click on a link to see an up-close detail.
From simple motifs that scatter over the fabric ground…
… to gorgeous floral bunches – ah! They are all really beautiful!
How would you use this tiled design in household decor? I'm not sure how I would – but oh! Would I use it? You bet! (Ok, maybe not in my tiny house…)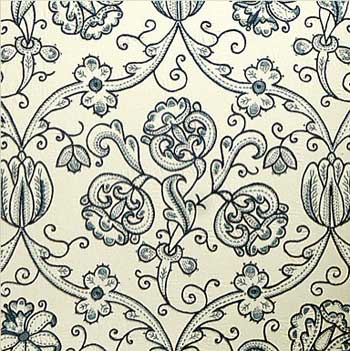 A sofa upholstered in blackwork would be awfully chic. (I'd settle for a little chair…)
Besides hand embroidered fabrics, Chelsea Textiles also carries a line of nice printed fabrics. William Morris, anyone?
And this is a sweet printed design – it would make an excellent embroidery pattern. Check out the knots in the flower center.
Finally, the shop carries pre-made cushions and accessories that are pretty stunning, too.
If you live in London or the vicinity, Chelsea Textiles is having a sale (40 – 80% off) through February. I don't know what that means. Browsing through the website is a lot like looking at a menu without prices. You kinda get that funny feeling that things might be a bit beyond ye olde budget. But golly. Wouldn't it be fun just to see them in person? To touch them?
But even if you can't do that, you can still glean a lot of inspiration from the fabric details on the website! So go browse and enjoy yourself!