Sometimes, I call it the Embroidery Blues. Sometimes, I call it a Needlework Dilemma. Right now, though, I think I'll call it utter-and-total-complete-indecision-with-a-bit-of-guilt-on-the-side.
The problem? I want to start a new embroidery project, but I'm stuck in the Worlds of In-Between and Not Finished.
Don't you ever get this way? It's kind of like inspirational glut: I have a million ideas that I'd like to move towards, and yet I know I can't start anything big, and yet, I know I want to be doing something, and yet I have plenty to do, and yet I can't make up my mind.
And yet…. there's a pretty good line-up of ready-to-do embroidery projects just waiting to happen: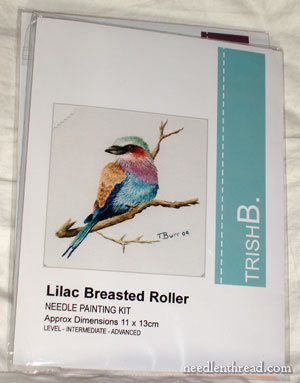 I want to work Trish Burr's lilac-breasted roller. It's so darned beautiful. I want to make it. I want to hang it on my wall.
I want to take the embroidery design I posted the other day and translate it into a goldwork project. I'm even thinking I want to stitch it on velvet. I'm also thinking I'm a glutton for punishment.
I'm also thinking I want to start this project, but there isn't really a buuurrrrning desire to start it. It's not sparking anything right now, if you know what I mean. Do you know what it is? Can you guess? It was a gift – I was enrolled in "university!" But it's not a project I can blog step-by-step without violating an ethical code, so I am rather hesitant to launch into this one. I could certainly update you on progress with pictures, I suppose, since it's my embroidery, but I do like to venture into instructional points when I blog, and that wouldn't be quite right. Any idea what it is? I'll give you ten points if you guess right.
Oh. He just HAD to sneak in here! This is the Side Dish of Guilt in my present state of indecision. He must be finished. I've circled the parts that need to be done – it isn't much! I know I'll feel better about everything once I conquer this rascally rooster. (And hey – I've thought of a good use for him, too – but more on that later…)
I want to make this next needlebook from the French Maid Needlebook series designed by Bobbi Chase and distributed by Access Commodities. I really loved making and finishing the last needlebook, and I'm kind of eager to translate this one into a surface embroidery design, too. On top of that, they've come out with the fourth one in the series. I'm sure I'm going to want to make it, too.
Remember this? I started it last year, with my niece working on her own copy of it at the same time. Neither of us has finished. Working on this right now isn't un-appealing. I'm kind of in the mood for the simplicity of a charted design.
But then there's this – I'm dying to get back to some Schwalm work and actually FINISH a piece. Luzine Happel, author of Basic Principles of Schwalm Whitework, sent me this printed piece of linen, which is ready to stitch. Not only do I want to do the central section of this cloth, but I want to work some fancy hems around the outside (using Luzine's book, Fancy Hems). What to do?
I could take up something very small, like this crewel small. I enjoyed working on the crewel pomegranate small and the other crewel flower small – they were quick weekend projects that satisfied. But if I'm going to do crewel work, you know and I know that it must be the rooster first.
In fact, if I'm going to do anything, we all know it has to be the rooster first.
There's one other thing that's tempting me, and it's rather silly and inconsequential – but it would be a fun and relaxing project for the next week or so. Remember the spring corner I embroidered on a towel, to line an Easter basket last year? I want to make another one, with a different design, but in spring colors, for the same purpose. I have a terrific corner flower design to use – it's fun and crowded and casual and versatile, and it would be really bright and colorful. I think the grey winter weather is leaning me more and more in the direction of THIS idea.
So this is where I am, in the throes of a jolly bout of indecisiveness.
How about you make the decision for me and put me out of my misery?!