Wool felt's a great fabric to have on hand for hand embroidery projects. I use it underneath goldwork, for example, and it can also be used to pad regular stitching and make it sit up a bit off the fabric. I also like to make things out of it, like needlebooks that are covered to bursting with embroidery.
But you know what I like it best for? I like it for kids' embroidery projects. It's so much easier to teach a child to embroider on felt than it is on other fabric. They don't need a hoop, heavier threads work well and look great on felt, and kids really seem to like the look and the feel of the stuff.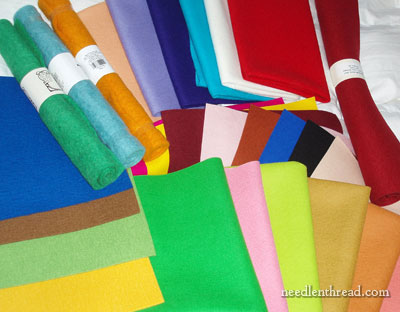 So, I got wool felt. Lots of it. I ordered it from Weir Dolls and Crafts, where they have a good selection of colors and weights available.
Summer is rapidly approaching. And I'm considering offering a couple short workshops for the kids at the school where I teach. Knowing that the first two weeks of summer are generally a wash, and that I will be out of town the next four weeks after that, I put in my order early for wool felt, just in case I can arrange a fun workshop or two for later in the summer.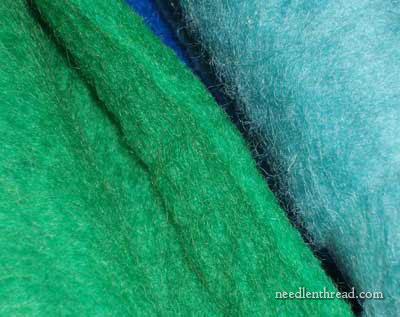 Some of the felt is ideal for needle felting projects, and I suspect that kids would go for needle felting in a big bad way.
And if the workshops don't happen, I'm going to have a lot of wool felt on my hands.
But I love wool felt. And I can do a lot with it. So I'm not worried!
What about you? Do you use wool felt for any hand embroidery or needlework applications? If so, what? Or, better yet, got any ideas for kids' projects with the stuff? I'm open to suggestions, and I'd love to hear your ideas! Feel free to leave a comment!