The other day when I growled about my Big Mistake with the bleeding dye from the silk thread I was using on a hand embroidered pall, I mentioned Orvus, and since then, I've gotten lots of questions about it.
I'm not an expert on cleaners and so forth – I'm just going to tell you what I know about Orvus, which isn't necessarily from the "expert" point of view – but maybe there are others out there who can vouch for it, too.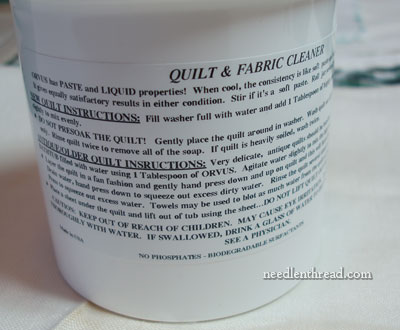 The photo above is my little tub of Orvus, but it isn't how you'd normally find it if you were looking for it in its original environment. Orvus generally comes in a 7.5 pound container, with a red label on it that looks like this:

Normally, Orvus is found in farm supply stores, horse-supply stores (tack and grooming supplies), and even some pet stores. Not only is it used as a great shampoo for show horses, but it also works well on dogs and other washable pets. Yep – it's versatile stuff! It washes anything from your horse right on down to your valuable vintage textiles, linens, needlework, and quilts.
Orvus is sodium lauryl sulfate. It is completely biodegradable and does not contain phosphates. Sodium lauryl sulfate is a "surfactant" – it removes stains and residues that are oily, so it's found as an ingredient in lots of surface cleaners. For a while, there was talk that SLS might be a carcinogen (cancer accelerating or exacerbating agent), but in fact, it apparently isn't. SLS is also used in pharmaceuticals of sorts. What it boils down to in simple terms (and the aspect that concerns us most) is that it is a "wetting agent." It allows water to better penetrate materials.
It doesn't take much Orvus to do the job, either. For quilt washing instructions, for example, a tablespoon of Orvus to a bathtub of water is recommended.
If you squiz around online looking up Orvus, you'll find that there are many tried-and-true fans of the product out there. Quilters swear by it for washing quilts, and needleworkers swear by it for washing needlework. It doesn't disturb colorfast dyes, but I wouldn't use it on anything that isn't colorfast. Always Test First!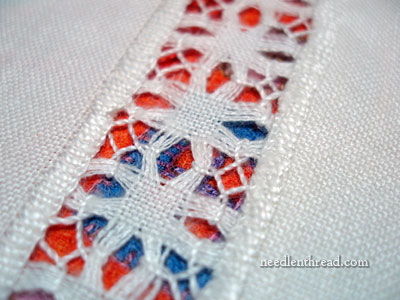 What I especially like to use it for is vintage linens, like this little hand towel I picked up at an antique store in Pennsylvania this summer. I liked it because of the drawn thread work along the edge.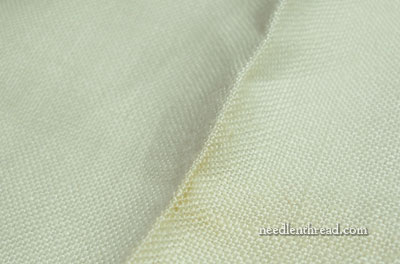 It was stained all over – all the crease lines had yellow storage stains in varying degrees of yellowness.
There were also several spots the size of a finger tip here and there n the piece.
Right now, the towel's soaking in a large bowl of water with about a teaspoon of Orvus in it. It's been soaking for a while, and I'll fish it out later today to check its progress. Orvus isn't necessarily "instant" – you don't dip your stuff in and pull it out all sparkly white – but over time, it works. For really tough or old stains, it may take some extra soaking time to get them to disappear.
If you're looking for Orvus to buy, your most economical purchase would be the large containers of it from farm supply stores. But if you don't want that much around, you can find it online sold as a variety of things – mostly you'll see it labeled as "quilt soap" of some sort. Ebay has a whole range of people selling it.
So that's Orvus. It's a gentle cleaner, but very effective. I've never known it not to work, especially if given enough time. If you've used it, feel free to leave a comment and let us know what you think about it!