It's been a long time since I've gotten to these monograms, but I really need to finish this alphabet! So here's the L in the Fan Flower alphabet. If you're looking for stitching suggestions, check out the "A" in this same series of monograms – I've included just a few loose ideas. I'm sure you can come up with some great ones on your own!
I've included below a small version, a large version, and a PDF with both:
And here's the large monogram:
And here's the PDF:
Monogram for Hand Embroidery – Fan Flower L (PDF)
You can find other monogram alphabets and lots of hand embroidery patterns on my patterns page. Scroll down for the monograms, or click the link in the sub-menu on the top left of that page.
Hope you have fun with it!
Favorite Monograms – PDF Collection
You'll find the complete Fan Alphabet – along with 15 other decorative alphabets – all in one place in Favorite Monograms, a downloadable PDF collection of 16 monogram alphabets perfect for hand embroidery and other crafts.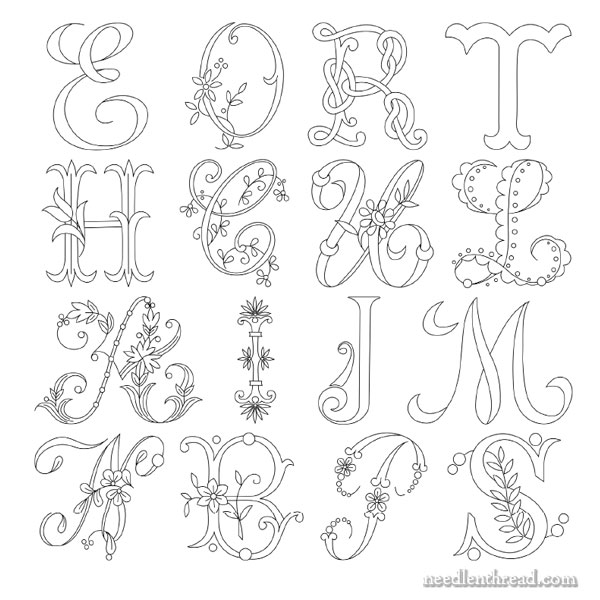 In the photo above, you can see samples of each alphabet available in Favorite Monograms.
The 16-alphabet collection is delivered as via a download link to your inbox shortly after purchase, so that you can begin creating right away! Priced at less than $1.00 per complete alphabet, monogram lovers can't go wrong with this collection!
Favorite Monograms is available in my shop, here.